ITG Regional Conference - Oklahoma City, Oklahoma
January 26-27, 2018
Special Report • Compiled by Peter Wood
The first-ever ITG Regional Conference was held on the last weekend in January on the campus of Oklahoma City University. Hosted by Michael Anderson, the event was highly successful and was given universally high praise. Attendance, naturally, was smaller than the annual ITG Conference, and the atmosphere was more close-knit and supportive. Trumpeters from throughout the central US came together to learn, perform, and be inspired, and they were not disappointed!
Oklahoma City University Bass School of Music
Day 1: Friday, January 26
Opening Ceremony – Oklahoma City Philharmonic Brass
The ITG Regional Conference began on a high note with a rousing opening concert by the Oklahoma City Philharmonic Brass, conducted by Warren "Puffer" Jones. Following a riveting performance of John Wasson's Clash of the Centurions, Michael Anderson (conference host), Mark Parker (dean of the Wanda L. Bass School of Music), and Cathy Leach (ITG president) all welcomed the audience to the conference. The conclusion of welcoming remarks led to the continuation of the OKC Philharmonic Brass's performance, starting with a beautiful rendition of Raymond Premru's Five Movements from Divertimento. Directly after this was Villa-Lobos's Aria from Brasileiras No. 5 featuring Jay Wilkinson, who exhibited flair and convincing mastery of Brazilian musical style. The concert ended with Roger Harvey's arrangement of Bizet's Carmen. Concluding with the flying passages of "Dance Boheme," this was an inspiring beginning to the conference. (JL)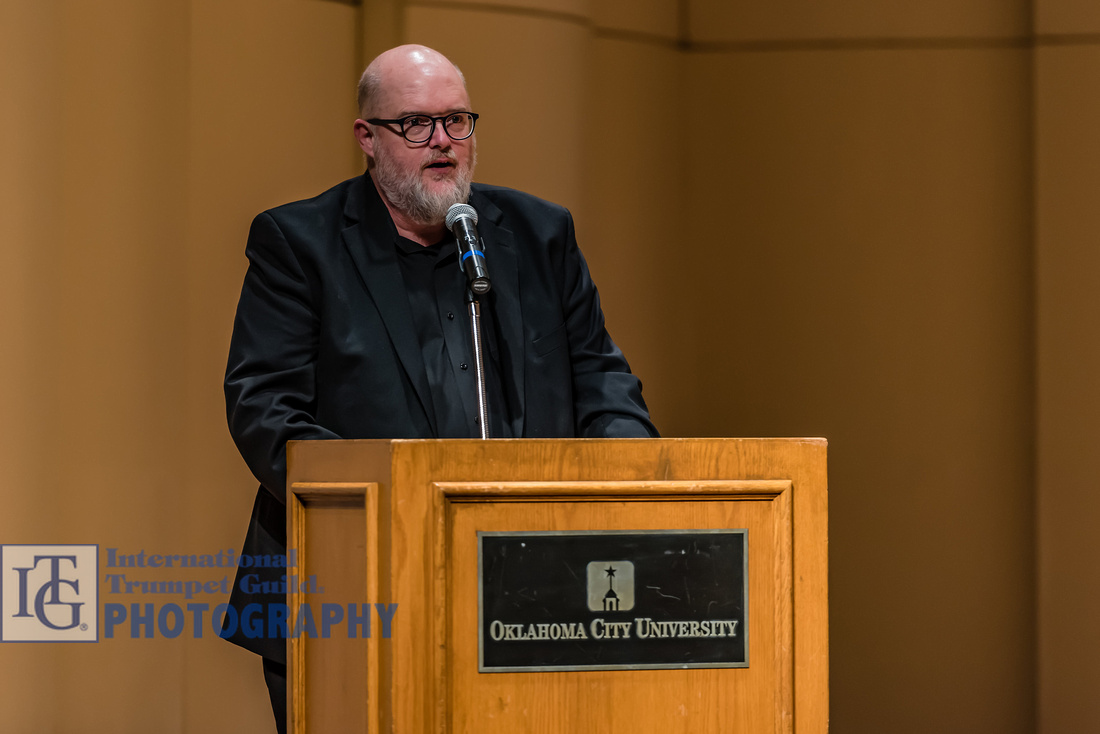 Michael Anderson
Oklahoma City Philharmonic Brass, Puffer Jones, Conductor
Jason Dovel – Trumpet Intonation: Facts, Myths, and Strategies for Playing in Tune
Jason Dovel presented an articulate and engaging presentation on the subject of trumpet intonation, which is no small feat, given the complexity and highly technical nature of the subject. Dovel began by utilizing electronically generated examples of differing intonation, and used numerous electronic examples throughout the presentation to great effect. Dovel asserted and convincingly demonstrated that the trumpet is perfectly in tune with itself and is naturally subject to the just intonation of the overtone series. Because of this, however, performing with equal-temperament instruments can be problematic. He then discussed instrument design and its effect on the trumpet and encouraged attendees to understand the use of valve slides to counteract many of these issues. Finally, Dovel offered several useful strategies for achieving better intonation. He recommended practicing with drones, learning proper use of the valve slides, learning the Baroque trumpet, and, above all else, developing flexibility and listening carefully. (BH)
Richard Rulli – Stamp: So Much More Than a Warmup
Dr.Richard Rulli possesses more than thirty years of experience studying and using James Stamp's exercises in his own playing. He presented an insightful session that offered extremely helpful pedagogical suggestions designed to help one understand how to benefit from incorporating these exercises into their own playing. Additionally, Rulli clarified many common misconceptions about these exercises and how to approach them. The first portion of the session focused on how to correctly use the mouthpiece. Rulli concentrated on maintaining efficiency at all times and asked participants to experiment on their own mouthpieces in the session. He was clear to state that it is crucial to do the mouthpiece exercises with piano or a drone. He then discussed essential principles one needs to understand when performing Stamp's iconic vocalise exercises on the trumpet. Using a call and response format, Rulli and the participants incorporated his suggestions while performing the exercises together. (JB)
Professors' Recital #1
The first of two Professors' Recitals at the conference took place in Petree Hall, opening with a rousing performance by Steve Leisring of Trumpet Call by Kenneth Downie. Leisring captured the audience's attention immediately, executing the opening flourishes brilliantly. The performer displayed great energy and technical fluency in what proved to be an excellent opener for this concert. Rodion Shchedrin's Im Stile von Albéniz was performed with great style and presence by Jason Bergman. From the opening notes, with Bergman's warm, robust tone, the listener was aware that this was to be a memorable performance. Bergman clearly enjoys this piece, successfully taking the important musical chances throughout his inspiring performance. Brian Walker performed two movements from Centennial Horizon by Kevin McKee. Aspen Grove allowed Walker to demonstrate an impressive fluidity with his warm, even sound throughout the movement. Equally impressive was his technical prowess and ease of playing throughout the range of the instrument in Roaring Gunnison, easily capturing the emotion and unpredictability of the raging river. Rich Rulli provided a nice contrast with an unaccompanied work entitled Liquid Prelude by Dan Coleman. Rulli easily handled the significant technical demands of this contemporary angular work. The audience was treated by Richard Tirk to a world-premiere performance of Jackson Anderson's The Bells. The three movements, "Silver," "Golden," and "Brazen," are based on a poem of the same name by Edgar Alan Poe. Tirk showed off his beautiful sound and refined technique in this interesting work. Stephen Goforth's delicate piccolo trumpet sound was perfect for the first movement of Giuseppe Martini's Concerto before moving to a humorous rendition of Rafael Méndez's Chiapenecas on a three-belled trumpet! A work recently discovered at the ITG archives in Columbus, Georgia, was the next selection, performed seamlessly by ITG President Cathy Leach. Moskwa: Russiches Lied fur Tromba Solo is a short lyric piece with great style, captured perfectly by Leach. Another Russian work, the better-known Concertpiece No. 2 by Vassily Brandt, was performed by Ben Hay. Contrasting his sensitive playing on the beautiful linear melodies, Hay easily maneuvered the scalar interludes and exciting ending. To close the full program, Ryan Gardner took the stage to perform five of the seven parts of Siete Canciones populares Españolas by Manuel de Falla. In his performance, Gardner clearly had all the requisite technique and style to bring these folkloric pieces to life masterfully. His easy approach to the instrument and lively, resonant sound were a perfect end to a long, but inspiring, afternoon of performances. (GP)
Steve Leisring – A Blueprint to Finding Efficiency on the Trumpet
Dr. Steve Leisring, professor of trumpet at the University of Kansas, presented a masterclass in which he began with a simple definition of the term "efficiency," or playing with ease, and continued with descriptions of Leisring's own journey to develop greater ease in his own playing. He did this through study with a myriad of teachers throughout his years as both an undergraduate and graduate student. His time with Vincent Penzarella yielded significant growth, focusing on the equalization of sound throughout the complete range of the trumpet and improving his listening skills by working simple exercises. The emphasis on ear training and mental focus cannot be overstated: "We must hear our product and trust the brain to create it." (AD)
Jason Bergman – Applying for College Teaching Jobs
Jason Bergman presented a session on ideas and methods for musicians (not just trumpeters) who have an interest in applying for college-level teaching jobs. In this engaging session, Bergman discussed unique skills that musicians need to develop to find success in the interview process. Providing his personal accounts and experiences, he shared a tangible methodology to develop these skills. He discussed curriculum vitae and audio recording construction, and all in attendance certainly benefitted from this knowledge. Bergman encouraged input from current college professors in the audience and closed the session by expertly answering questions from the attendees. (BW)
Trumpet Ensemble Recital #1
The Trumpet Ensemble Recital #1 featured eight ensembles from universities throughout Oklahoma, Kansas, Texas, and Arkansas. It began with an energetic and enjoyable performance of Erik Morales' Cityscapes by the hometown Oklahoma City University Trumpet Ensemble. The University of Central Oklahoma followed with James Klages's arrangement of Franz von Suppe's Poet and Peasant Overture. Kansas State University then took the stage in matching purple shirts and offered a well-balanced and rousing performance of Infinite Ascent by Erik Morales. The ten-member trumpet ensemble from the University of Arkansas performed a fine rendition of Fanfare of the Bells by Jennifer Fletcher. The Tarleton "Purple" ensemble brought a refreshing Brazilian-style infusion with their energetic performance of Maestro Duda's Fantasia Brasileira. The Storm's Path by Brian Balmages is an exciting and programmatic work that was performed very convincingly by the Southwest Oklahoma State University trumpet ensemble. Northeastern State University took their turn on stage with outstanding performances of Concert Fanfare by Eric Ewazen and Catacomb by Jason Dovel. The twenty-member trumpet ensemble from the University of Kansas, the largest group of the recital, gave exciting performances of Fanfare, "Stadt Wien" and the world premiere of Expedition by Chuck McKinnon. The final group to perform was the Baylor "Green" Ensemble, which gave a compelling and well calibrated performance of Variants with Solo Cadenzas by William Schmidt. This recital demonstrated clearly that the art of the trumpet ensemble is alive and well in this region. (JB)
University of Kansas Trumpet Ensemble
Brian Walker – Daily Fundamental Routines: Developing What Works for You
Dr. Brian Walker presented a fantastic clinic. He began by sharing his golden rules for developing a personal routine and stressed that each person should have a specific plan; try new ideas; and be flexible, self-aware, and willing to ask others for help. As Walker discussed the four major areas of his daily routine, the attendees enjoyed a pleasant hour, learning and discussing methods and studies to help with each aspect of playing. Walker talked about the importance of never saying that one way is right or wrong and emphasized being open to new ideas. He taught that everyone should just stay positive and work to get better. His presentation was specific and informative, and he closed by sharing examples of daily routines developed by himself, Max Schlossberg, Christopher Moore, and Barbra Butler. (SW)
Ryan Gardner – Preparing for Auditions and Competitions
In this terrific, fast-paced, fun session, jam-packed with audience participation, Ryan Gardner posed many questions to the audience. Early in the session, Gardner asked, "What is the first thing people hear when you play?" Attendees responded that sound, intonation, time, dynamics, articulation, flexibility, and musicianship are "first-heard" sound items, and Gardner then added details under each item. To be ready for auditions, Gardner suggested "HAVE A PLAN" (make a schedule, plan out practice, plan your days, plan your fun). Practicing should include playing, singing, listening, and resting, with a thirty-minute "performance" at the end. Gardner emphasized that no matter how you feel, judges are waiting for someone to come in and nail it. They are rooting for you, not against you. If you want to be inspired to practice and to improve your audition preparation, attend a Ryan Gardner clinic! (CL)
Paulina Leisring and Ryan Gardner
Oklahoma City Jazz Orchestra with Vince DiMartino, Ryan Sharp, and Lee Rucker
The Friday evening audience was in for a treat as Vince DiMartino shared the stage with the hometown trumpet heroes Lee Rucker, Ryan Sharp, and the Oklahoma City Jazz Orchestra. The show covered every type of trumpet fireworks from Ellington's Concerto for Cootie to a rockin' version of Green Onions. The band opened with three tunes: the Basie classic Every Tub, Candy, and Blackbird with Rucker showcasing his versatility and soulful licks. Ryan Sharp took his turn channeling the spirit of Maynard Ferguson on the Willie Maiden tune Where's Teddy. Sharp's hair-parting high notes on that tune were closely followed by his tasty plunger technique on Ellington's Main Stem. The band closed out the first half with a burner, John Daversa's Fast and Direct, with a blazing sax soli and again highlighting Lee Rucker's nimble fingers and robust sound. Funky was on the menu to start the second half of the show with Clayton's arrangement of The Jody Grind. Vince DiMartino electrified the audience with his terrific tones and a few fun tales along the way. His portion of the concert started with Sy Johnson's excellent rendering of the great trumpeter Kenny Dorham's tune Blue Bossa. DiMartino amazed and thrilled and then opened the solo section to feature many of the outstanding members of the band. Concerto for Cootie brought the audience back to the 1940s with Duke Ellington's salute to Cootie Williams. DiMartino's delicate mute playing was perfectly foiled by his growls and soaring sounds later in the piece. The mood softened as the band and DiMartino then went into Hoagy Carmichael's timeless Georgia on My Mind. Before his closing piece, DiMartino took the time to talk about how important ITG has been to him, the many wonderful musicians he has met as a member, and how events such as this regional conference are so integral to advancing our craft. DiMartino's closer was Bill Armstrong's Aim for the Heart, originally written for Doc Severinsen. Once again, Vince DiMartino showed why he is one of the foremost trumpet artists of our time, demonstrating technical and musical mastery while swinging as hard as can be. The Oklahoma City Jazz Orchestra, under the direction of Brian Gorrell, closed out the night with Zaremba's arrangement of the Booker T and MG's tune Green Onions. The trumpet section really set the tone for the evening and gave the trumpeters in the audience a great show. (RT)
Wiff Rudd – Tag Team Practice Jam
In this highly informative session, Wiff Rudd discussed and exhibited some of the collaborative exercises and concepts he uses with his students at Baylor University that have helped his studio develop excellent musicality and ensemble sensitivity. Rudd broke the class into two teams of players and used call and response to work on the fundamental elements of trumpet playing with an emphasis on a resonant sound and response. One of the highlights of the class was students improvising inside the chord of Clarke's second exercise while Rudd played the exercise in sections before they played it back to him. The majority of the class was done without music as Rudd believes that getting away from the page frees up the mind and opens up the ears to playing with others. The first class of its kind at ITG, it brought improvisation into practice for those not comfortable with the jazz idiom. (AJ)
Wiff Rudd's Tag Team Practice Jam
Day 2: Saturday, January 27
Karl Sievers – Warm-up session
Saturday morning got off to a great start with an informative and productive warm-up session led by Karl Sievers. Sievers began the session with a discussion of the importance of maintaining a quiet mind and an elevated energy level when playing the trumpet. The warmup consisted of a call and response, with Sievers leading the group without any music, to encourage each person to use their ears instead of their eyes. Using techniques from William Adam, Vincent Cichowicz, and Max Schlossberg, Sievers continually stressed that the focus should always be on the sound. The atmosphere of the session was positive and enjoyable, due to the friendly nature and attitude that Sievers encouraged. Periodically, Sievers would ask volunteers to play by themselves, thus allowing for everyone to see how to approach possible challenges and to understand the proper way to play each exercise. (SW)
Richard Tirk – The Aria Project
Dr. Richard Tirk (Southwestern Oklahoma State University) began his presentation with a certain air of mystery, using a wordless performance of the middle passage of Arban's second Characteristic Study and the second movement of Kennan's Sonata to introduce his "Aria Project." Tirk used these examples to demonstrate the need for an understanding of lyrical artistry among performers and educators. To this end, he has devised a thoughtful and thorough system of introducing his students to vocal artistry. Over the course of a four-week project, each student examines a carefully selected aria and completes a comprehensive analysis of several interpretations of the work by different performers. During this process, the student also writes program notes and performs the selected aria for the trumpet studio class. Tirk ended with a masterfully crafted performance of the famous "Song to the Moon" from Dvorak's Rusalka. (BH)
Grant Peters – Efficient Use of Time in the Teaching Studio Through Technology
Grant Peters, professor of trumpet at Missouri State University, presented a masterclass centered around the practical use of software created for desktops, laptops, tablets, and other mobile devices to make life easier for both teacher and student. He emphasized taking the time to learn the ins and outs of each program to maximize efficiency and organization. The technology loses its purpose if it does not make life easier. These apps are used to cover the following purposes: creating lesson plans that clearly and concisely provide information on each assignment, formulating tests and study tools, and organizing, managing, and analyzing practice sessions. Applications discussed include PDF Office, DD GigBook, gFlash+, Tonal Energy, and Seconds Pro. (AD)
Vince DiMartino Masterclass
Anyone who attends a Vince DiMartino session will have fun while acquiring mountains of information about trumpet playing. Vince immediately grabbed the audience's attention by beginning an exquisite tone before he had even been fully introduced by Michael Anderson. He indicated that he might sound like a different person than he had sounded on jazz solos the night before – because he was – in the sense that he considers himself an actor. Other main points included the idea that the trumpet can do only three pairs of things: loud/soft, high/low, fast/slow. Vince recommended keeping your lips the same while playing, demonstrating this through a hilarious demonstration of a clarinet player setting up a reed, likening our lips to the reed. Throughout, he frequently reiterated a Timofei Dokshizer quotation: "You can't practice music without technique, and you can't practice technique without music." (CL)
David Hunsicker Recital
David Hunsicker, professor of trumpet at Wichita State University, presented a spectacular display of trumpet mastery during his afternoon performance. He opened with Arthur Honegger's Intrada, showcasing exemplary accuracy, musicality, and stamina, and then welcomed Shannon Thomas (violin) to the stage for a delightful performance of James Stephenson's Storyteller. Following this, Hunsicker showed his versatility with the flugelhorn in Joseph Turrin's Two Portraits and the piccolo trumpet in Johann Wilhelm Hertel's Concerto No. 3 in D Major. He continued with Jennifer Higdon's Trumpet Songs and then welcomed Steve Leisring to the stage to perform the first movement of Kevin McKee's Under Western Skies to conclude this sensational recital. (JL)
Karl Sievers – Keeping the Mind in the Sound
This session focused on what "the sound" means and how to obtain a clear idea of it. Karl Sievers explained that "the sound" consisted of core, resonance, and brilliance. He asserted that sound should always be one's first priority and unwavering goal every time the horn is placed on the lips. It is important to flood the mind with a vividly defined sound and to make this the primary goal of trumpet playing. A lively question-and-answer session allowed for a student to play flow studies with Sievers. This created an aural opportunity to hear the impact of a sound-centered mind. The student's sound as she ascended improved in quality and consistency when she focused on the core of her sound during the second attempt. This class showed the importance of developing a sound centered-mind and was applicable to every level of player. (CG)
Trumpet Ensemble Recital #2
The West Texas State University Trumpet Ensemble, under the direction of William Takacs, opened the afternoon concert, which featured seven trumpet ensembles. The difficult, high-energy The Wild Atlantic Way by Benjamin Brooks was masterfully executed by this fine septet of players using trumpet and flugelhorn. These strong performers easily handled the piece's significant physical challenge for a very exciting opener. The first of two Texas high school ensembles stepped up to deliver a convincing performance of Erik Morales's Cityscapes. Clearly, these young players from Trophy Club High School, directed by Daniel Brock, are receiving excellent training, as was evident in the ease with which they executed each movement. Mature sounds, precise tuning, and overall musical awareness were significant in this fine performance. No trumpet ensemble concert is complete without a work by Giovanni Gabrieli, and the University of Central Missouri Trumpet Ensemble, directed by Alan Wenger, opened their program with the Canzona noni toni á 12, highlighting interesting dynamic contrasts throughout the intricate work. Their performance of España Cañi by Pascual Marquina Narro, arranged by David Hickman, showcased a number of folkloric melodies and included castanets. The five-member Tarleton State University "White" Trumpet Ensemble, directed by Brian Walker, performed admirably on Walker's challenging arrangement of Jean Sibelius's Finlandia. The group's skilled playing, which included impressive work on piccolo and bass trumpet, captured the musical character of the work perfectly. The intense Ice Journey by Jason Basoco was performed by a quartet from Angelo State University, under the direction of John Irish. The well-rehearsed group played with great ensemble, moving masterfully from rhythmic accompaniment to solo figures. The second high school ensemble of the night was The Ft. Worth Trumpet Septet, also directed by Daniel Brock. Five movements of David Gillingham's Seven Tapas revealed fine ensemble playing from some young, talented players. Driving rhythms, flugelhorn solos, high tessitura work, and soaring melodies contributed to this fine performance. Concluding the afternoon recital was the Baylor University Trumpet Ensemble, under the direction of Wiff Rudd. The septet performed a Wiff Rudd/Alex Parker arrangement of Leonard Bernstein's Prelude, Fugue and Riffs. Bernstein's unique sound was evident from the downbeat with rhythmic foot stomps and jazzy shakes. Every member of the ensemble clearly knew their musical role and executed effortlessly. This concert was a fantastic finish to an impressive afternoon lineup of ensembles! (GP)
Jay Wilkinson – Incorporating Jazz Improv into Your Daily Routine
Jay Wilkinson, coordinator of jazz studies at the University of Oklahoma, led an insightful class on how to incorporate jazz improvisation into one's daily practice. He discussed transcribing solos, paraphrasing melodies, using fragments to create melodies, and employing guide tones to create solos with depth. He demonstrated how the use of Lee Konitz's method has facilitated increased success in the jazz improvisation classes at the University of Oklahoma. Wilkinson related how simple concepts can be used from beginning improvisation to developing complex Clifford Brown lines, explaining that while the harmonic language and speed may be more advanced, the concepts remain the same. By utilizing composition as a teaching tool, Wilkinson was able to develop pre-constructed cells of music that could be rearranged to begin learning language while developing solos that focus on motive, space, and rhythm and affording the student a chance to have meaningful, logical development. (AJ)
Cathy Leach – How to Develop Your Super Powers with Etudes
Those in attendance at the session by ITG President Cathy Leach were treated to an outstanding discussion of the benefits of etude study on both the body and mind. One of the most exciting portions of the session was a discussion of the mental and physiological benefits from being a musician. Leach's premise, simply stated, is that a focused, well thought-out approach to etudes can help improve a person's "super powers" that develop naturally from music study. Publications covered were the Hering, Brandt, Charlier, Gallay, and Longinotti etude books. Leach offered many tools to help trumpeters break down the many layers in these studies. (BW)
Wiff Rudd – Performing with a Spirit of Improvisation
Wiff Rudd began his clinic with seven volunteers familiar with his studio. Rudd asked for a key and a style, and then the newly formed improvisation ensemble took off! The packed room was immediately engaged observing the ensemble members take turns improvising simple melodies and then joining their colleagues in duets, then quartets, and finally as a full group. Throughout the clinic, Rudd kept the audience involved with questions and suggestions, all while discussing the benefits of improvising as a musician. Rudd cited Kenny Werner's book, Effortless Mastery, as a source of inspiration, as well as Rudd's own belief that some of the best performances he has witnessed sounded like the performers were creating the music on the spot. Other benefits mentioned were improved pitch awareness, reduced tension, and sound development. (RT)
Wiff Rudd and student participants
Professors Recital #2
The second professors recital opened with Karl Sievers and Lacey Hays performing Erik Morales's Concerto for Two Trumpets. Both Sievers and Hays filled the hall with their ringing, forward tone qualities throughout the three difficult and energetic movements. ITG Vice-President/President-Elect Grant Peters provided the second performance on the program. Assisted expertly by Paulina Leisring on Eric Ewazen's Prayer and Praise, Peters's smooth, full sound was the highlight. Alan Wenger performed John Barnes Chance's challenging Credo with remarkably fluid multiple tonguing and flexibility, and pianist Jacob Johnson deserves praise for his facile navigation of this difficult piano part. Daniel Kelly and Libby Vanatta closed the program with Arban's La Cenerentola. Kelly chose to perform this on cornet and had a warm, light, and pleasant sound that sparkled throughout the well executed passages. Kelly and Vanatta's performance was highlighted by wonderful communication in the rubatos and was a perfect close to a well-attended late-afternoon recital. (BW)
Frontier Brass Band with Vince DiMartino, Wiff Rudd, Michael Anderson, Ryan Sharp, and Anthony Barrington
The hallmark of the inaugural Oklahoma City Regional ITG conference was the showcasing of talent from the renowned artists in the region alongside trumpet legends, and the closing concert was no exception. Featuring the talent-rich Oklahoma City-based Frontier Brass Band, university professors from the region, and renowned performer and educator Vincent DiMartino, the sense of camaraderie and community that made the entire conference so special was on full display.
Made up of local university professors, free-lancers, and local students, the Frontier City Brass Band, under the direction of Don Linn, showcased the extraordinary regional talent by opening with a stunning performance of Where Eagles Sing by Paul Lovatt-Cooper, showcasing the band's superb pitch, technical facility, and soaring solo cornet lines. Among the selections performed was also an emotionally charged and beautifully phrased setting of 'Mid All the Traffic by Leonard Ballantine with DiMartino serving as guest conductor.
Frontier Brass Band Artistic Director and University of Central Oklahoma Associate Professor of Trumpet Ryan Sharp expertly navigated multiple-tongued passages while also playing beautifully phrased lines across all registers of the horn with a rich cornet sound on James Curnow's Concertpiece for Cornet.
Continuing to showcase the area's excellent trumpet playing, Regional Conference host and Oklahoma City University Professor Michael Anderson showed why he is one of the region's most respected trumpet artists with a beautiful flugelhorn sound and warm vibrato while performing Gabriel's Oboe.
The audience remained enthralled through Philip Sparke's Song and Dance, performed by Baylor University Professor Wiff Rudd with a flowing technique, captivating lower register, and ease of tone that have made him such a sought-after performer and clinician.
Further showcasing young talent, Juilliard School of Music student and Oklahoma City native Anthony Barrington amazed the audience with a sensitive performance of Erik Leidzen's Songs in the Heart.
Having played a bombastic jazz set the night before, passionate educator and performer Vincent DiMartino showed his trademark versatility and consistent sound by performing a William Remmer arrangement of Stephen Foster's My Old Kentucky Home, featuring an enviable playful style and flawless technique. Prior to his performance, DiMartino complimented Anthony Barrington for exemplifying the height of the brass band cornet soloist tradition. DiMartino's kind words were indicative of the uplifting and supportive pedagogical attitude of the entire conference. DiMartino received a standing ovation from an audience obviously appreciative of his greatness and musical authenticity.
The closing concert of the inaugural ITG Regional Conference held at Oklahoma City University was a great melding of local talent and nationally acclaimed performers and should leave great hope and serve as an outstanding model for future regional ITG conferences. (AJ)
Reporter Bios
Jason Bergman (JB) is editor of the Orchestra Section Profile in the ITG Journal and serves on the ITG Board of Directors. He is Assistant Professor of Trumpet at the University of North Texas.
Alexander Davis (AD) is a freelance writer and currently serves as a graduate teaching assistant
at Texas Tech University.
Casey Goldman (CG) is currently pursing a DMA at The University of North Texas.
Benjamin Hay (BH) is Instructor of Music (Trumpet/Theory) at Northeastern State University in Tahlequah, Oklahoma.
Aaron Jensen (AJ) is a DMA student at the University of North Texas.
Jacquelyn Lankford (JL) is currently a DMA student and teaching fellow at the University of North Texas, and previously received degrees from the Eastman School of Music and New Mexico State University. She also holds the position of second trumpet for the Monroe Symphony Orchestra in Monroe, Louisiana.
Cathy Leach (CL), ITG president, is professor of music and associate director at the University of Tennessee, as well as former principal trumpet with the Knoxville Symphony.
Grant Peters (GP) is professor of music at Missouri State University, where he teaches trumpet and coordinates the brass area. He is currently the ITG vice-president/president-elect.
Richard Tirk (RT) teaches trumpet, jazz, and coordinates the graduate program at Southwestern Oklahoma State University in Weatherford, Oklahoma.
Brian Walker (BW) is assistant professor of trumpet at Tarleton State University in Stephenville, Texas.
Spencer Wallin (SW) is the Adjunct Professor of High Brass at Navarro College. He is also finishing his DMA at the University of North Texas, where he studies with Dr. Jason Bergman.