The 42nd Annual International Trumpet Guild Conference - Hershey, Pennsylvania
Special Daily Report • Compiled by Peter Wood
Photos by Michael Anderson, Norman Bergstrom, Del Lyren, Brian Shook, and John Tamer
Saturday, June 3 - Evening events
---
Click here for more photos from the ITG Conference
---
Closing Concert - The United States Army Blues Featuring Anthony Kadleck, Dontae Winslow, and Bijon Watson

This august group opened the concert with a most apropos selection for the ITG performance, featuring the superb solo talents of members of the trumpet section. FSG Graham Breedlove, SM Kenny Rittenhouse, and MSG Craig Fraedrich spewed fire in their respective solos. The burning tempo was laid down by the terrific rhythm section, which was spearheaded by drummer Harold Summy. Pianist Dan Roberts comped along brilliantly. The group then offered up the original arrangement of the Count Basie classic Corner Pocket (also known as Till I Met You), featuring a marvelous plungered trumpet solo by Breedlove. The tune was an ultimate "Army Blues Basie" tribute.

New York studio trumpet great Tony Kadleck came onstage to perform two superb numbers. A Latin-tinged arrangement of Joe Henderson's Recordame was performed first. Kadleck's beautiful horn tone delivered the melody, and the Army Blues dug into the piece with vigor and superior textures, especially from the reed section. Kadleck then rendered the melody on trumpet, screaming high and hard above the ensemble in a most Maynard Ferguson-esque style. His tone, facility, and intonation in the upper register were outstanding. On How Do You Keep the Music Playing, Kadleck's incredibly lush flugelhorn playing was on full display. He covered the melody over the ensemble impeccably.

Baltimore's Dontae Winslow, recently of ABC's Dancing with the Stars, invigorated the crowd with his dreadlocks flying, body dancing, hands clapping, and horn (complete with red inner bell, matching his boots) screaming. Thelonius Monk's Brake Sake was played in a hard-funk driving style by Winslow and the Blues. Highly energetic and deeply involved, Winslow incorporated an intense vocal rap segment that took the audience by surprise and garnered an extremely positive reception. It was dramatic, for sure. Winslow's trumpet came back to solo and scream over the pulses and musical shouts of the band. A more reserved second selection, J.J. Johnson's ballad Lament had Winslow's trumpet spinning melody over the woodwinds. Winslow's stage presence engaged the crowd, and his playing put them over the top.
Bijon Watson entered the stage and offered a terrific version of the hard-bop tune Black Nile. Watson held nothing back as he soared into the upper register with enormous power. His facility in that range was outstanding, and the Blues performed superbly in support. Watson then sent up You Stepped Out of a Dream in a Samba style in which he played a very warm flugelhorn. The piece included a fine solo by drummer Harold Summy. As a finale, all of the guests - including new-to-the-Blues trumpeter Joshua Kauffman - came onstage and swung into a speedball titled Commotion. Each of the guests blew multiple intensely screaming choruses. Their individual and combined playing there brought the house down. It was a perfect ending to a superb evening and an outstanding 42nd ITG Conference! (NM)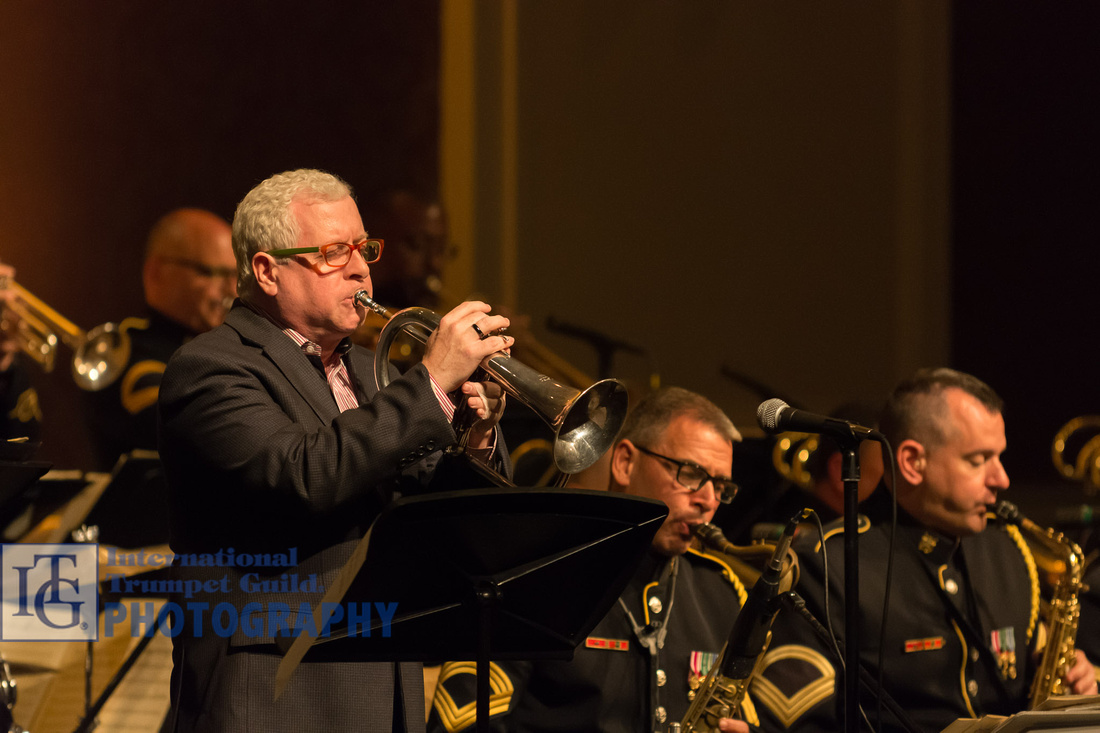 170603-0001Tony Kadleck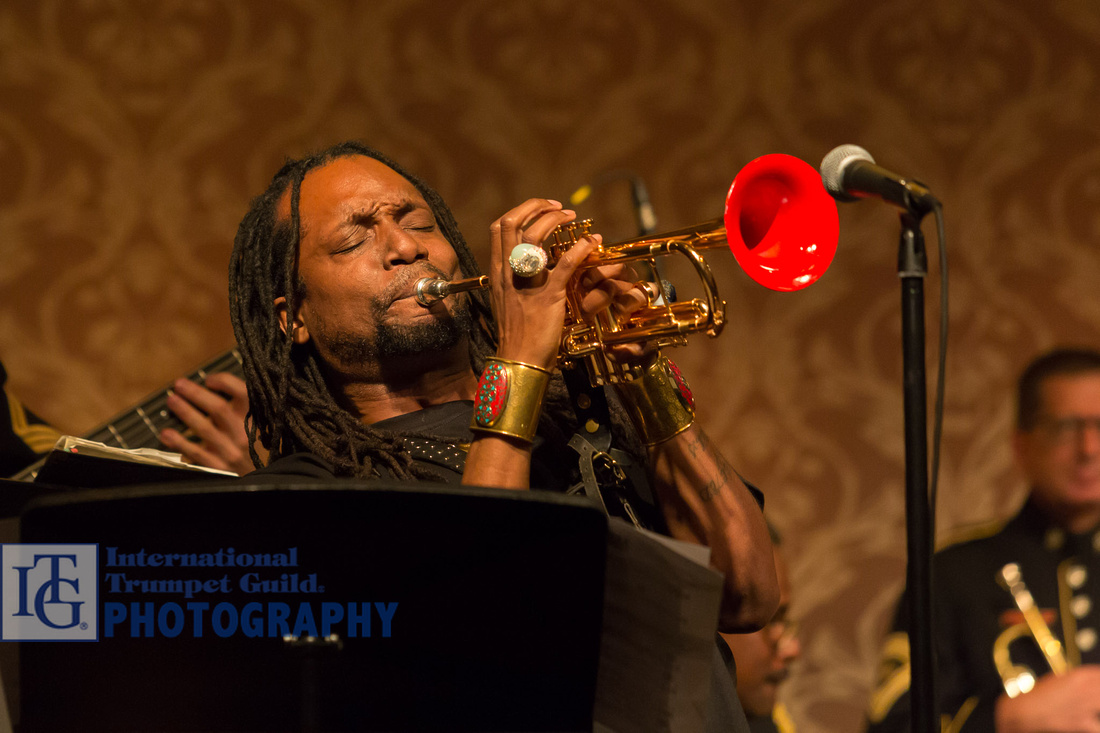 170603-0001Dontae Winslow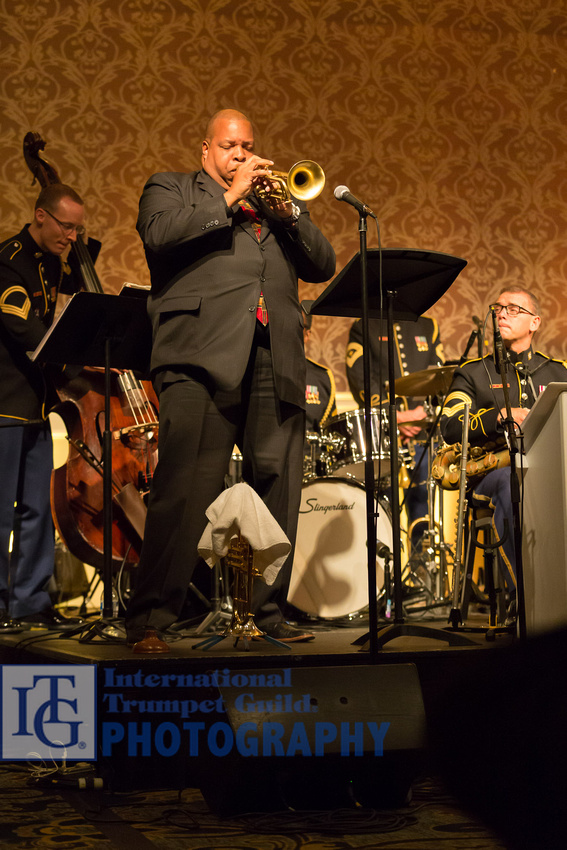 170603-0001Bijon Watson
170603-0001Dontae Winslow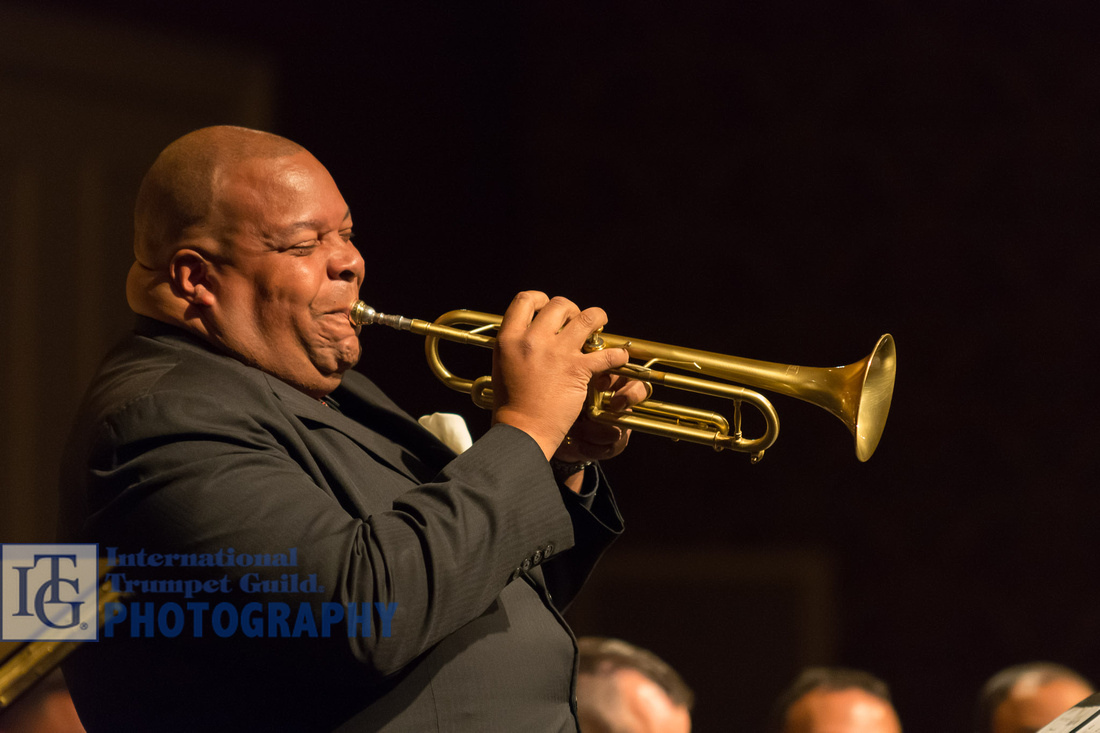 170603-0001Bijon Watson