The 42nd Annual International Trumpet Guild Conference - Hershey, Pennsylvania
Special Daily Report • Compiled by Peter Wood
Photos by Michael Anderson, Norman Bergstrom, Del Lyren, and John Tamer
Saturday, June 3 - Daytime events
As usual, all good things must come to an end! The 42nd annual ITG Conference is in the books and was, by all signs, a tremendous success. The week has been filled with awe-inspiring performances by a great number of wonderful artists, and many, many trumpeters, young and old, are ready to head home and begin again refining this activity that brings joy to so many. Thanks are due to the very large number of unpaid volunteers who made it all possible. Please take a look at the list of conference reporters and photographers who took time out of their conference to write reviews of all the various conference events. They and many others deserve great credit for making the conference what it is. Please join us for another memorable music-filled week next May (2018) in San Antonio!

---
Click here for more photos from the ITG Conference
---
Jason Crafton Warm-Up Session - From Theory to Practice: Understanding the How and Why of the Trumpet Warm-Up Routine

Jason Crafton offered an approachable warm-up routine for players of all ability levels. Incorporating both mouthpiece and leadpipe buzzing, Crafton's focus was centered around obtaining the most resonant sound possible through all registers of the horn. Following these exercises were repeated chromatic scale studies (Clarke's first study), which began on G4 and expanded outward. These exercises were slurred the first time and tongued on the repeat in order to warm up the tongue and develop consistency in sound between slurred and tongued passages. Crafton discussed variables in trumpet performance that can change from day to day. Variables include the physical aspects of performing, such as how one uses their air or the way their lips feel. In order to control these variables, one should focus on the constant, which is concept of sound. Crafton provided a marvelous sound quality for the audience as the call and response remained constant throughout the session. (SS)


Jessica Williams - Youth Day Warm-up Session

At Jessica Williams's morning warm-up session, she addressed the importance of a daily warmup and shared her story of how that routine helped her return to playing after time off for military basic training. She stressed the need to be mindful and honest and that it is not a maintenance time, but a warm-up time. She worked with students, got the audience involved, and reminded all that each note should be like a performance. The key elements covered were knowing what (or who) to sound like, taking a good breath using "po-to" as the model, playing the mouthpiece for a minute or two, and playing patterns that address sound, articulation, finger dexterity, range, and flexibility. The final step of her warmup is to play something pretty, which is intended to be something enjoyable that brings everything together and that can be different every day. (KM)


ITG Youth Competition: Junior Division finals

Ten young trumpet players competed on Saturday morning for the Junior Division of the ITG Youth Competition. All players, ranging in age from ten to fifteen, performed Barat's French contest piece Fantasy in E-flat and another piece of their own choosing. The chosen works included the Arutunian Concerto played by two performers, the Geodicke Concert Etude played by four competitors, and works by Senée, Hummel, Handel, and Balay. Each work created a pleasant contrast to the Barat, expanding on the various strengths of each competitor. The morning was filled with fine trumpet playing from these most promising young musicians. Results were announced later in the afternoon at the President's Banquet. (WK)

170603-0001-3Harrison Epstein, Youth Competition (Junior Division) winner


Rebecca Walenz Presentation - Choosing Solo Repertoire: A Recipe for Success

Rebecca Walenz, editor of the jr. column in the ITG Journal, led an engaging and memorable clinic Saturday morning as she discussed useful methods for choosing solo repertoire and explained how the correct choice of music can lead to success. Emphasizing the importance of finding balance between challenge and accessibility, Walenz gave a detailed explanation of three solos selected from her new CD, In the Light. She shared how each solo would help any trumpet player learn various techniques to become a well-rounded musician. She then performed each solo with pianist Miriam Hickman, allowing the audience to view the score projected on a screen, in order to demonstrate a variety of lesser-known solo literature available to young trumpet players. The clinic was highly informative as Walenz finished with the reminder that a maintaining a good attitude, being kind to all, and working hard are essential to finding success and enjoyment while playing the trumpet. (SW)

170603-0001-2Rebecca Walenz


ITG Open Members Meeting

President Brian Evans called the meeting to order by introducing the ITG Executive Committee and Board of Directors. A summary of the annual board meeting included addressing declining membership while maintaining services. While a budget deficit is expected over the next year, reserve funds are available, and the organization is in good financial order. Last year's competitions went well, and plans for this year's Carmine Caruso competition are underway.
New ITG commissions include a work for trumpet, piano, and percussion by Indian composer Lakshminarayana Subramaniam, completed and set for premiere in 2018. The 2019 commission will be a work for trumpet, voice (notated scat singer), and piano by the Brazilian-American Clarice Assad. Ryan Anthony's recording of Vassily Brandt's etudes is set for digital download as a free ITG supplement in 2019.

Other topics discussed were the Sponsor-a-Trumpeter program, the Legacy Endowment Fund, ITG Affiliate Chapters, the newly formed Artistic Advisory Council, and international outreach, including Journal translations.
Treasurer Dixie Burress discussed diminishing revenue and strategies for addressing that. The student membership demographic has been a particular concern, and redefining membership levels and adding auto-renew were also discussed. Vice President/President-Elect Cathy Leach presented efforts to increase membership, including the creation of a new promotional video that highlights benefits of guild membership. Members were asked for input, and they brought up a number of excellent ideas for increasing outreach and membership and improving conference processes. (LE)

170603-0001-6James Peyden Shelton, asking a question at the Open Members Meeting


Ryan Gardner Youth Day Presentation - Audition and Competition Preparation

Students of Dr. Ryan Gardner are consistently successful, both while studying with him at Oklahoma State University and after graduation, so he was an ideal person to present a clinic on this topic. The audience of mostly students was treated to a wealth of information presented in an interactive format with engaging doses of honesty and humor. After an initial conversation about the most important elements for which judges listen was followed by tips on what and how to practice in preparation for an audition. It was a treat to see how Gardner linked various concepts in the process of creating an optimal mindset for performance. A highlight of the session was his work with a student volunteer, in which Gardner offered simple and practical methods to work through an array of common challenges and discussed symptoms that can arise from performance anxiety. (AK)

170603-0001-7Ryan Gardner


ITG Youth Competition: Senior Division finals

For the Senior Division of the ITG Youth Competition, each competitor was required to play Joseph Turrin's Caprice and another solo selection of their choice. First to perform was Michael Bauer from Quince Orchard High School. His strong tone in the upper register stood out in both the required piece and the first movement of the Böhme Concerto. Claire Bruns performed Vivaldi/Fitzgerald's Allegro with a beautiful tone and grace. The fast double-tongued passages in Noelle Geisler's exciting rendition of James Stephenson's L'Espirit de la Trompette were well executed. Ashley Irvin selected Balay's Prelude et Ballade as her piece of choice. She demonstrated beautiful sound and clear articulation throughout. Forrest Johnston performed a very well prepared Tomasi's Triptyque and filled the ballroom with his excellent tone. The quick passages in Enesco's Legend performed by Charlie Jones was an exhilarating listen. Yoojeong Kim played an enduring, yet very successful, performance of both the required work and Arutunian's Concerto. The last two performers, Ryan Lee and David Yang, both selected the first movement of the Hummel Concerto. They each maintained great poise on stage and played with a very mature sound. (AW)


Research Room Presentations

​This year's research room presentations encompassed a wide variety of topics. Robert Rizzo, from the Australian Institute of Music, presented his work on developing pedagogical tools in the performance of big band lead trumpet repertoire. Rizzo demonstrated the evolution of lead trumpet playing by coupling audio recordings with sheet music examples to show changing articulations, note lengths, and mutes throughout the history of jazz. Rizzo's work is pitched at the crossover player wanting to play lead trumpet in a big band. Using recordings and visual examples, Rizzo led the audience through the evolution of the role of the lead trumpet, beginning with New Orleans ragtime bands and Buddy Bolden, through Louis Armstrong, Bix Biederbecke, and Bubber Miley.

​Fred Sienkiewicz's research on Alexander Arutunian's life and works for brass provides a fresh, deeper understanding of Arutunian's compositional techniques and stylistic expression. In traveling to Yerevan, Armenia, Sienkiewicz gained access to recordings and scores that were previously locked behind the iron curtain during the Cold War. Sienkiewicz's contextual and stylistic examination, performed in conjunction with Armenian musicologists, led to the discovery of a deeper understanding of the compositional influences of Arutunian's work, including the use of Armenian folk melodies, absorption of the Russian tradition of the "Mighty Five," the use of counterpoint in the tradition of ethnomusicologist Komitas Vardapet, and neoclassical influences of Shostakovich and Prokofiev.

As a result of conducting case studies with brass-playing cancer patients, Ryan Gross demonstrated how music positively affects the physical, psychological, and social lives of musicians with cancer. His research showed that music provides a psychological therapeutic effect through the expression and release of emotions. Additionally, participants in his study reported a social benefit to listening to and playing music, because they could communicate their emotions and thoughts through music. Physically, brass-playing cancer patients reported quicker recovery of their lungs with consistent trumpet practice and greatly improved breath support.

​Antonio Cardoso and Alessandro Costa, from Brazil's Universidade Federal de Goiás, showed how recent technologies that depict graphical representations of trumpet playing can be used to illustrate the difference between proper and improper performance techniques. For example, sonic visualizer software shows the differences between fortissimo and pianissimo dynamics by clearly showing the larger amplitudes in loud playing. The visualizer also depicts the difference between various articulation styles and vibrato. Students can see the width of their vibrato and the shape of their articulations. Teachers who struggle to teach their students abstract concepts can use visualizer software to quantify auditory concepts. (OF)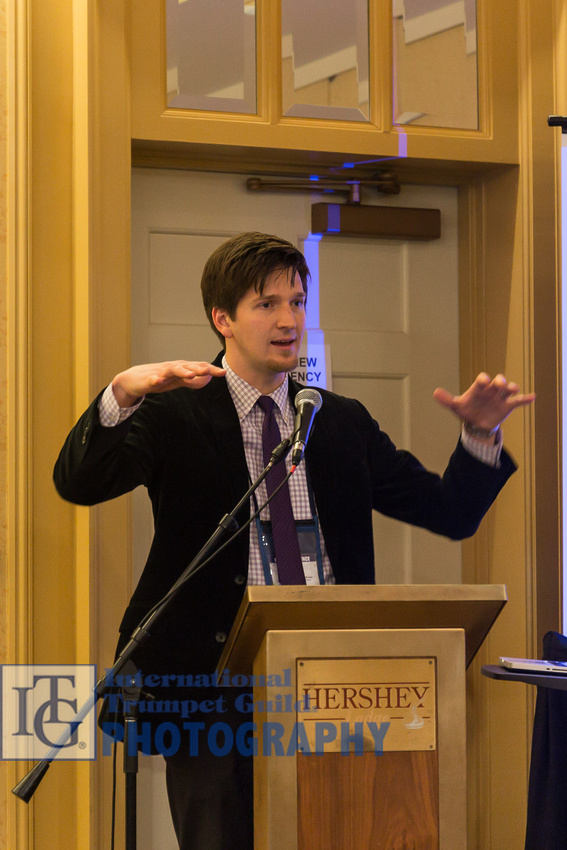 170603-0001-10Fred Sienkiewicz


Dontae Winslow Youth Day Jazz Presentation - How to Succeed and Monopolize Every Opportunity in the Music Industry

Dontae Winslow began his career as a classical trumpet student, but he has become one of the most in-demand popular musicians in the world, having performed with Justin Timberlake, Lady Antebellum, Dr. Dre, and a host of others across the musical spectrum. His inspirational clinic opened with a performance of Chrysalis, an original composition that developed from hip-hop vocals into an intense and passionate trumpet solo. A true student of all music, Winslow referenced Mozart and Stravinsky as easily as he did Clifford Brown, Dr. Dre, and Hank Williams. Winslow's class provided an abundance of information about harmony, rhythm, horn arranging, being on time, and building one's reputation. However, the best lessons learned were about living life and communicating effectively to an audience. He closed with a blazing rendition of Straight No Chaser, showcasing his mastery of modern jazz and his tremendous passion for life. (NV)

170603-0001-8Dontae Winslow


Alias Brass Youth Day Concert - Soundtrack of Our Lives

The Youth Day recital by the Alias Brass featured a great variety of works, new and old, from all different styles. Opening with Anthony DiLorenzo's exciting Fire Dance, they quickly transitioned to a beautiful horn ballad performed by Natalie Brooke Higgins, titled Saudade and composed for the group by Madeline Lee. Staying true to the tradition of brass quintets entertaining with stagecraft as well as music, the group sought to bring out the character of some of the works. Their performance of St. James Infirmary had the group creating a funeral procession, with members acting as pallbearers for the tuba, while Timothy Dueppen led the way with his trombone solo. Their Fugue on a Theme from Tetris had the ensemble stacking themselves like blocks from the game. It will be exciting to see what this ensemble continues to offer in the future. (KM)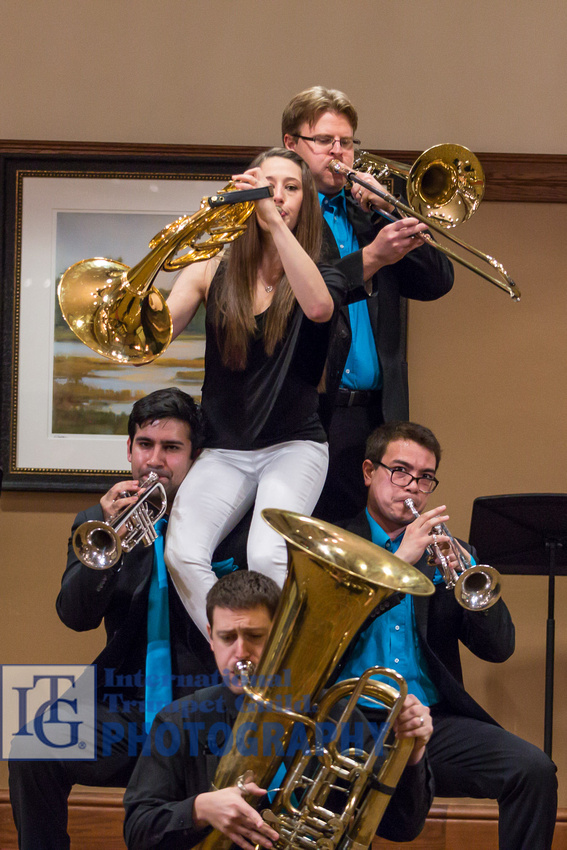 170603-0001-12Alias Brass


2017 ITG Honorary Award Recital - Allen and Laura Vizzutti

He still makes it look so easy. Allen Vizzutti, accompanied by his wife, Laura, gave yet another varied, interesting, and amazing recital. Vizzutti has been a featured artist at many ITG conferences over the years.

From the opening moments of Albinoni's Concerto in D, performed with Vizzutti's crystal-clear piccolo sound, to Shadows and Dragons (a dissonant and "kind of scary" - his description - work performed flawlessly on the B-flat trumpet), to his signature rendition of The Carnival of Venice, Vizzutti never fails to thrill.

He performed Three World Winds on piccolo trumpet, flugelhorn, and B-flat trumpet, representing three different types of winds: Scirocco (a warm desert wind), Chinook (a gentle wind), and Cyclone. Whether swirling eddies, a flowing breeze, or a whirling dervish, Vizzutti's sound, intonation, and musical phrasing were breathtaking.

At the conclusion of The Carnival of Venice, Vizzutti returned to the stage, repeated the final variation and cadenza, held out his (beater) trumpet toward the audience, and, in true "drop the mic" fashion, dropped his instrument to the floor (to gasps from the audience)! This will certainly be viewed thousands of times on YouTube. And he still makes it look easy. (KE)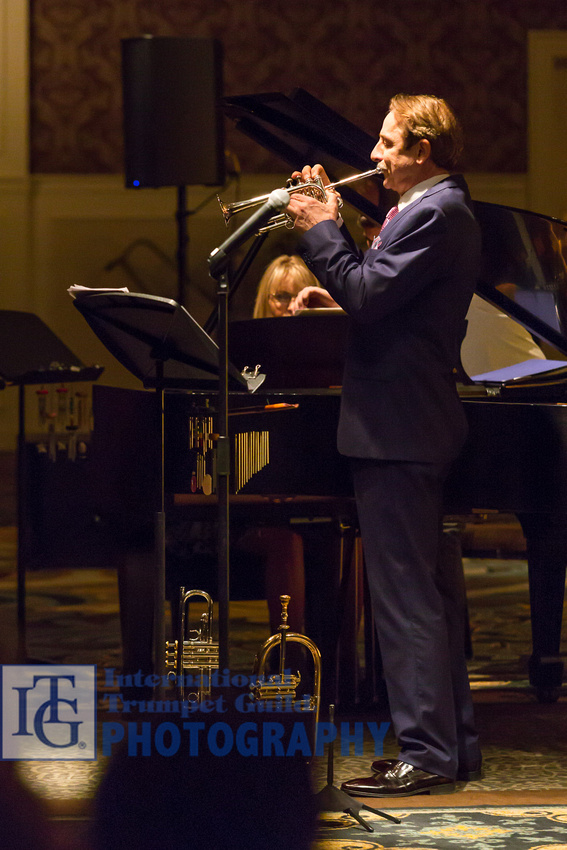 170603-0001Allen and Laura Vizzutti


Festival of Trumpets Concert
​Old and new friends gathered in the Great American Red Hall for the Festival of Trumpets to perform and hear a wide variety of repertoire for trumpet ensemble. The invigorating program featured fine players from all walks of life and performance experience.

First on the program was Walter Piston's Salute, edited by Luis C. Engelke and Carl B. Schmidt and conducted by Engelke. This clean, crisp fanfare featured unison rhythms and repetitious triplet patterns. Although the piece was somewhat short, its impact was strong.

Jason Dovel's Centrifuge (2014) featured a very unique opening trumpet solo that returned throughout. Creative mute effects and beautiful lyrical lines were passed through the ensemble.

ITG President Brian Evans conducted Paul Terracini's Exaudi Orationen Nostrum (2010). Before the performance, Evans dedicated the piece to the trumpet players who had passed away in the last year. A soft, flowing ballad, the beauty of the piece likely lowered heart rates and relaxed shoulders of all.

Samuel Scheidt's Canzona, edited by David Baldwin, was performed with four trumpets and piano and featured terraced dynamics and cascading musical lines commonly found in the early Baroque period.

James Olcott's The Standard was conducted by David Brown. It included both flugelhorns and trumpets and featured many qualities of a traditional march. Audience members were tapping their toes to the beat of its lovely, singable melodies.

David Reynolds conducted Normand Lockwood's Eidolons. This work featured all kinds of equipment, including flugelhorns, trumpets in various keys, and mute changes, providing endless interesting colors and timbres. Its eerie and mysterious musical qualities were in stark contrast to The Standard.

The virtuosic Segments (1978), by Fisher Tull, was conducted by Allyson Keyser. Two groups of four trumpet players were set up on stage, each with an impressive number of mutes prepared for quick changes during the performance. The piece opened with a bell-tone statement and maintained intensity and energy throughout.

Scott Belck arranged Michel Legrand's jazzy The Summer Knows for trumpet ensemble. This piece could be described as a "power ballad" with its beautiful, singing, and memorable melodies.

The last piece on the program was Hector Berlioz's "Judex crederis" from Te Deum, arranged for mass trumpet ensemble by David Turnbull. The sheer number of trumpet players on stage was impressive in itself, though not quite as impressive as the massive, glorious sound they produced. Celebratory melodic lines were an appropriate end to a wonderful concert of trumpet ensemble music. (RW)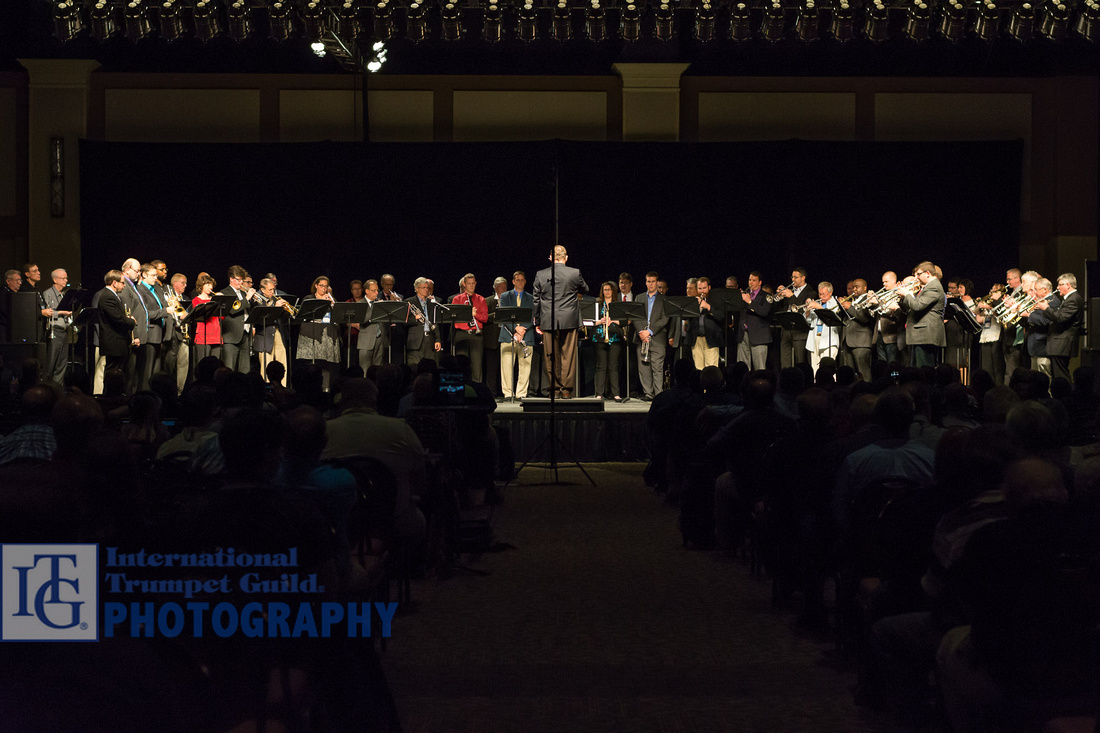 170603-0001-17Mass trumpet ensemble for Festival of Trumpets concert


President's Awards Reception

At the end of a delicious banquet dinner, the ITG Awards Banquet presentation began with ITG President Brian Evans introducing the ITG officers and honorees sitting at the head table and thanking everyone who worked at the conference, including executive staff, volunteers, accompanists, presenters, performers, exhibitors, and sponsors. He then acknowledged past presidents, conference hosts, and award recipients who were in attendance.

Jason Dovel, acting competitions coordinator, along with the coordinator of each individual competition, then announced the winners of the ITG competitions and scholarships. That list of winners is contained within the Competition and Scholarship Results blog post.

Following acknowledgment of the many scholarship winners, the ITG Honorary Awards were distributed. David Hickman accepted his award by telling the story of how ITG was founded in 1974 at the prodding of tuba legend Harvey Phillips. Hickman also expressed his pride at how much the ITG has grown over the years. Allen Vizzutti accepted his award by proclaiming, "I'm not dead yet or retiring!" and by reminding everyone in attendance that our main job as trumpeters is "to communicate happiness and joy to other people." After relating a story about how he met Doc Severinsen at the age of 15, Doc came to the podium to say that Vizzutti is the best trumpeter of all time. He also praised Vizzutti as a husband and father, saying, "He is an incredible human being, and I love him." (EK)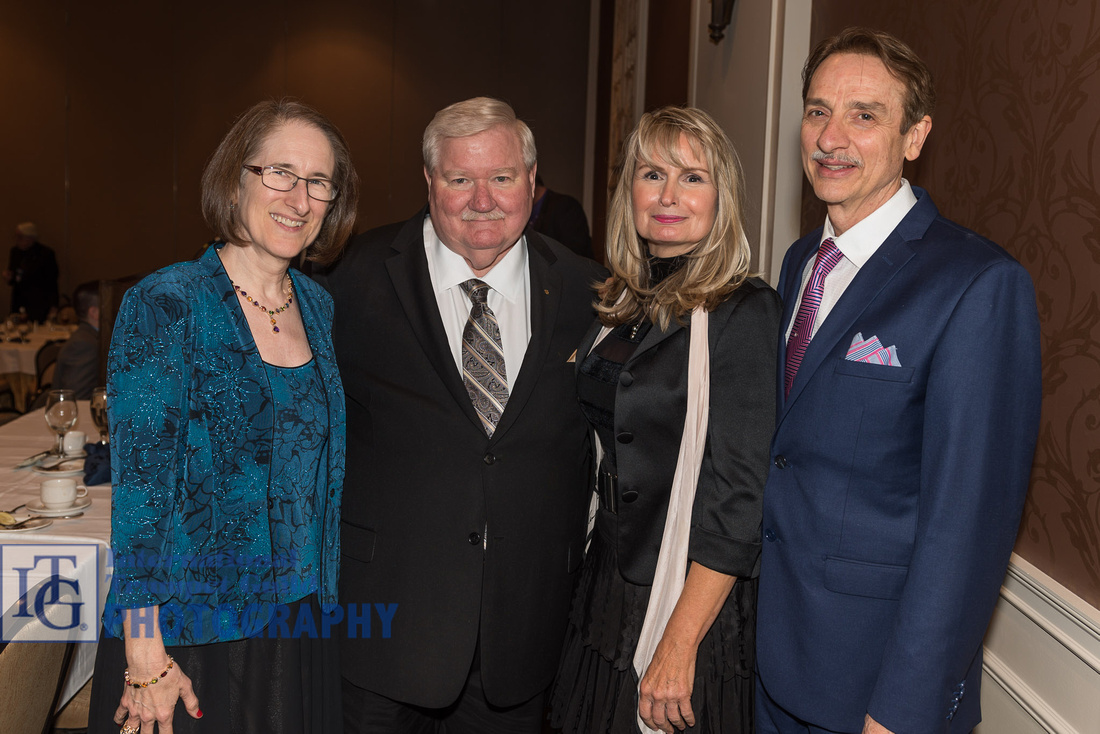 170603-0001-22L-R: Miriam Hickman, David Hickman, Laura Vizzutti, Allen Vizzutti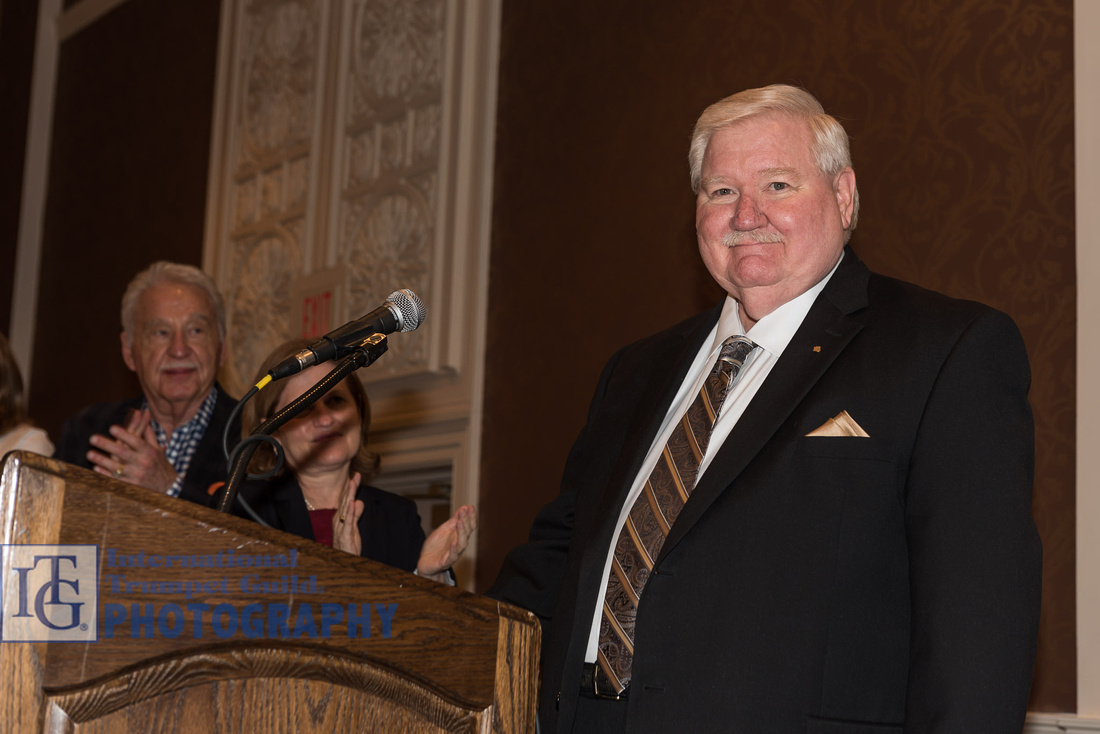 170603-0001-19David Hickman
170603-0001-22L-R: Doc Severinsen and Allen Vizzutti
170603-0001-22Allen Vizzutti
---
Click here for more photos from the ITG Conference
---