The 42nd Annual International Trumpet Guild Conference - Hershey, Pennsylvania
Special Daily Report • Compiled by Peter Wood
Photos by Michael Anderson, Norman Bergstrom, Del Lyren, and John Tamer
Wednesday, May 31 - Daytime events
This first full day of the conference saw delegates flooding the halls to see the plethora of exhibits, clinic sessions, and concerts. There is a great spirit in the air, and people seem genuinely pleased with the conference so far. The evening performances, in particular, were quite a thrill. If the rest of the conference goes like today, this will be an event to remember for sure!

---
Click here for more photos from the ITG Conference
---
Tim Hudson Warm-Up Session - Setting the Templates: A Guide to Daily Fundamentals
"As artists, our vision and mindset affects everything we do." These were some of the first words spoken by Tim Hudson during his warm-up class. One of the key points of the session revolved around the mental approach to and process of trumpet playing. Focusing on the process is far more important than the product, as the process facilitates many aspects of performance, including tone production, note accuracy, anxiety, etc. He stressed playing in the center of the sound with a demonstration by first performing on the high side of center and then in the most resonant part of the pitch. "Hear what you want to sound like and then sound like what you want to hear." Hudson's claim to be a musician who happens to play the trumpet was demonstrated exquisitely through his performance in a singing style and through his ability to answer all questions from the audience fully and clearly. (SS)

Brianne Borden Warm-Up Session - Yoga for Trumpets: Bring Your Horn!

What do yoga and trumpet playing have in common? According to Brianne Borden, doctoral candidate at Arizona State University and yoga instructor, the answer is holding a physical posture while manipulating breath. In her early-morning warm-up session, Borden guided players through a series of physical and mental exercises derived from yoga, which help trumpeters play more efficiently and prevent career-ending injuries. She began the session by establishing foundational alignment and ended with a guided meditation in which players projected themselves into a successful performance scenario. "Yoga is a practice of body awareness," she informed the audience; and when the body is healthy, the brain functions better. Stretches targeted three areas that affect trumpet players - wrists, shoulders, and intercostal muscles. Yoga won't get a person into the practice room, but it is known to improve two other aspects of a successful performance - mental health and physical wellness. (MM)

Jason Bergman Presentation - Adaptive Teaching: Pedagogical Insights and Techniques Used in Teaching Students with Asperger's Syndrome

Jason Bergman's session concerned adaptive teaching strategies for students with Autism Spectrum Disorder (ASD). He was joined by his student, Olivia Funkhouser (ITG 2017 Scholarship winner), who earned her bachelor's degree with Bergman at the University of Southern Mississippi and who will be entering the master's program to study with him at the University of North Texas next year. Bergman explained that 1 in 68 students have ASD, and Funkhouser was diagnosed with Asperger's Syndrome during her first year of college. The teacher and student discussed and demonstrated various symptoms of ASD, including hypersensitivity, social deficits, inflexible thinking, and repetitive behaviors. Bergman prescribed such adaptive teaching strategies as social coaching, giving specific instructions (not metaphors), using blunt and direct feedback, encouraging a growth mindset, and structuring practice schedules and lesson plans. Funkhouser was an expert co-presenter and advocate for ASD students. Bergman posted his detailed slideshow notes and handout on his website (http://jasonbergman.com - click on "Blog"). (EK)

170531-0001L-R: Olivia Funkhouser and Jason Bergman
Jeff Purtle Presentation - Hit it Hard & Wish it Well: Claude Gordon's Approach to Trumpet Playing

Having studied with Claude Gordon for a decade, there is perhaps no one more well versed in the famous pedagogue's methods and routines than Jeff Purtle. The presentation focused on the primary teachings of Gordon and how to incorporate his methods into developing a strong, effective practice routine. Purtle emphasized Gordon's approach that there is no music without mastery of technique and that it is, therefore, imperative to become a master on the instrument in order to make great music. In developing a routine, Purtle emphasized that consistency in practice leads to consistency in execution. While demonstrating many of the exercises in Gordon's method books, Purtle detailed how to utilize each drill to enhance and stretch a player's fundamental abilities. Purtle showed how Gordon's approach of perfecting small excerpts of exercises, repeating them, and then gradually adding material can help a player refine any etude or piece. (EM)

170531-0001-2Jeff Purtle
James Newcomb Presentation - MusicPreneur: Making Money, Making Music

James Newcomb presented a relaxed, informative clinic before a welcoming and interested audience. With his central message that musicians must always put music first and strive to share a story, Newcomb discussed how to harness the tools available in order to be a successful "MusicPreneur" (music entrepreneur). He encouraged audience members to find their niche in the market, establish rapport with a willingness to do things for free, and connect with audiences using every means available. There was a thought-provoking discussion about how to transition from offering services for free to actually making money, and Newcomb further stressed the importance of providing a valuable product to society. He shared that musicians should use their music to bring people together and help develop community. His clinic was enjoyable and informative. (SW)

170531-0001-3James Newcomb
Bernardo Medel Recital - Rafael Méndez Extravaganza

From the very beginning of his recital, the virtuosity of Bernardo Medel, the acting principal trumpet of the Xalapa Symphony Orchestra in Mexico, was on full display. Medel's program, in collaboration with pianist Miriam Hickman, highlighted his magnificent facility, multiple-tonguing prowess, and technical mastery throughout, and he also serenaded the audience with soft, delicate tones and vibrato. One of the most stunning aspects of his playing was the character that he instilled in every flourish. While pieces by Arban, Vizzutti, and Hartmann were included, the majority of the works were composed or arranged by the great Rafael Méndez. Through a translator, the humble Medel described how honored he was to perform at an ITG Conference and what a thrill it was to present music by "the best Mexican trumpet player." (DD)

170531-0001-4Bernardo Medel with pianist Miriam Hickman
William Stowman Recital - A Timeless Place

The one word to describe William Stowman's recital is clearly "versatility." He not only performed on six different trumpets, but he also showed effortless skill in a multitude of styles. He was joined on stage with numerous colleagues, as well as past and previous students. Stowman's repertoire ranged from a delicate and graceful performance of Bach with a powerful vocal soloist, to a more contrasting and creatively expressive performance of Shchedrin. The program included a world premiere, composed for ITG, by Leidhecker, in which Stowman stood among the Messiah College Brass Quintet and displayed his beautiful tone on the E-flat trumpet. The tear-jerker of the recital was the final piece, Jimmy Rowles's A Timeless Place, which was dedicated to the memory of Stowman's father, who had consistently supported his son's musical career. (BB)

170531-0001-5Bill Stowman
Virginia "Ginger" Turner Presentation - Prepare to Win!!
Trumpet players of all ages filled Magnolia ballroom for SGM Turner's clinic on preparing to win a military band audition. Turner's wonderfully authentic and honest style of communication put audience members instantly at ease as she discussed a wide range of topics regarding the audition process. Although an array of topics emerged and resonated with those in attendance, a few subjects stood out from the others. Turner discussed at length different ways to practice trouble spots in popular military band excerpts efficiently. She also stressed the value of preparedness and reminded audience members to stay true to themselves and not to worry about what is out of their control. The clinic ended with a rousing performance of everyone in the audience buzzing Sousa's Stars and Stripes Forever on their mouthpieces, ending the clinic with laughter as a wonderful sense of camaraderie filled the room. (RW)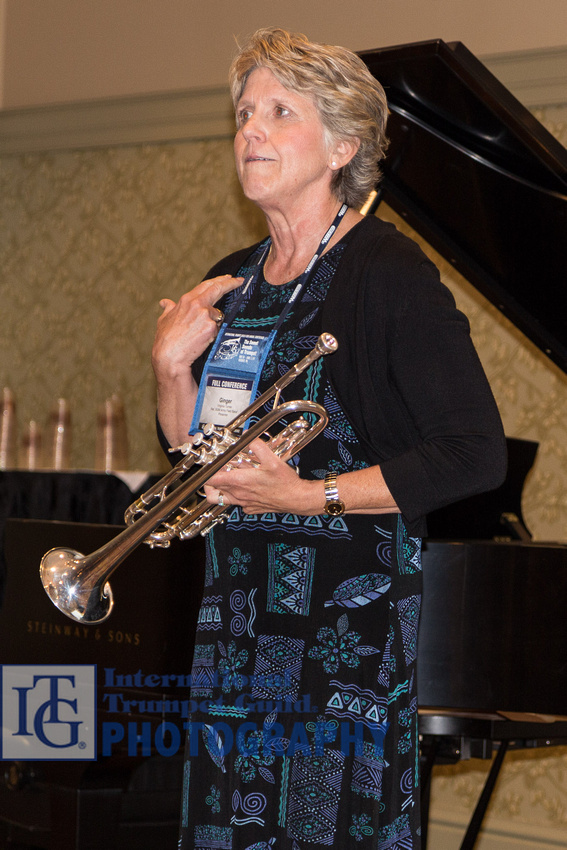 170531-0001-6Ginger Turner
Terry Warburton Presentation - Finding the Right Tool for the Job: Why Equipment Matters

Prior to Terry Warburton's clinic, an ensemble of Warburton artists, including Rob Quallich, Tyler Jaeger, Ryan Chapman, Mike Vax, Jose Johnson, Gerry Lopez, Kim Aubuchon, and Max Deforest (and conducted by JB Scott), performed a bright fanfare medley arranged by Ryan Chapman. The medley featured Gonna Fly Now, Home to Emily, MacArthur Park, and Here Comes the King. This eclectic mix of tunes had the audience eagerly engaged, as the trumpets began playing with no holds barred from the start, featuring several screaming trumpet solos. The entire group performed with energy and enthusiasm after just one rehearsal.

After a brief introduction by ITG President Brian Evans, Terry Warburton set the tone for a playful and enjoyable clinic session with some lighthearted banter between himself and the prelude trumpeters. Warburton proceeded to discuss the importance of selecting equipment that matches each player's unique physique and performing style. Warburton stated that many players are under the assumption that they must play with a large mouthpiece cup to demonstrate strength, but this is not true. He remarked that a mouthpiece found to be appropriate for a player twenty years ago is not necessarily the best selection for that player now, based on changing physical characteristics and playing demands. Sometimes an adjustment of one one-thousandth of an inch in diameter can make the difference between playing comfortably with a great sound and struggling unnecessarily. His presentation was followed by a dynamic question-and-answer session on mouthpiece construction and equipment choice. (OF)

170531-0001-7Terry Warburton
Bria Skonberg Presentation - Evolutionary Improvising

During her afternoon clinic, Bria Skonberg discussed her life as a jazz artist and presented an approach to performing traditional jazz. She opened with a wonderful a capella version of "Happy Birthday," showcasing her easy melodic approach with great time-feel and harmonic language. She did an excellent job of providing historical context for the development of jazz in New Orleans. She led the audience in layered hand clapping of habañera and clave rhythms, which was reminiscent of what would have been heard in Congo Square in the late nineteenth century. She explored the three primary elements of music for improvisation - rhythm, melody, and harmony. For each element, she discussed and demonstrated different approaches to practicing improvisation on "Happy Birthday." The constant element throughout the clinic was Skonberg's amiable personality; her wonderful sense of humor and jovial nature were a valuable lesson to all of us on how to connect with an audience. (NV)

170531-0001-10Bria Skonberg
Huw Morgan Recital - The French Connection

Winner of the 2016 Ellsworth Smith Competition and the 2016 Prague Spring Competition, Huw Morgan is currently the principal trumpet of the Basel Symphony Orchestra. His recital with pianist Rebecca Wilt took place before a full audience in the Magnolia Ballroom and featured a masterful and virtuosic performance of French recital repertoire. An elegant performance of Hubeau's Sonata highlighted Morgan's ability to contrast his full rich tone with silky smooth soft dynamics. The second work, Reynaldo Hahn's "A Chloris," is an approachable love song that would make a beautiful addition to student recitals. The Enesco Légende was performed with stunning lyricism, brilliant technique, and a haunting rendition of the muted ending. The recital closed with Arban's Fantasie Brilliante, superbly showcasing Morgan's gorgeous cornet sound, always-elegant phrasing, and polished flair. The audience gave both performers an enthusiastic and well deserved standing ovation. (AK)

170531-0001-9Huw Morgan
Marc Reese and Robert Sullivan Recital

Marc Reese explained to the audience that he "just wanted to play with the great trumpeter Bob Sullivan," and the result was a varied, extremely musical, and highly enjoyable recital held at the First United Methodist Church in downtown Hershey. The recital began and ended with works for two trumpets and organ. Reese explained that the works were arranged from pieces originally performed by the Empire Brass Quintet, including Handel's Prelude in F Major for Two Trumpets and Organ (originally known simply as "Aria"), and J. S. Bach's Three Cantatas for Two Trumpets and Organ, including "My Spirit Be Joyful" from Cantata No. 146. Marc Reese performed Alan Hovhaness's Prayer of St. Gregory and the first movement of the Neruda Concerto in E-flat. Robert Sullivan chose such lesser-known works as Naji Hakim's three-movement Sonata (written in 1994 for Håkan Hardenberger), and Gunther Schuller's Pavane. Organist Dan Umholtz provided the able accompaniment on the church's 2010 Letourneau organ. (KE)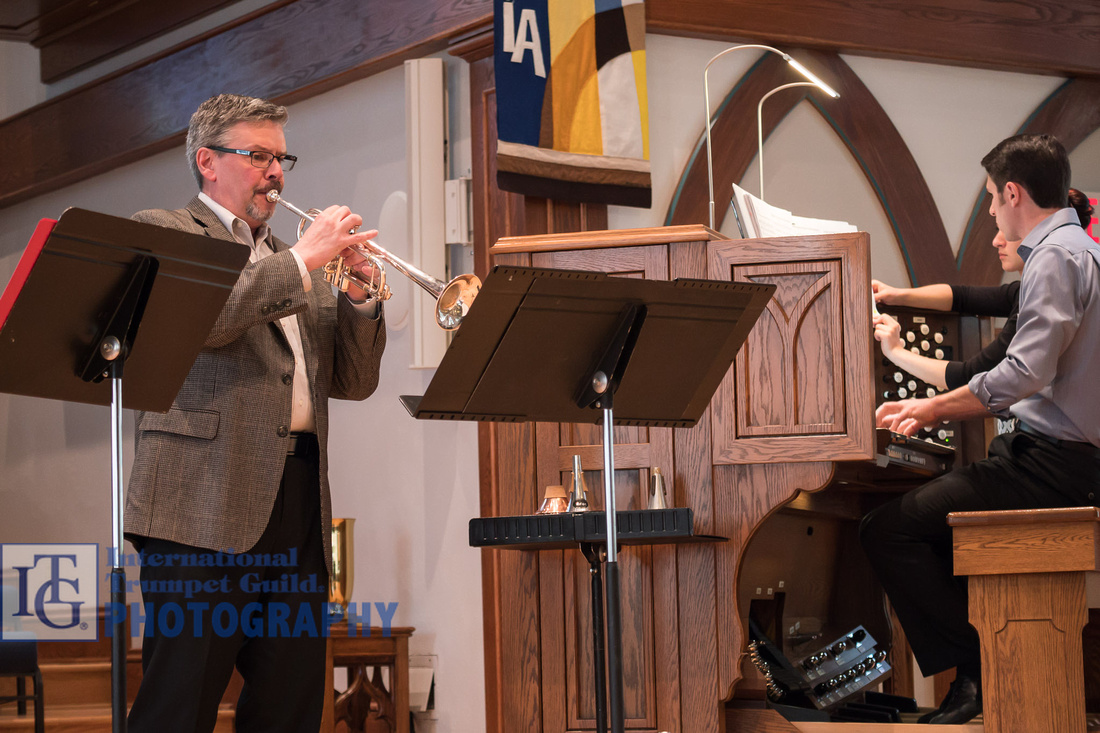 170531-0001-11Robert Sullivan with organist Dan Umholtz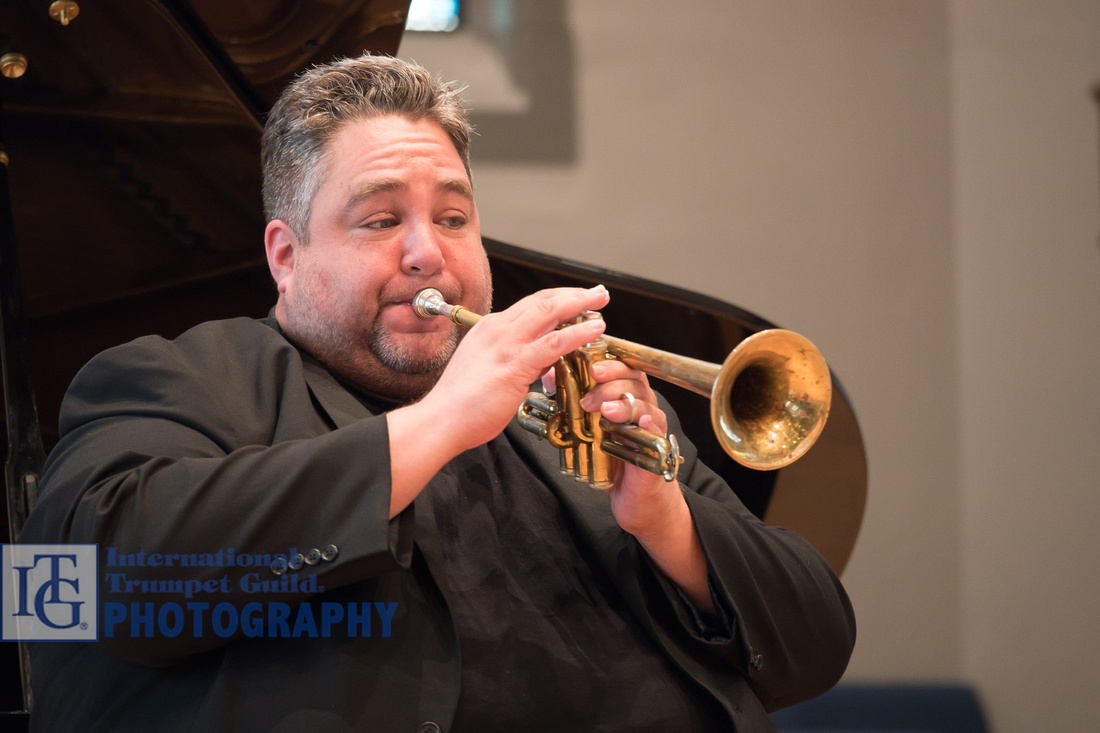 170531-0001-12Marc Reese
Orchestral Excerpts Competition Finals

During the final round of the Orchestra Excerpts Competition, audience members were treated to beautiful music as the competitors performed a diverse and challenging list of excerpts. David Koch (student of Paul Merkelo at McGill University) played first, demonstrating good musical understanding and expression throughout. His soft playing on Debussy's Fêtes was impressive, with a particularly brilliant Finale from Stravinsky's Pulcinella Suite. Francis LaPorte (student of Richard Stoelzel at McGill University) showed his ability to play with strength and power, particularly in the excerpts from Strauss's Ein Heldenleben. Lastly, Alex Wilborn (student of Raquel Rodriquez at Tennessee Technology University) demonstrated beauty and finesse with an outstanding performance of the excerpt from J. S. Bach's Christmas Oratorio. All three finalists played extremely well, and the audience thoroughly enjoyed the performance by all three competitors. (SW)
170531-0001-16Orchestral Excerpt Competition finalists and judges. Front row, finalists L-R: Francis LaPorte, David Koch, Alex Wilborn. Back row judges L-R: Olivier Anthony Theurillat, Phil Snedecor, Justin Emerich
Nadje Noordhuis Jazz Concert

On Nadje Noordhuis's highly enjoyable jazz recital, all of the selections were her own and ranged in style from tributes to more conceptual, genre-inspired tunes. Le Hameau Omi is a tango that enabled Noordhuis to display her velvety sound with fiery interjections and lines that seemed to lead listeners around the dance floor. Mirror Ball was inspired by her love of 1970s cop shows and disco music, with the group sounding like a mixture of Peter Gunn, Shaft, and film-noir. A tribute to Bix Beiderbecke, called Blues 4 Bix, was an inventive blend of Beiderbecke style and Kansas City blues. Indigo allowed Noordhuis to highlight a new area of interest, using effects pedals to add delays and reverb. This was a well mixed recital and showcased well Noordhuis's remarkable versatility as a trumpeter and composer on the jazz scene. (KM)
170531-0001-17Nadje Noordhuis


Non-Pro and Comeback Players Reception

A gathering of approximately 80-100 of the non-pro members of ITG was held at Your Place Sports Bar. The group was joined by many ITG Board members, including the current and three past presidents of ITG. Non-Pro Player Committee Chairman Dan Hallock introduced the members of the committee, explained its mission, and described what has been done on behalf of this very large group of the ITG membership in the past year. ITG President Brian Evans welcomed all those in attendance and shared his greetings and appreciation to all. As always at these events, old friendships were renewed and new friends were welcomed. This annual event is always one of lively discussion and exchange of information, and this year's gathering was no exception. It remains an event that all non-professional members of ITG should attend. (DR)

---
Click here for more photos from the ITG Conference
---