The 44th Annual International Trumpet Guild Conference - Miami, Florida (USA)
Special Daily Report • Compiled by Peter Wood
Photos by Michael Anderson, Norman Black, Benjamin Lowe, and Donald Sorah
Friday, July 12 - Daytime events

---
Click here for more photos from the ITG Conference
---

Alan Klaus - Interleaved Warmup
In his morning warm-up session, Alan Klaus focused on explaining and demonstrating the benefits of interleaved practice. He began by alternating through a series of stretches, buzzing, lip bends, and gentle long tones. His one minute of meditation was a welcome inclusion to focus on the imagery of positive musical experiences and overall gratitude. A large part of the session was spent explaining the science behind the benefits of interleaved practice and how it can achieve long-term progress. Interleaved practice, which involves constantly mixing and rotating through different material, provides more of a challenge than traditional "block practicing," or staying with the same type of material for longer sets until you gain comfort with it. The last portion alternated between mouthpiece buzzing, scales, and Bach chorales. Playing in four-part harmony was an excellent way to close the session––by making music together. (NV)
Marisa Youngs - Balance Under Pressure: Warm-Up Tactics for Audition and Performance Days
Dr. Marisa Youngs led an active warm-up session focused on establishing a routine that is careful to avoid adding tension/anxiety of any kind. Her notes on preparing for an audition or performance included valuable information, including consistency of material, physical health, and focus on the individualized nature of routines. Her recommendation for students is to try as many warmups as possible to see what works best and to warm up with all of the techniques needed in your audition or performance. Young's metronome-guided group routine started with Breathing Gym exercises and then moving to "foo," "hoo," "poo," and "too" attacks on the mouthpiece. She then moved on to some expansion exercises, flow studies, Clarke No. 1, Shiner flexibilities, major scales, and Stamp/Gekker-esque articulations. The remainder was focused on how to tailor the rest of one's routine for two different audition scenarios and what to do after the warmup. (DG)
Kyle Millsap and Jonathan Cresci - The Art of the Audition Recording
During a busy morning of presentations, Kyle Millsap and Jonathan Cresci gave an informative session on the proper preparation, equipment, and practices for creating a professional-quality performance recording. Dr. Millsap began the lecture by outlining the performance aspects, with excellent suggestions regarding audition requirements, repertoire choices, and logistical elements. A particularly helpful piece of advice was to allow one hour of recording for every five minutes of music to be recorded in order to avoid time constraints. Cresci, a recording engineer, gave a succinct overview of appropriate equipment needed for a professional recording. He specifically advised recording at 24 or 16 bit and 48 khz and also discussed finding the appropriate "blend" in the room by moving the microphone back and forth first and then adjusting the height. The session ended with an impromptu demonstration of optimal microphone placement, with Millsap playing exercises and Cresci discussing blend. (MY)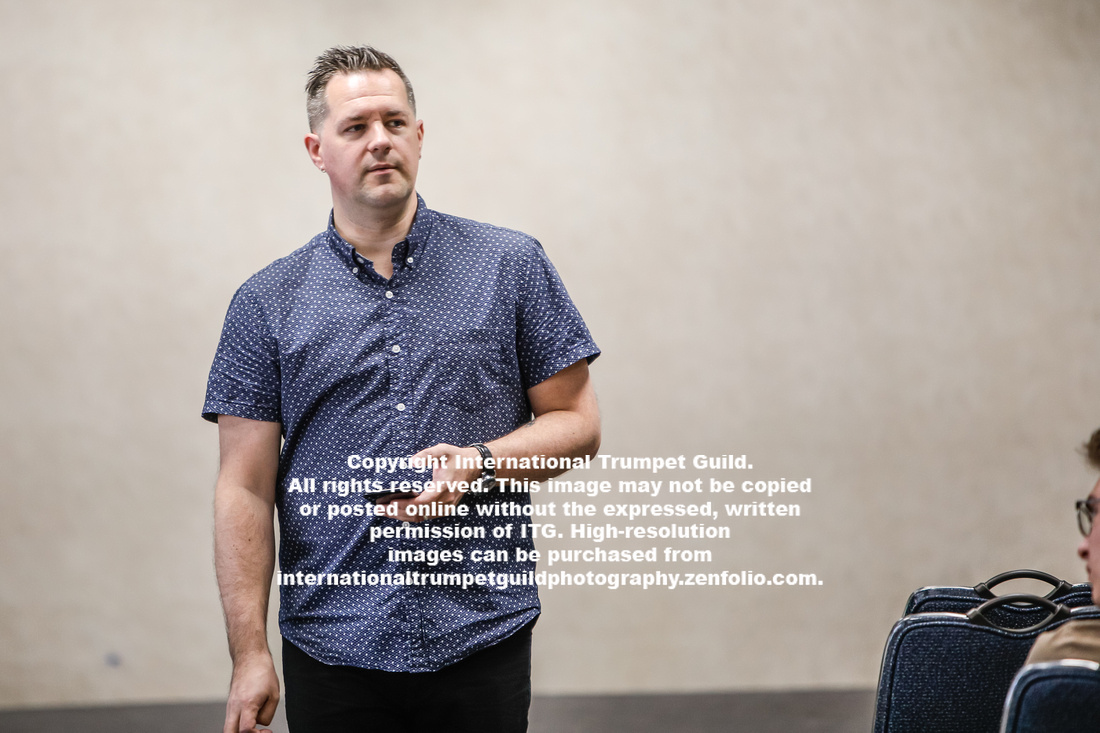 Fred Sienkiewicz Lecture Recital - The Trumpet Music and Armenian Heritage of Alexander Arutiunian
Fred Sienkiewicz presented an informative and entertaining lecture-recital on the music of Alexander Arutiunian (preferred spelling), packed with new research concerning the composer of one of our most popular trumpet concerti from the twentieth century. The fruit of more than five years of research, the session reviewed the composer's six works for trumpet, his Armenian heritage, and related folk music influences. Sienkiewicz performed selections from the six works (from memory) with compelling expression and technique, accompanied by pianist Thomas Weaver. It was particularly interesting to hear audio examples of Armenian folk music and instruments juxtaposed with relevant passages from the Arutiunian concerto and his other works. A short video of the composer performing one of his piano works in 1962 was also shown. Sienkiewicz's impressive command of languages (Armenian and Russian), history, and repertoire was evident, as was his fine playing. Links to the presentation slides and more information is available on Sienkiewicz's website (http://www.alexanderarutiunian.info/wp/itg2019). (EK)
Christopher Moore - Let's Get Back to Fundamentals!
Dr. Christopher Moore presented a fantastic lecture Friday morning for the non-pro/comeback players. He opened by performing a beautiful lyrical excerpt from a Bordogni etude and then led an informative discussion focused on six essential aspects of trumpet playing. Emphasizing tone production and musical expression, Moore shared that practicing and improving fundamentals is the key to developing the ability to tell your story through music. He provided detailed information on how to approach each aspect of the trumpet. Moore was also accompanied by special guest Bryan Goff, who shared from his personal experiences of returning to the trumpet after time away from the instrument. Professor Goff shared that spending adequate time to recover and always listening to your chops are helpful tools, and he also provided tips for maintaining skills while traveling. The lecture was engaging and helpful for all musicians in attendance and a great addition to the conference. (SW)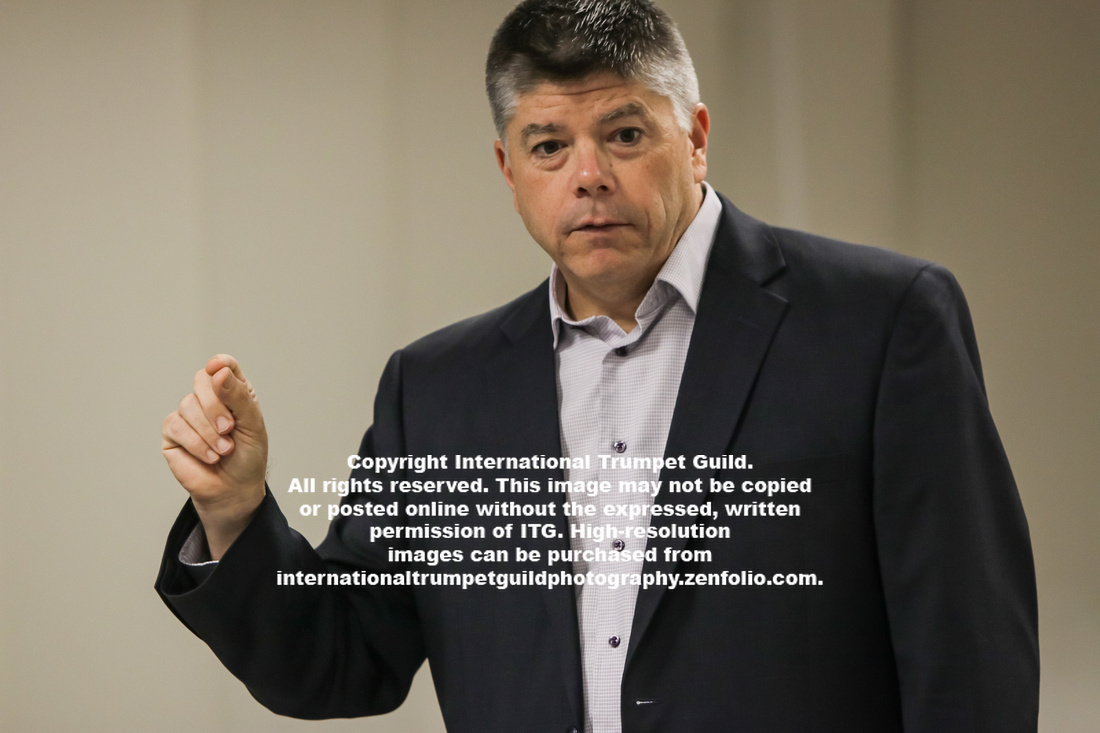 Panel Discussion - So You Think You Want to be a College Professor
For anyone wishing to pursue a career as a collegiate-level trumpet instructor, this panel discussion was a tremendous encouragement. Jason Bergman (Brigham Young University), Raquel Rodriquez Samayoa (University of North Texas), Jason Dovel (University of Kentucky), and Mattthew Vangjel (Louisiana State University) openly shared their journeys to professorship with humility and good humor. A wide variety of topics covered gave listeners a peek behind the curtain into the current task of earning a position and teaching at a university. A few noteworthy tips for the eager applicant: diversify your skill set to increase employability, create a "goal" CV that includes anything you would like to eventually add to your resume, continually expand your network of connections at conferences like ITG, prepare for an interview just as much as you would practice for an audition, and never lose sight of high performance standards for your trumpet playing! This session provided a wealth of good advice from some of the most successful and helpful university teachers in the United States. (ED)


Kurt Depuis Recital
Kurt Depuis began his recital by describing his background and giving credit to his former teachers and inspirations. The theme of the recital was "Boston," as Depuis's musical connections have deep roots in the area. James Stephenson's Kindred Sol was first on the program, and Depuis captivated the audience with his lush tone and sensitivity throughout the opening. As the piece progressed, his masterful technique shined through with precise articulations across wide intervals. The remainder of the program included With Malice Toward None by John Williams, Elegy for Mundy by James Stephenson, and A Trumpeter's Lullaby by Leroy Anderson. Depuis introduced each piece by telling about a memory regarding why the piece is meaningful to him. James Stephenson was in the audience and discussed his inspiration to write his two performed compositions. Accompanied by Miriam Hickman on piano, Depuis delivered a beautiful and eloquent recital. (SS)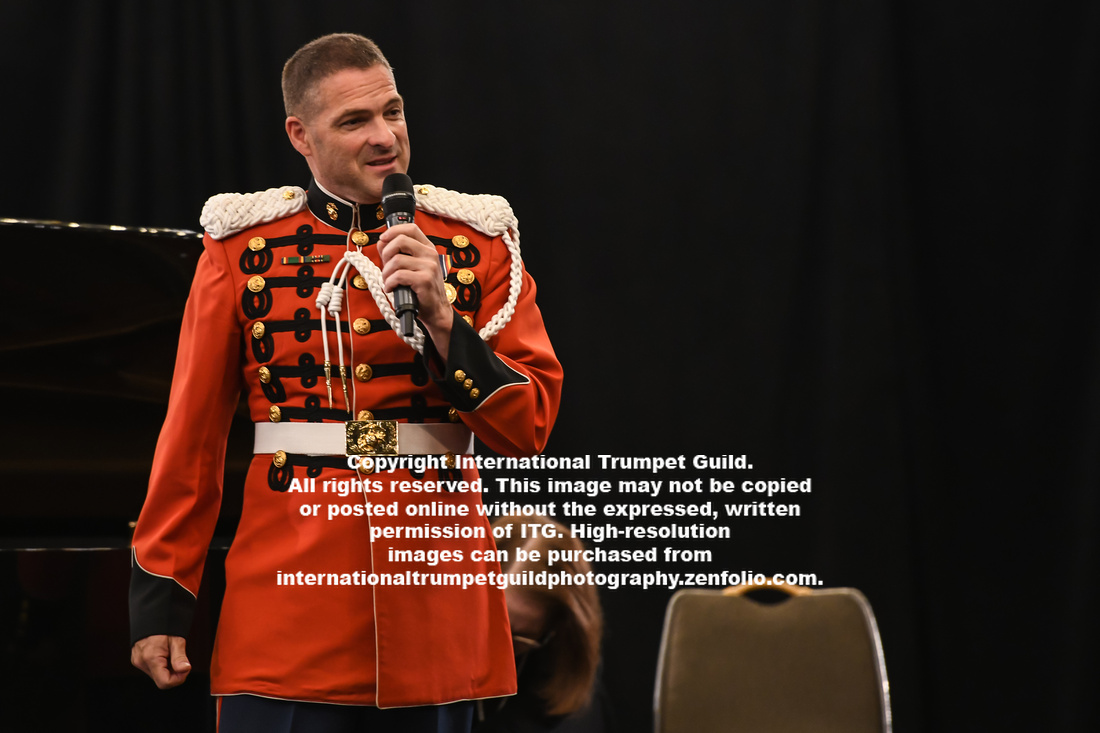 ITG Orchestral Excerpts Competition Finals
Audience members at the final round of the ITG Orchestral Excerpts Competition were treated to a dazzling display of musicality. Cordelia DeDecker, who studies with Wiff Rudd at Baylor University, performed with poise and control, demonstrating commitment to artistry and wonderful phrasing. Nitiphum Bamrungbanthum, a student of Joseph Bowman at Mahidol University in Bangkok, Thailand, graced the audience with a full, brilliant sound on the piccolo trumpet and showed off his command of the upper register with a vibrant, bold sound. Brent Proseus, under the tutelage of Robert White at Western Michigan University, presented an energetic sound concept with clarity, elegance, and versatility. His articulations were buoyant and wonderfully light when appropriate. The judging panel consisted of Chad Winkler, faculty at Duquesne University and a member of the Pittsburgh Symphony Orchestra; Mary Bowden, a member of the Richmond Symphony and faculty at Shenandoah University; and Terry Everson, trumpet professor at Boston University and member of the Boston Pops Esplanade Orchestra. The list of excerpts presented a wide variety of challenges, but these young, talented trumpeters seized the opportunity and performed extremely well. (AD)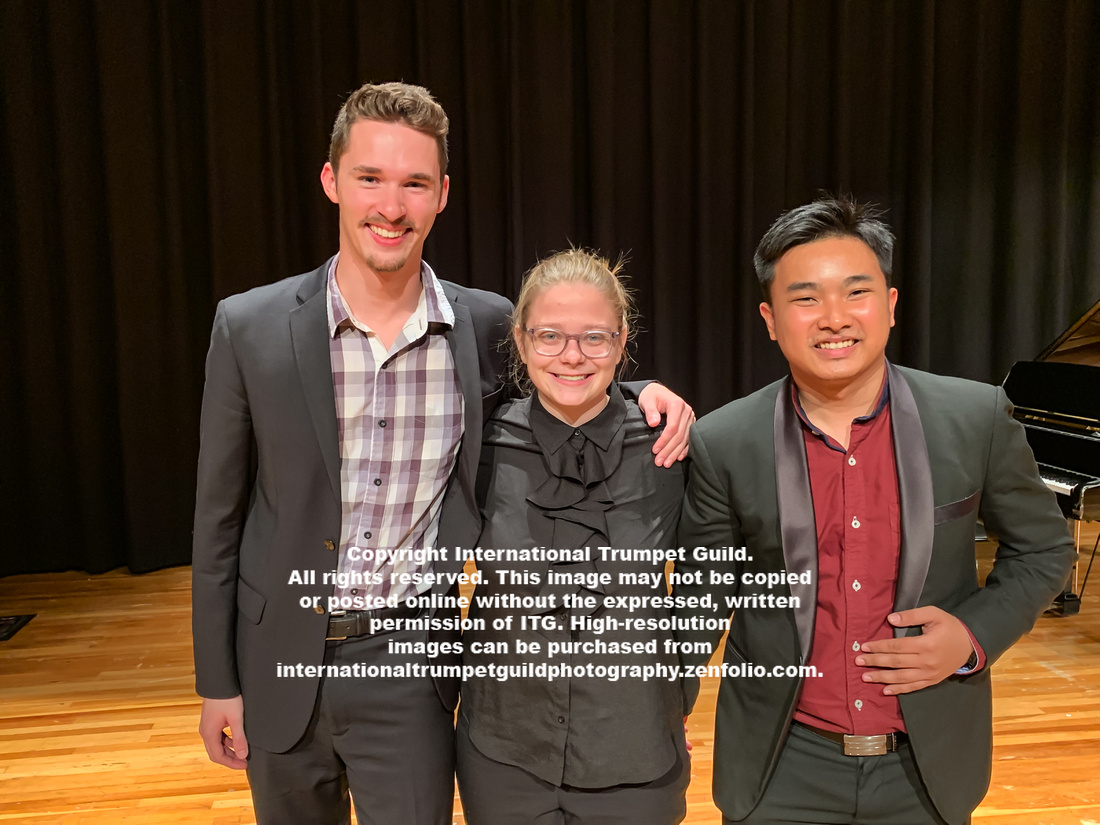 Youth Masterclass with Jose Sibaja
Jose Sibaja exemplified master teaching in his presentation and work with high school students. His presence alone elicited great respect, and his quiet, yet energetic, manner of engaging with the listeners and performers was warm, kind, calm, affirming, and inspiring. He emphasized fundamentals, such as doing stretching and breathing exercises prior to picking up the horn, and he was emphatic about the importance of always using a metronome when practicing. He demonstrated the difference between playing with stagnant air, as opposed to directed air, and offered several examples to clarify this concept. He brilliantly coached the student performers on how to gain their audience's attention (and hold it) and offered practical advice to help with releasing tension in the body to enable the music to flow more freely. His relaxed confidence was inspiring, and any serious trumpeter would benefit from his expertise. (PS)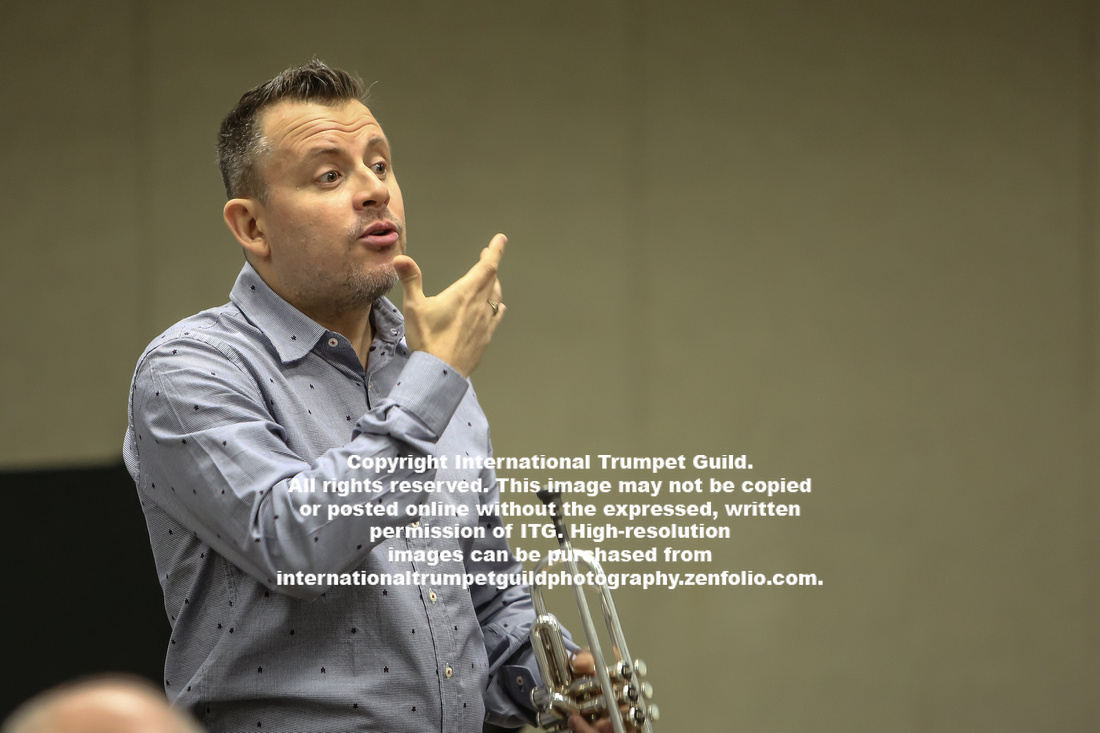 Marcus Printup Lecture - I've Got the Blues
After his spectacular performance the night before, it was no surprise to see a large and enthusiastic attendance at Marcus Printup's afternoon masterclass, "I've Got the Blues." He began by leading the group through a series of call and response on arpeggiations of the chords through several different blues progressions, beginning with the basic V-IV turnaround, and increasing in sophistication to Coltrane harmonies and Blues for Alice chord changes. All arpeggios were sung and played ascending and descending in an attempt to get everyone truly hearing the different harmonies. He took a similar approach to Gigi Gryce's Minority and had volunteers improvise. As he discussed blues as a style, rather than as a form, Printup eloquently described and demonstrated how performers like Louis Armstrong and "Sweets" Edison used blues as an ever-present style in their playing. He closed by answering a variety of questions, including an excellent demonstration on how he mastered the plunger technique. His endearing personality and brilliant artistry were enjoyed by all in attendance. (NV)


Thomas Madeja - Music for Social Change: A Culturally Sensitive Approach to Teaching in Underrepresented Communities
Thomas Madeja, Chicago-based trumpeter and social justice champion, delivered an important and inspiring talk on how to implement social change through music. The presentation was more of a dialogue with the attendees, discussing different challenges, why this work is important, appropriate vocabulary, and ways to overcome obstacles in the struggle to create meaningful change for students in underrepresented communities. Through his efforts with organizations like the Chicago Metamorphosis Orchestra Project (ChiMOP), Madeja has found a way to combine his passions and develop a broader understanding of the challenges facing a large portion of the world. Madeja urged the audience to get involved in organizations like his own or those like El Sistema. He also urged people who want to do this work to look at what is needed in their own communities and to always search for ways to view teaching and performance through the lens of social justice. (MV)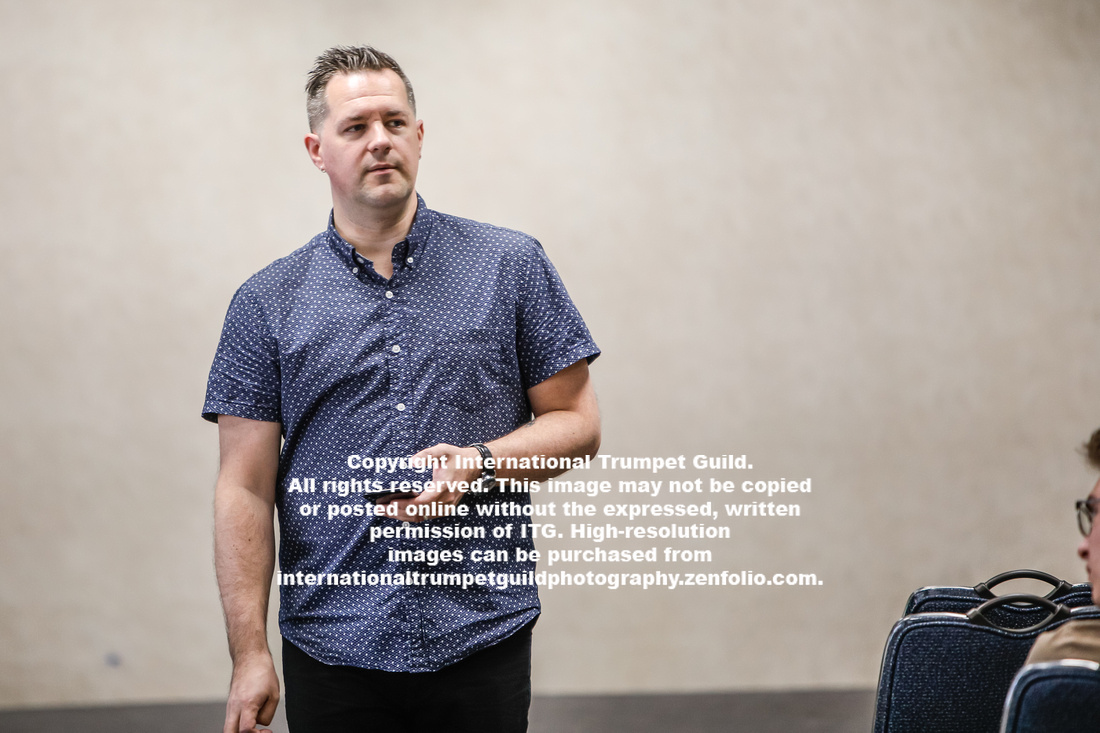 Rebecca Palmer Lecture - Paving the Way for Young Trumpeters: A Guide to Making them Sound Like Professionals
There is a need to address the proper way to teach beginning trumpet players with correct fundamentals from the first day on the instrument, and Rebecca Palmer's presentation aimed to do just that. Palmer stressed that the professional trumpet sound should be the destination when a new student begins playing. Teachers should help students set goals for what they want to accomplish with the trumpet. From there, it is important to immediately detect each student's challenges, address bad habits, apply those changes, and then enthusiastically celebrate the student's progress. Palmer emphasized the importance of sparking the motivations in students and reflecting on the results of their hard work. She closed her presentation with the famous quotation "Practice does not make perfect; only perfect practice makes perfect," encouraging the audience that the professional sound can begin on day one. (SB)
Trumpet Ensemble Reading Session
Dallas Brass trumpeter Buddy Deshler led this second trumpet ensemble reading session that involved more than 28 trumpet players. Four works were briefly read, rehearsed, and run in lightning rounds. The first work, Visions over the Horizon by Brandon Dicks, was a quick and flowing fanfare that developed into a triumphant ending theme. The second work was Marcus Grant's arrangement of Bach's Little Fugue in G Minor. This adaptation for six B-flat trumpets involved many challenging trill sections that were brought to a massive finish by very clear conducting from Deshler. Breathe is an early choral work by Brandon Dicks that incorporates many suspended harmonies and a strong dotted rhythm throughout. The finale for this reading session was none other than Modest Mussorgsky's Great Gate of Kiev for thirteen trumpets. Adapted by P. Bradley Ulrich, this epic movement went just as one would expect––with fire and bravado. (DG)
Giuliano Sommerhalder Recital - Vladimir Peskin: Works for Trumpet and Piano
This recital by Giuliano Sommerhalder featured the music of Vladimir Peskin. Throughout the concert, Sommerhalder impressed the audience with his ability to extract the nuances from Peskin's works. The first two pieces, Prelude and Poem No. 1, were perfect contrasts and beautifully performed. The former was haunting in its simplicity, while the latter filled the room with sound and virtuosic flashes. Sommerhalder deftly navigated the treacherous Scherzo. No Peskin recital would be complete without performances of his major staples: Concerto No. 1 and Concert Allegro, which were delivered masterfully by Sommerhalder. On both works, the audience was treated to sublime performances by pianist Kasia Wieczorek, further enhancing the experience of the recital. One of the real highlights was the diversity of difficulty in the selections performed, allowing trumpet players of all levels to hear works they could take to the practice room and prepare. (KM)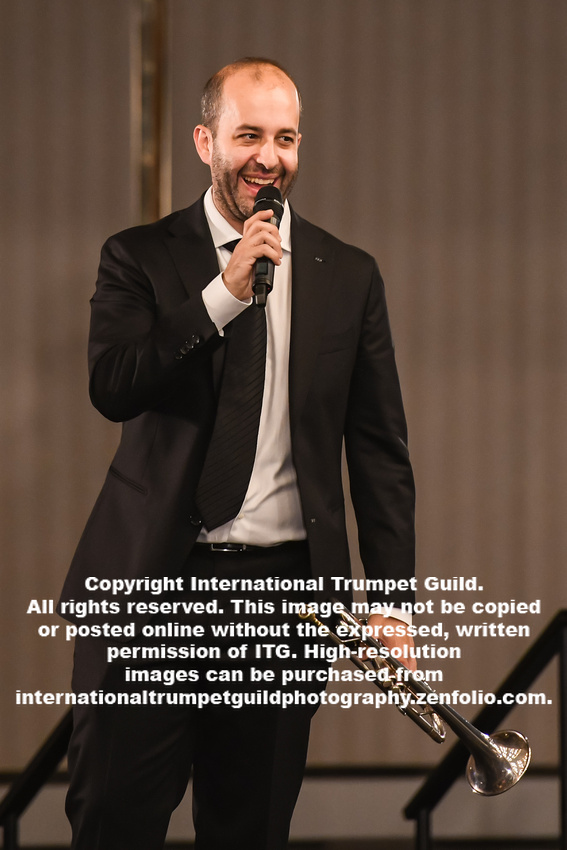 New Works Recital II
Brian Neal performed an arrangement of his own, Concertante No. 1, backed by the 7/4 Ensemble of El Sistema alumni. What begins as a bittersweet love song develops into an up-tempo waltz, highlighting Neal's effortless piccolo trumpet playing on virtuosic runs that end with a spectacular flourish.


For the remainder of the program, pianist Miriam Hickman collaborated on all of the pieces. James Peyden Shelton presented Nicole Piunno's Sonata. A declarative arpeggio in the trumpet commanded attention in the opening. The work is highly conversational between trumpet and piano, with moments that evoke classical cadenzas and herald trumpet calls. Shelton shimmered in the upper register and ended the piece triumphantly.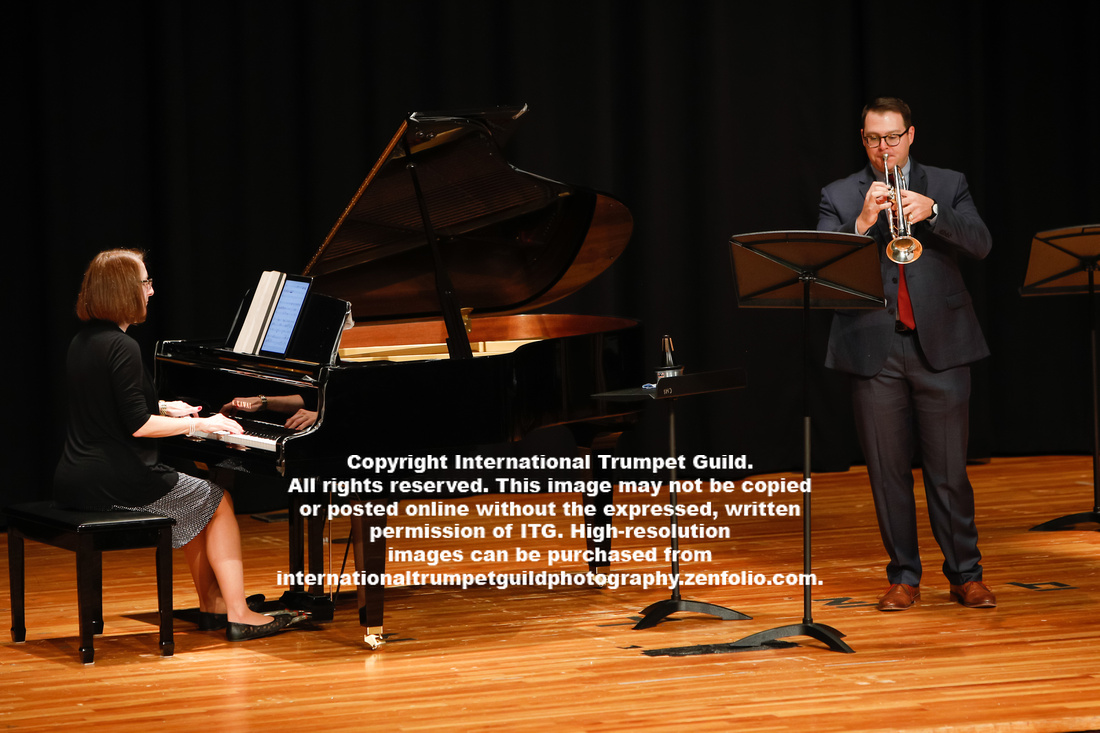 Will Koehler performed Brian Eads's Elegy, a piece that draws influence from classical, pop, and jazz realms. Koehler displayed intuitive musicality in yearning, cinematic lines and jaunty motives influenced by musical theater.


Richard Tirk presented two movements of The Bells, by Jackson Anderson. Tirk opened with "Golden Bells" on flugelhorn, fluently traversing key centers with a characteristic, sweet tone. A contrasting movement, "Brazen Bells" opens with what is effectively a perverse "ding-dong" effect in the piano. Snaking chromatic lines evoked Hindemith, and flutter tonguing added a contemporary flare.


Alan Klaus presented Allan Gilliland's First Light Brings New Beginning. The work employs a piano motive that sounds like a tolling bell while the trumpet explores the perfect-fifth interval in a subdued fanfare. Klaus offered delicate and hopeful moments with a distant, understated sound.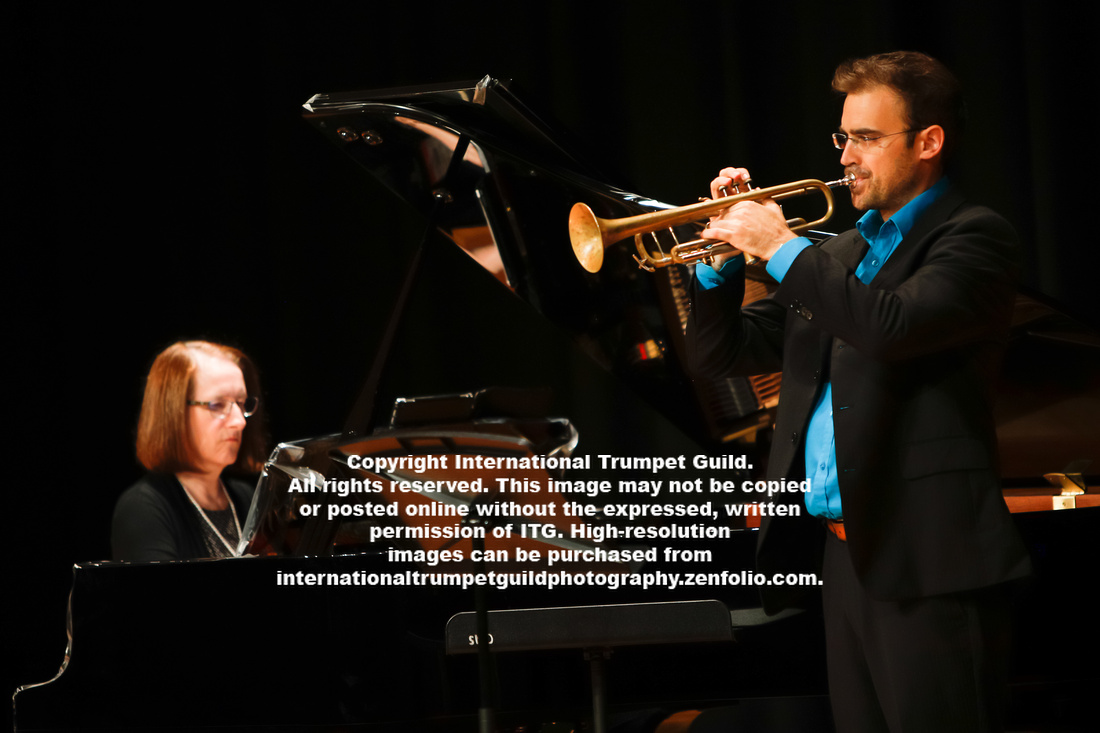 Steven Siegel convincingly presented Nicole Piunno's Poem at Cantwell Cliffs. Muted trumpet presents a melodic idea that is echoed in the piano. The work was reflective and interpreted time freely, with repetitive motives like fragments of memory that won't disperse. Siegel's faint, blurry sound concept was well matched to the piece.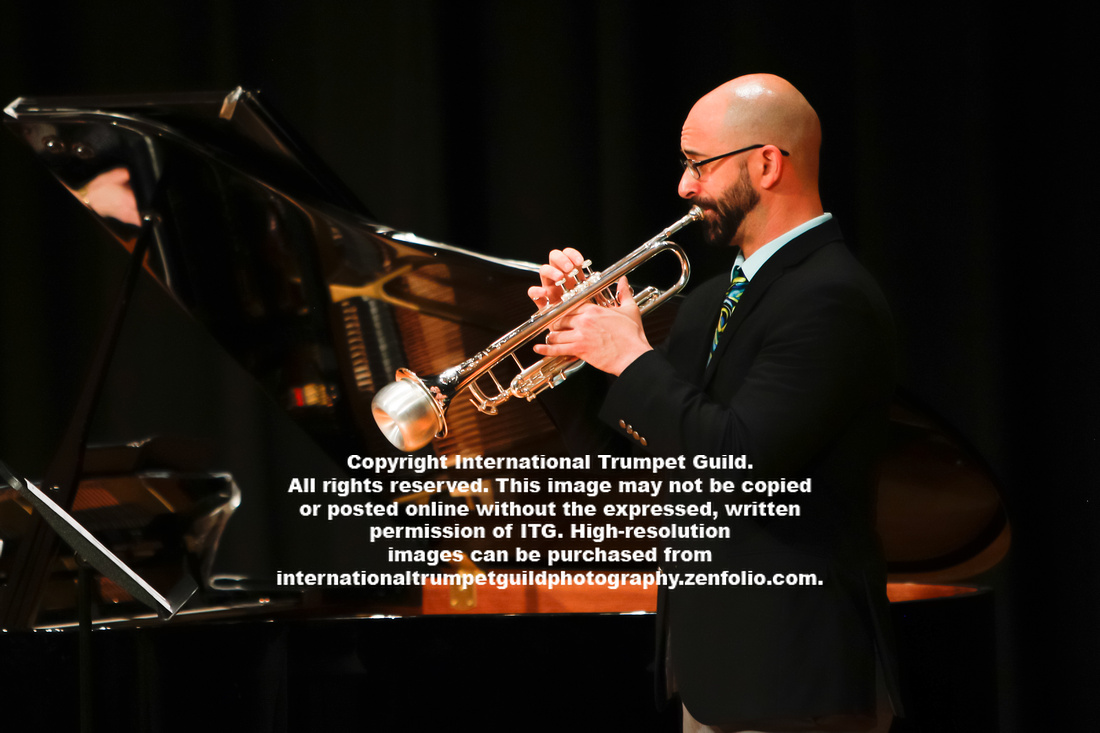 Jenna Veverka performed Marc Douyon's Quiet Night on flugelhorn. Veverka presented the lyrical, scalar introduction with a resonant tone and tasteful vibrato. Her interpretation of the insistent, steady rhythm created a mesmerizing and introspective moment out of time.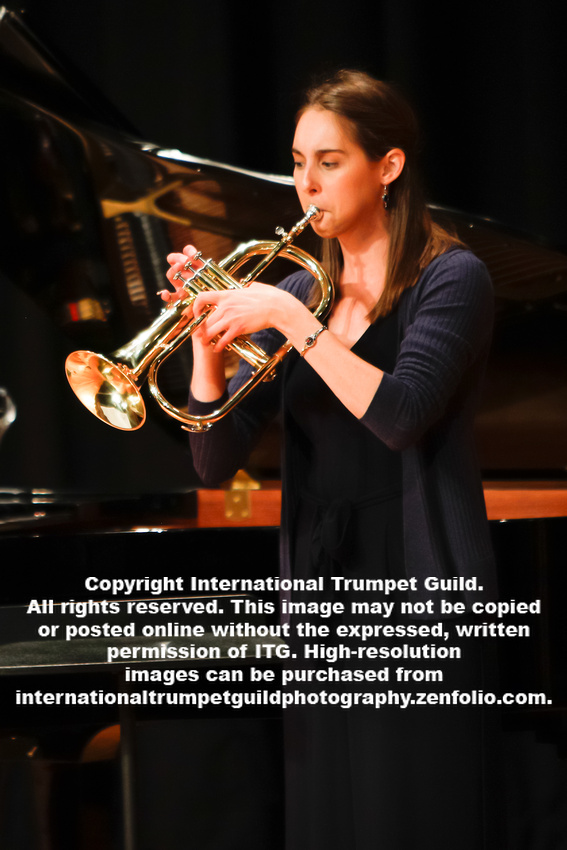 Taylor Gustad presented the first movement of David Sartor's Sonata, "Declamatorio." The piece opens with an eerie, probing melody that develops into heroically executed descending intervallic leaps in the trumpet. Gustad's resounding upper register contrasted nicely with arhythmic rumbles in the extreme low register of the piano. (MM)
---
Click here for more photos from the ITG Conference
---