The 44th Annual International Trumpet Guild Conference - Miami, Florida (USA)
Special Daily Report • Compiled by Peter Wood
Photos by Michael Anderson, Norman Black, Benjamin Lowe, and Donald Sorah
Thursday, July 11 - Evening events

---
Click here for more photos from the ITG Conference
---
ITG General Membership Meeting
This annual meeting, open to all ITG members, began with introductions of each board member and provided those in attendance the opportunity to share their experiences and thoughts about this year's and future ITG Conferences. Several points were raised about the overall cost of attendance, possible coordination of roommates, and the potential for international locations of future events. ITG president Cathy Leach shared news regarding several items from the board meetings that took place earlier in the week. ITG Secretary Kevin Eisensmith shared the numerous motions and action items that took place at those same meetings. ITG Treasurer Dixie Burress shared many of the financial points and changes regarding items from this past year, including ITG's shift in status from an association to a corporation and the institution of a new auto-renew membership program. Many comments and suggestions were recognized from the attendees present regarding student membership development and their interaction with ITG via the various social media platforms. (JPS)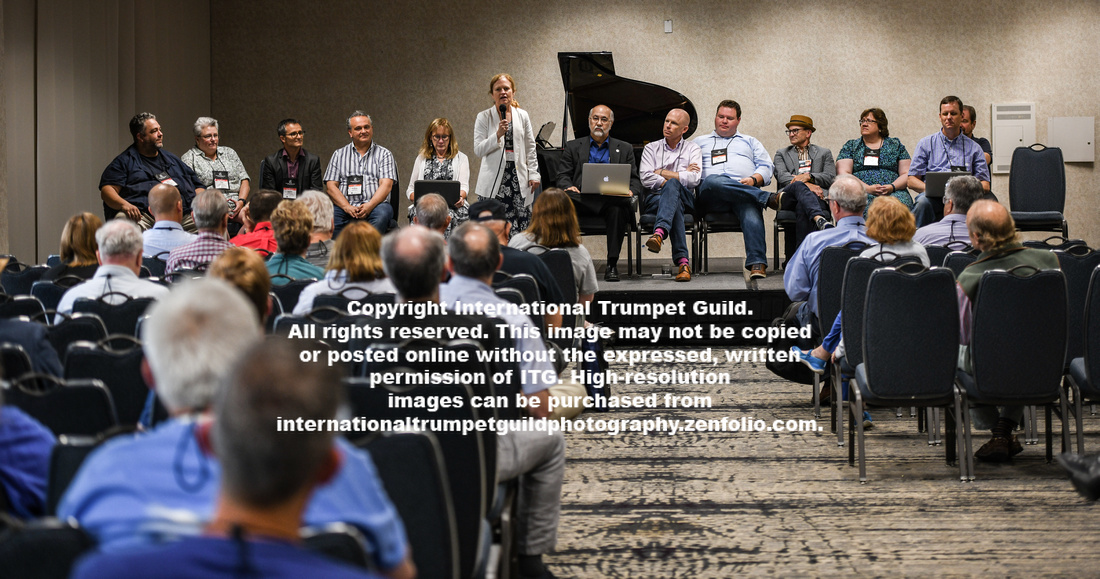 Simón Bolivar Trumpet Ensemble: Brilliant Music for the Noble Sound of Trumpet
The Venezuelan Simón Bolivar Trumpet Ensemble appropriately credits their outstanding artistry to El Sistema, and anyone who has never heard a live performance from such a group would immediately acknowledge their technical brilliance and musical artistry. The opening piece, Gordon Jacob's Canterbury Flourish, was performed from memory and showcased a ridiculously homogenous sound. The second work, Itaru Sakai's Sinfonia and Caprice, proved that this level of artistry was no fluke, but, rather, a consistent standard. Giovanni Gabrieli's Canzon Septemi No. 2 matched the previous level with a wider sound spectrum through a variety of trumpets.

The camaraderie of the ensemble was evident as each member was introduced with impressive accolades and career accomplishments. An exciting performance of Eric Ewazen's Sonoran Desert Harmonies followed, contrasting crisp and spritely articulations with soothing lyricism. The opening of Franz von Suppe's Poet and Peasant Overture, arranged by Román Granda, was rendered with sweetness and tenderness and surely brought tears to a few audience members. A brilliant change of color introduced the Allegro, and the remaining section included fire and energy, playfulness, and brilliant virtuosity––all necessary to bring this orchestral masterpiece to realization by only eight trumpets; the effect was magnificent. Not many first halves of programs are acknowledged with a standing ovation, but this one was very special indeed.

After the intermission, the group performed an arrangement of Astor Piazzolla's Olvidate del Tango, que Gardel Murió & Libertango, including a variety of mutes, glissandi, and foot stomps. A medley from Venezuela followed with a moving collection of melodies from the ensemble's motherland. Finger snaps emulating castanets and other effects depicted several aspects of Venezuelan culture and landscapes through the ethnic sounds. The fellowship and sense of humor within the ensemble was evident through several introductions. Trumpeter Román Granda's Bluestrumpets included dazzling jazz trumpet solos and American classics such as Sweet Georgia Brown, as well as a few gags including mouthpiece buzzing, uninhibited singing, and theatrics. Edith Piaf's La Vie en Rose, arranged by Leafar Riobueno, concluded the program with the uncanny emulation of the great Louis Armstrong by one of the members. A bristling version of Flight of the Bumblebee served as a dazzling encore, capping off several more standing ovations.

After hearing this performance, one cannot help but consider how far the trumpet community has elevated its performance standards around the world over the past few decades. The Simón Bolivar Trumpet Ensemble has surely raised this level even further through impeccable artistic standards. (LE)

Check out these videos from the Simon Bolivar Trumpet Ensemble concert!
Simon Bolivar Trumpet Ensemble - La Vie En Rose
Simon Bolivar Trumpet Ensemble - Flight of the Bumblebee
Simon Bolivar Trumpet Ensemble - La Forza Del Destino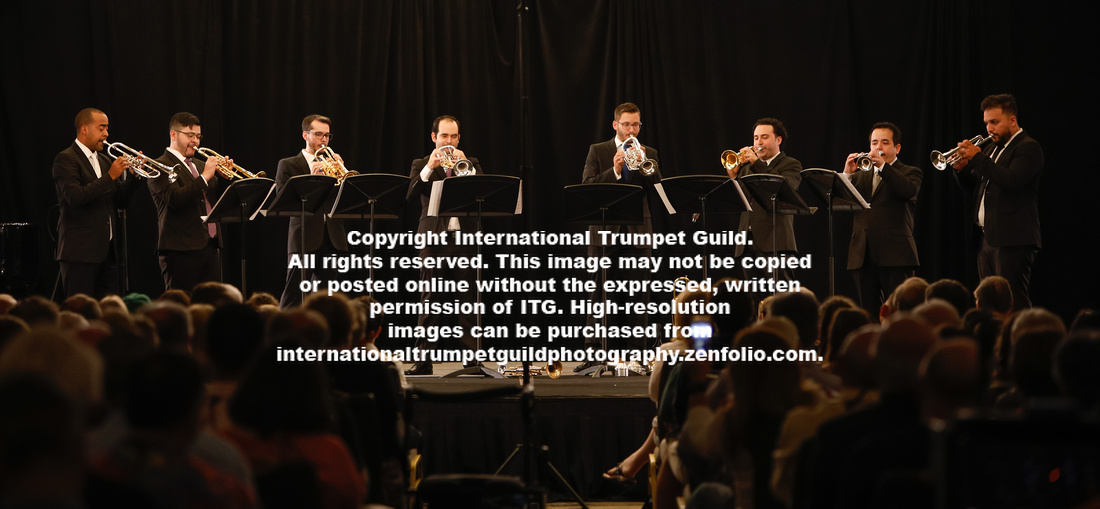 Marcus Printup Jazz Concert
This evening's jazz concert, featuring Marcus Printup, a 26-year member of Jazz at Lincoln Center Orchestra, with the Ryan Chapman Jazz Orchestra, was on fire from the outset! Demonstrating both tremendous humility and stunning virtuosity, Printup delivered one of the most memorable performances of the conference so far. Highlights included Kenny Dorham's Lotus Blossom (arranged by Printup), in which Printup delivered a flowing bebop solo that traversed the entire range of the instrument with tremendous ease; Rodgers and Hammerstein's Happy Talk, showcasing the incredible Ella Fitzgerald-esque vocal stylings of Ashley Pezzotti; and Miles Davis's Tutu (arranged by Printup), in which Printup joined the trumpet section for a heavy-swinging, acapella trumpet soli to open the tune and then returned to the front of the band to deliver a harmon-muted solo worthy of the tune's composer. What a thrilling show! (TT)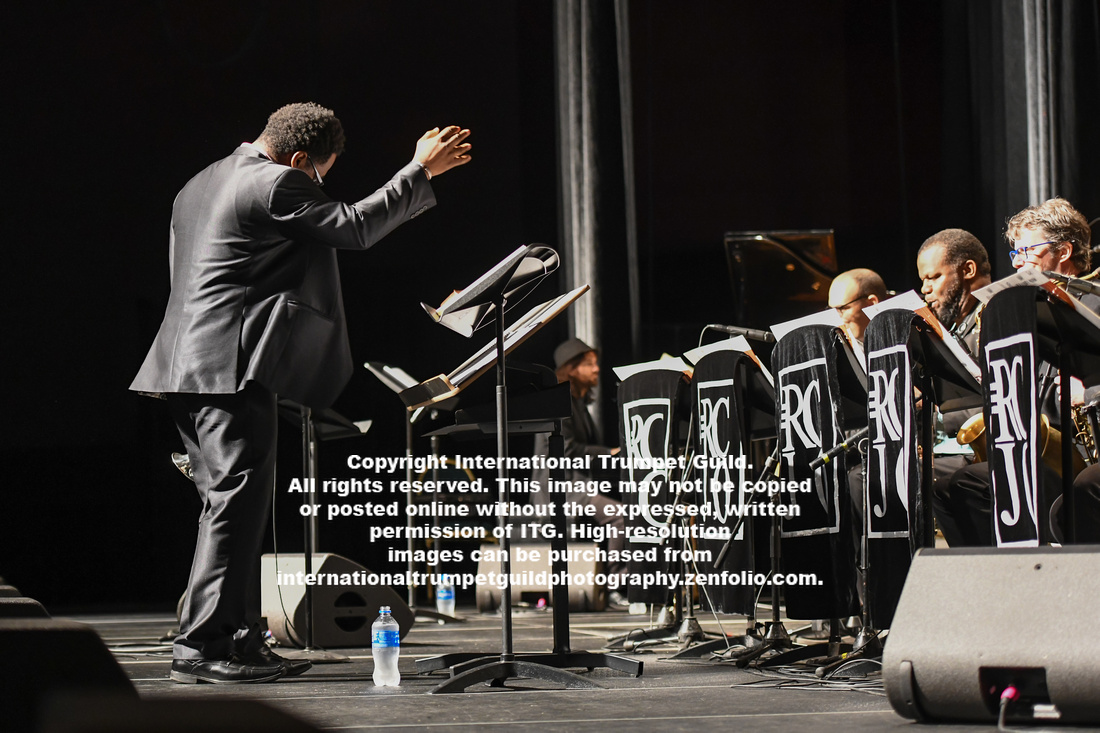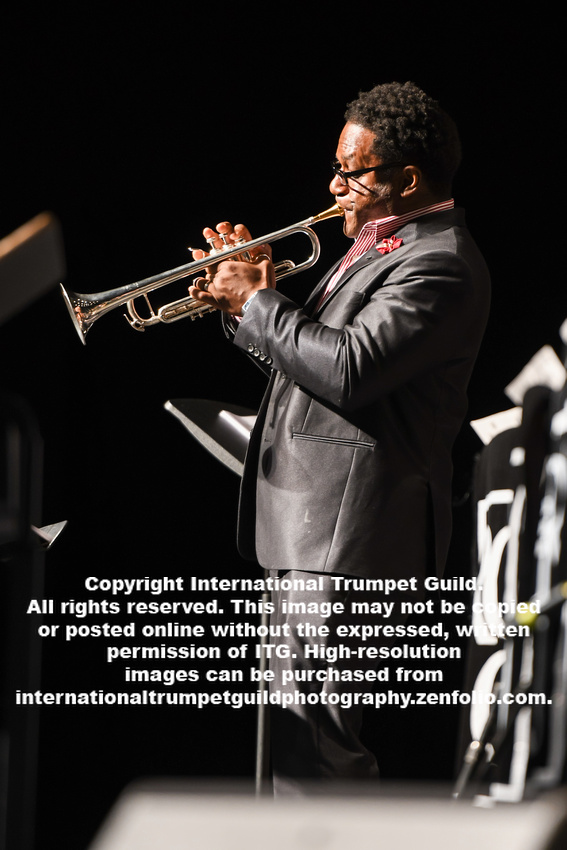 ---
Click here for more photos from the ITG Conference
---