The 44th Annual International Trumpet Guild Conference - Miami, Florida (USA)
Special Daily Report • Compiled by Peter Wood
Photos by Michael Anderson, Norman Black, Benjamin Lowe, and Donald Sorah
Thursday, July 11 - Daytime events

---
Click here for more photos from the ITG Conference
---
Oswald Zapata - Optimizing Your Time for Efficient Warmup
Dr. Oswald Zapata led a clear and practical approach to warming up. His session began with a short lecture discussing the purpose of warming up from both physical and mental standpoints. Some of his talking points included lip health, injury prevention, and improving blood circulation. He involved the audience by guiding them through basic stretching exercises in order to engage the core, shoulders, hands, and neck. Following these exercises, he talked about "doing a little bit of everything" to prepare for all aspects of trumpet playing. His method included lip flapping, mouthpiece buzzing, lip bends, moving long tones, finger dexterity, lip slurs, single and multiple tonguing, and whisper tones. He kept the audience engaged as he guided them through his routine and discussed how and why to do each exercise. This class was accessible to trumpet players of all abilities and was very well received. (SS)
Brian Shaw - Non-Pro/Comeback Players Warmup
Brian Shaw led an eager crowd of comeback players through a well-rounded warm-up routine focused on ease and consistency of tone production across the range of the instrument. Shaw discussed and demonstrated the James Thompson Buzzing Basics routine, emphasizing the importance of keeping a stable embouchure when moving between pitches. The participants enjoyed playing through the exercises with play-along tracks as Shaw discussed ways to make each one effective. He explained the importance of adaptability in a warmup in order to facilitate the demands of a busy life and schedule while also covering the core fundamentals of sound, range, finger technique, flexibility, and articulation. His routine highlighted several ways to use both buzzing and lip bends to develop clarity and centering in tone. He also encouraged using a metronome and drones throughout the warmup to incorporate the skills needed to play with others, such as breathing, entering in time, and playing in tune. (EM)


Brian Shaw - Non-Pro/Comeback Players Masterclass
Brian Shaw displayed great versatility as both a performer and educator during the masterclass for non-professionals and comeback players. Those in attendance received a wealth of excellent information and suggestions regarding ways to improve their technical and expressive capacities in music ranging from the Baroque and Classical eras to modern-day jazz and pop styles. We often make trumpet playing more difficult than it should be, and simplicity is key. Shaw stressed an awareness of the little things and focusing on the details to enhance each performance and truly capture the imagination of the audience. Other points of emphasis included utilizing technology to your advantage and creating new, unique exercises to help develop coordination and further refine performance skills. There is no reason for us not to record ourselves with all the convenient technologies available in this day and age. (AD)
ITG Affiliate Chapters Recital
The ITG Affiliate Chapters Showcase is truly what ITG is about––bringing together trumpeters from all over the world to share our love for the instrument. The concert started with Mike D'Ambrosio's composition, Homage, performed by the ten-piece Texas A&M University-Commerce chapter. This piece pays tribute to the late Bud Herseth and sources several melodies from Mahler's Symphony No. 5. The program continued with the Utah Trumpet Guild's chapter performing an arrangement of Mozart's Overture to The Marriage of Figaro. Their performance featured fine piccolo trumpet playing over a light, bouncing ensemble that would make Mozart smile. Continuing, the Louisiana State University chapter performed Erik Morales's Cityscapes. This group played with great sound, style, and control, especially in the low register by the fifth trumpet. Next, a duo from Texas A&M-Kingsville performed Stanley Friedman's duet Domestic Tranquillity. These two played with superb style, gorgeous sounds, and masterful intonation. The chapter from Thailand played a brilliant performance of Eric Morales's X-1. This group's fiery passion was matched with excellent intonation and a wide dynamic pallet offering one of the finest performances of this work this reviewer has ever heard. Exciting and precise, the group played brilliantly. Closing the recital was the Trompetes do Cerrado performing two Brazilian pieces. They played beautifully, causing most of the audience to tap their feet and fingers. This was a highly enjoyable morning of music making in the Jasmine Ballroom. (JB)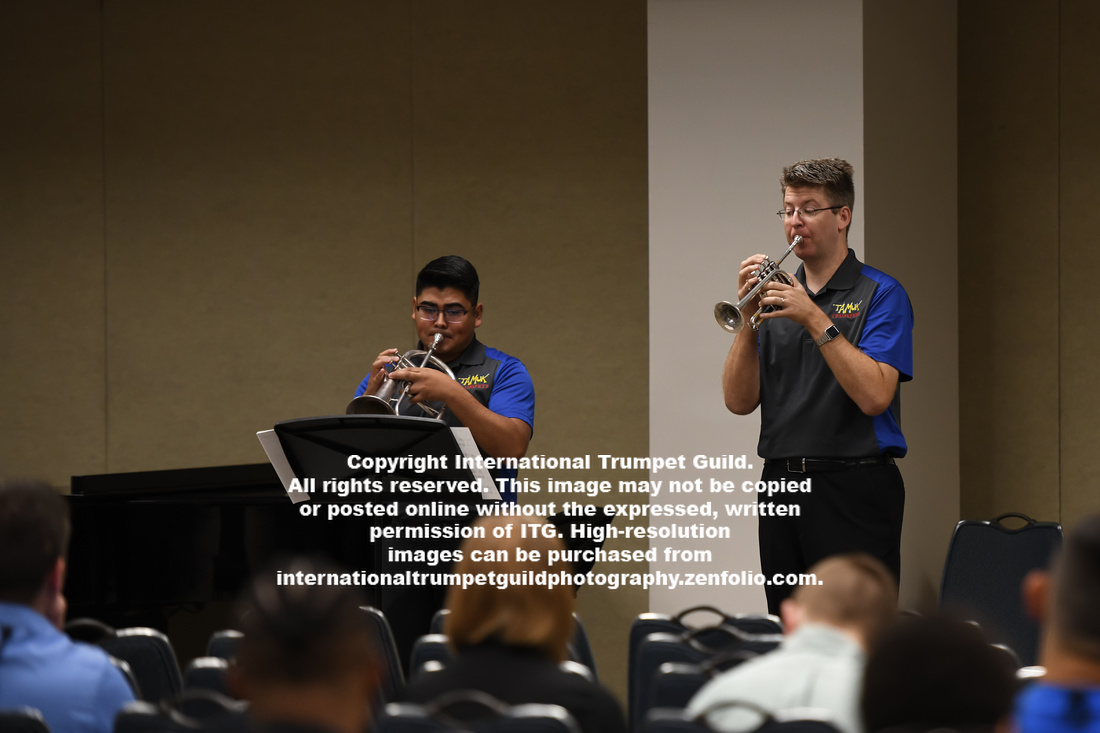 Anthony Kirkland - Win that Trumpet Audition: Know Your Band Excerpts!
In his presentation on wind band excerpts, Anthony Kirkland provided insight for those preparing to take professional auditions. Although the military bands are the largest employers of full-time performing musicians, private studio instruction has a long tradition of focusing primarily on orchestral repertoire. Kirkland referenced two excellent sources for band repertoire: Norman Smith's March Music Melodies and his own recent publication, Wind Band Excerpts for Trumpet and Cornet. The presentation included excerpt performances by Ross Mitchell and Stephen Spink from Baylor University and Tyler Butler from the University of South Alabama. Drawing on his vast experience performing in the United States Air Force Ceremonial Band, Kirkland had many great recommendations for the performers to consider, including historical context, style, alternate fingerings, and specific recordings. Moreover, he continued to stress the importance of learning each work in its entirety and at a variety of tempos. Kirkland's message was straightforward--be prepared. (NV)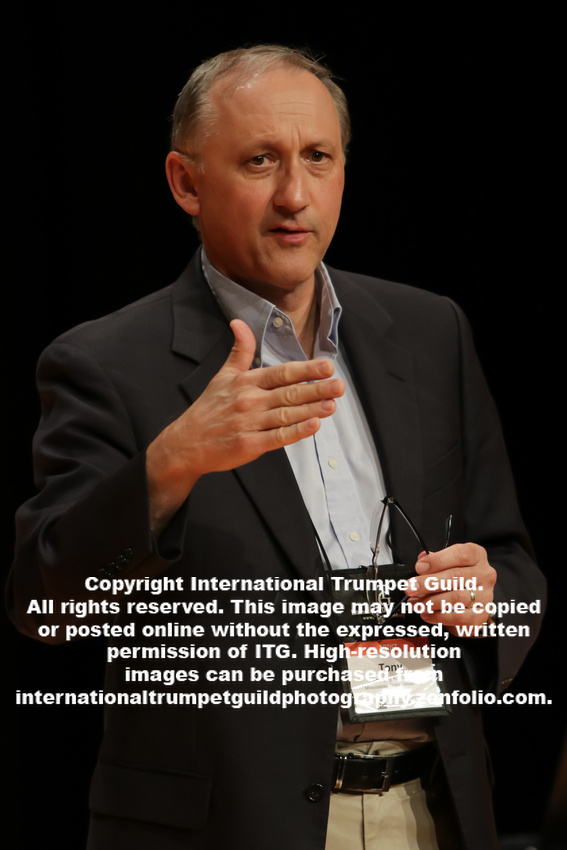 Adrian Kelly - Shedding Light on the Pit: Maximizing Performance in Musical Theater
Adrian Kelly's lecture highlighted numerous custom etudes and strategies that provide supplementary approaches to enhancing a performer's necessary abilities to navigate the challenges that exist within the musical theater repertoire. Using specific excerpts taken directly from this growing repertoire, each etude was presented with a wonderful pre-recorded example, performed by Adrian Kelly, highlighting the pedagogical focus of each etude. Kelly also highlighted his current research of documenting and archiving numerous details regarding repertoire idiosyncrasies, personal equipment choices for players in the field, and the copious performance expectations of trumpeters across the globe in this growing genre. (JPS)
Daniel Crespo Recital: Camino a Jalisco
Latin trumpet soloist Daniel Crespo opened his recital with two beautiful pieces by Johann Sebastian Bach. The first was a beautiful piece entitled Siciliano, allowing Crespo to show off his beautiful sound and sensitive piccolo trumpet playing. Continuing with the wonderful Bach/Vivaldi concerto, Crespo demonstrated tasteful style and impressive musical acrobatics. Following was an attractive, substantial work written originally for trumpet and orchestra by the performer's father, Enrique Crespo. The three-movement work, Camino a Jalisco, started with a beautiful and lively introduction by pianist Mariam Hickman. While inspired by Mexico, the piece maintained a distinct twentieth-century French style, drawing on standards by such composers as Bozza and Tomasi. Finishing with a Spanish flair, Crespo closed his recital with another piece by his father. Pasodoble y Ole was a lovely piece, full of traditional melodies and Spanish dances and showcasing Crespo's flair for the music of his heritage. (WK)
ITG Solo Competition Finals
The field of the ITG Solo Competition was narrowed to three finalists from across the globe. First to take the stage was Chloe Swindler, a recent graduate of Yale University, where she studied with Allan Dean. She started her strong and commanding performance with Tomasi's Concerto. Swindler easily navigated the tricky passages with a sweet, singing sound. Her stage presence mirrored her playing: calm, confident, and controlled. Her performance of Gershwin's Three Preludes displayed her abilities to truly sing through the instrument with a shimmering vibrato.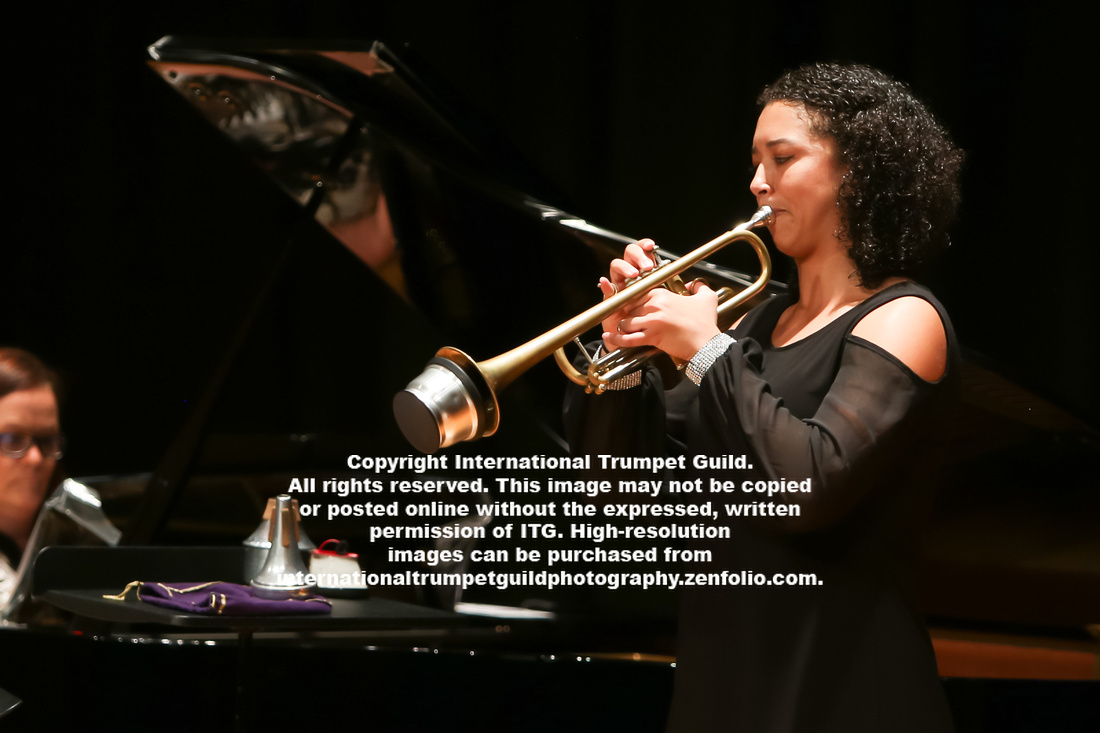 The next competitor was Tyler Moore, a student of Wiff Rudd at Baylor University. Moore came out of the gate swinging with his rendition of the Gershwin preludes. He added many stylized bends and glissandi to show his firm command of Gershwin's jazz style. Moore's concerto of choice was Eino Tamberg's Concerto No. 1. His powerful sound and sweeping lyricism carried him through this difficult work with relative ease.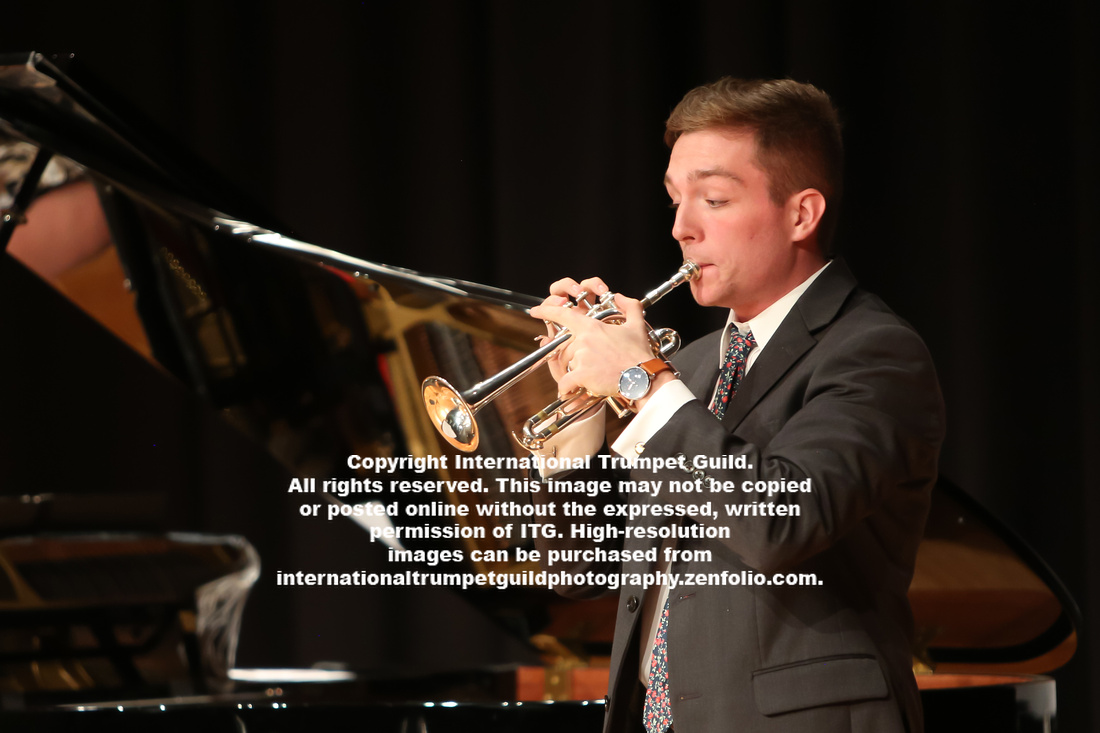 The final challenger of the day was Ahn Seok Young, a Korean native who studies at the Los Angeles Brass Academy with Onate Kwan. Young chose to begin her performance with the Gershwin preludes. From the opening notes, she captivated the audience with her big, bold, ringing sound. For her chosen piece, she gave a fearless and clean performance of Alfred Desenclos's extremely difficult Incantation, Thrène, et Danse.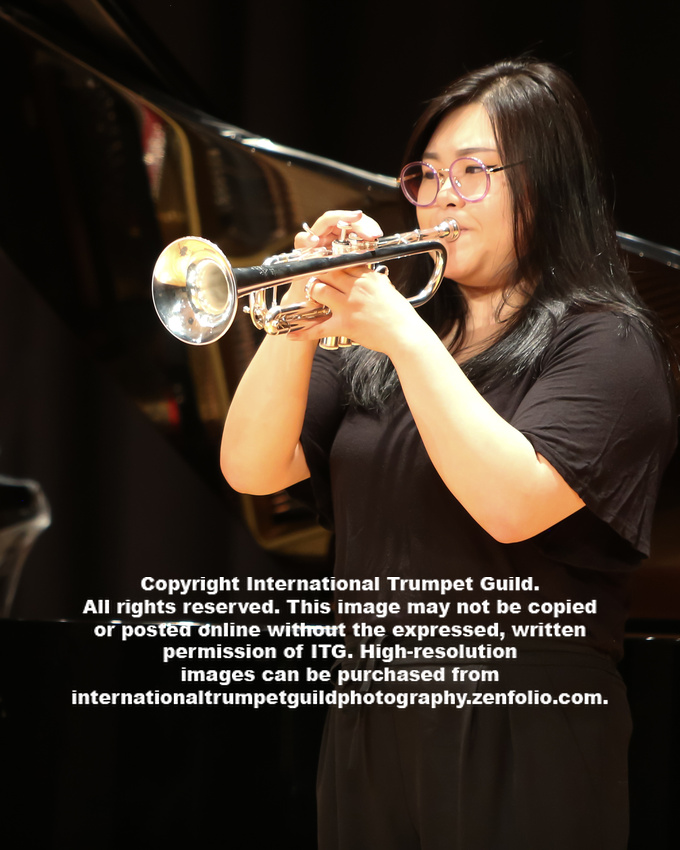 In addition to the fine trumpet playing at this competition, the collaborative artistry of Rebecca Wilt and Young's accompanist (whose name was not listed in the program) was sublime. Whatever the outcome of this competition, it is clear that all three are fantastic trumpeters with bright futures ahead. (JB)
Chris Carrillo - Practicing Practice: Using Interval Training Apps to Improve Your Students' Practice
Dr. Chris Carrillo, from James Madison University, presented an insightful lecture on applying the fitness concept of high-intensity interval training (HIIT) to one's practice sessions. He stated, "Chops are precious; don't waste them on mindless practice." The four HIIT concepts that he uses include a warmup, repetitions, rest, and cool-down. The goal is to keep individuals highly focused in their practice by interspersing periods of rest within repetitions. Carrillo mentioned numerous HIIT smartphone apps, but recommended Seconds Pro due to its compatibility with iOS and Android devices, affordable price, customization capabilities, and ability to work in the background so that one may use other apps (metronomes/tuners) simultaneously. He went into great detail outlining how he uses the app and gave numerous examples of routines with varying practice timeframes. His doctoral student, John Nye, also offered input regarding how he finds the app useful and helped answer questions from the audience. (SS)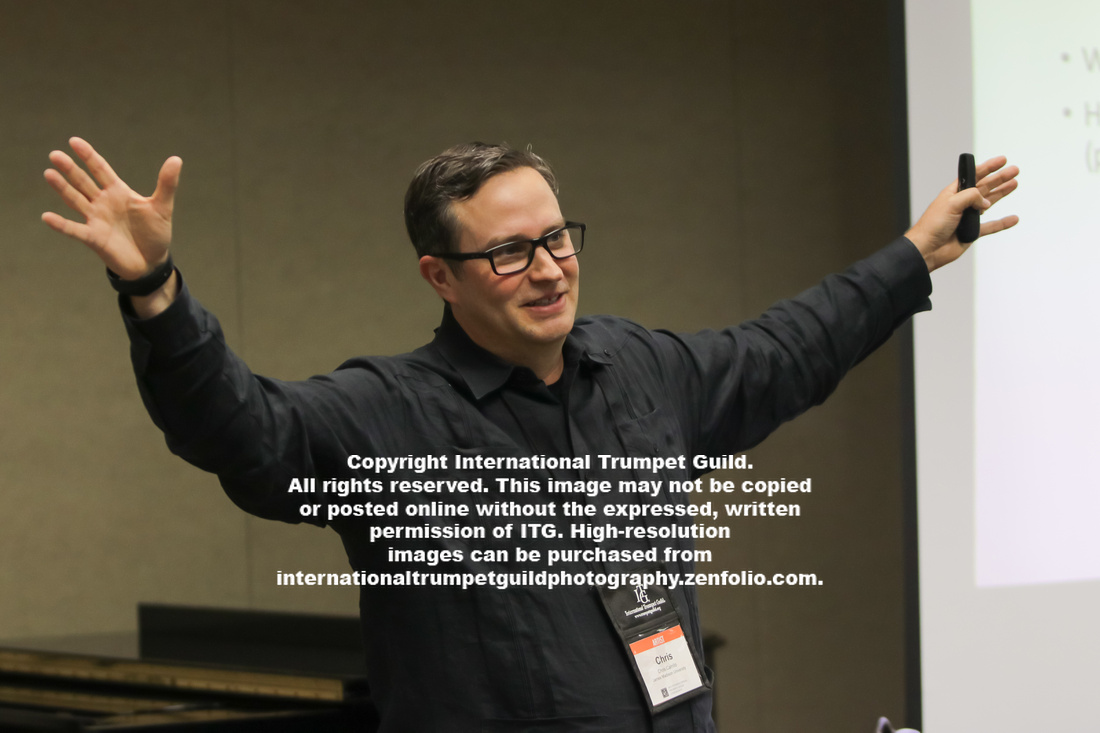 Brian Neal and Ensemble 7/4 Concert - Baroque, Joropo and Mambo
Brian Neal and Ensemble 7/4 delivered an exciting and eclectic program, showcasing their stylistic versatility, from Baroque to traditional Venezuelan folk music fused with elements of R&B. They set the tone from the start with Reiche's Abblasen melded into a Latin number titled Latin Fanfare. Continuing in the Baroque vein, they followed with a wonderful arrangement of Albinoni's Concerto "Saint Marc," featuring Neal. As if to show that no style was beyond their capability, the group immediately transitioned to the Al Jolson hit Avalon. Two other pieces featured Neal's beautiful piccolo sound––an arrangement of what was described as ancient music heard rising from a Venezuelan monastery and Morricone's Gabriel's Oboe. Throughout the program, the ensemble showcased their virtuosity and especially shined on their modern Latin jazz compositions. The group radiated musical intensity throughout the concert, drawing all those in attendance into their performance. (KM)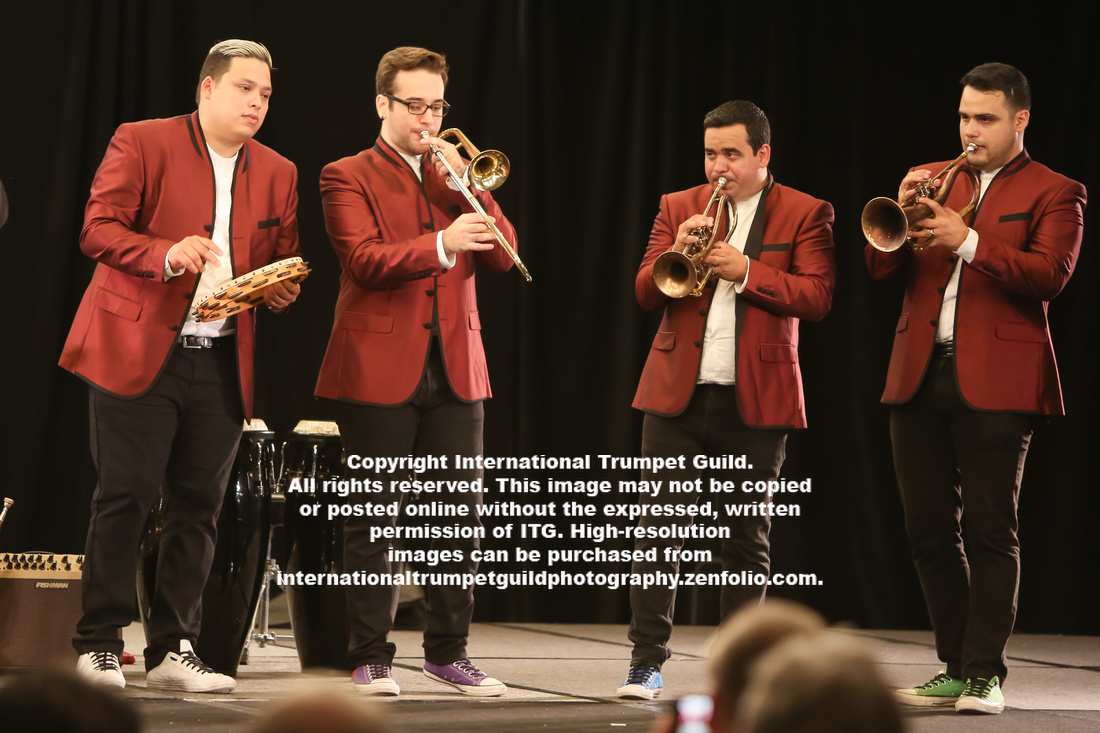 Richard Carson Steuart Masterclass
Notably one of the most formidable trumpeters in the world spanning the past five decades, Richard Carson Steuart graced his listeners with wisdom and perspective––not about playing the trumpet, but about making music between the notes. He spoke with profound sincerity about his belief that the trumpet "reveals to yourself the music that is already in your soul," and insisted that "you need love in your heart to give the gift of your life to playing the trumpet." He demonstrated the difference between playing the trumpet without evoking one's intrinsic and seemingly intangible human soul to that of an artist performing music, via the trumpet, communicating knowledge, wisdom, and emotion with profound conviction. The difference was remarkable. He captivated the listeners from his first note, wordlessly inviting them to join him in that moment in a magical conversation in which he connected everyone, invoking through the trumpet his energy, emotion, passion, and conviction. He challenged all "to be here now in every moment, to live and die for the phrase––always making it your own story––and to embrace the reality of our combined souls." (PS)


Jesse Cook - The Elephant in the Room: Discussing Music Performance Anxiety
Music Performance Anxiety (MPA) affects nearly every performer to some degree. Dr. Jesse Cook delivered a useful presentation on precisely how to address and defeat it. He began by defining MPA, the populations that it affects, and the roots from which it grows. He then addressed the symptoms of MPA that come in many shapes and forms. The majority of the lecture dealt with the different types of performance: Peak Performance, Optimal Performance, and Suboptimal Performance. Cook stated that Peak Performance does not mean perfection, but, rather, the best possible performance. Optimal Performance is an "acceptable" performance that is repeatable. Suboptimal Performance does not mean the performer was not qualified or prepared, but that something outside of their control happened. Cook closed by offering clear and tangible ways for teachers to help students improve how they handle Music Performance Anxiety. (SB)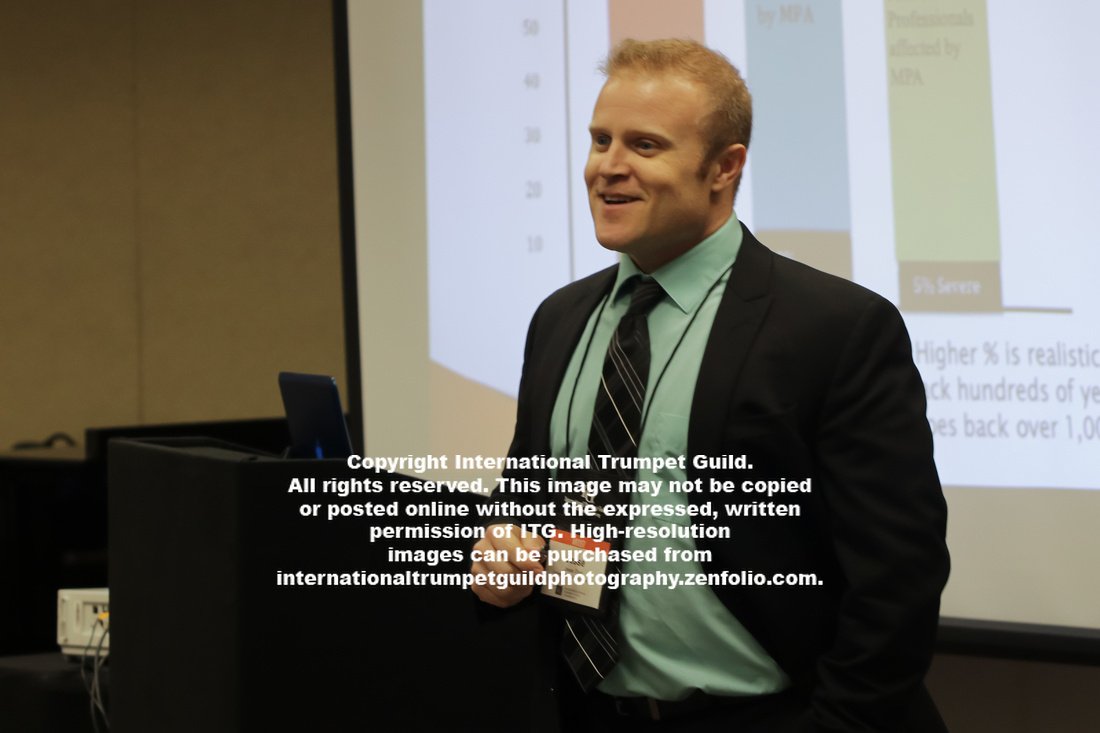 New Works Recital I
Maria Valencia opened the first of this year's two New Works Recitals by performing Benjamin Thorn's Croutons XIV for Natural Trumpet. She started with a crystal-clear first attack and directed the instrument's bell in a sweeping gesture over the audience. She briefly sang through the horn, echoing a prior melody. The work was enhanced by ascending rips, fanfare figures, and the distinctive sound of a wooden mute.
The Northwest Passage Trumpet Trio, consisting of Jennifer Dearden, Andrew Erb, and Timothy Winfield, artfully performed Fernando Deddos's Nuvens de Junho (June's Clouds). An enchanting, closely voiced opening contrasted with moments of musical pointillism and lively dance. At other moments, trumpets moved together relentlessly at half-step intervals. Ensemble unison moments were effective, as was the rapidly tongued pyramid of sound that closed the piece.
Philip Spaeth's Epiclesis for trumpet (Phillip Chase Hawkins), trombone (Jessica Hawthorne), and harp (Kristina Finch) opened with thoughtful strumming and a dark rubato passage in the trumpet, which was soon joined subtly by trombone. The harp then set the tempo, presenting virtuosic, yet mournful, rhythmic interest while the trumpet and trombone exchanged a recurring motive. The brass traversed medieval-to-blues modes in sustained, consonant lines.

Dr. Robert Murray performed Brandon Dicks's Peri Sketches for unaccompanied solo trumpet in B-flat, exploring the interval of the perfect fifth. This character snapshot of the trumpet contrasted open intervals with distinctive chromatic passages that spidered outwards into the instrument's upper and lower ranges.

Zae Munn's Trumpet Calls was written for twenty C trumpets in five separate groups. Under the direction of Eric Millard, the ITG New Works Ensemble of young professionals presented a fascinating melange of timbres and rhythms. A group with aluminum foil over their bells produced an unearthly, mechanical whine with the buzz of a snare drum. Another choir presented disjunct rhythms that became increasingly unified. The full ensemble climax created an unsettling, yet fascinating, soundscape.
Trumpeter Jeremy McBain and pianist Miriam Hickman presented the second movement of Kyle Gullings's JPL Sonata, "Titan (Ride the Tides through the Throat of the Kraken)." The piece opened jazzy and pensive, with the trumpet using harmon mute with the stem out. As the piece gathered momentum, the trumpet traversed large intervallic leaps and an expansive cadenza. Lush piano writing complemented the moody, solemn atmosphere.

Martin Amlin wrote his Sonata for Trumpet and Piano for Terry Everson, who performed the work on E-flat trumpet with Miriam Hickman on piano. Everson was immediately virtuosic and engaging, making the perpetual motion of the first movement, "Invention," seem effortless. The melodic lines were jagged, yet harmonically cohesive. Everson showed off his wide dynamic range, from piercing fortes to pianos of pure compacted energy. The principal melody line started on an upbeat, giving the whole piece a sense of leaning forward. The second movement, "Chaconne," opened with understated, twinkling piano. Everson transformed the trumpet's character without the aid of a mute, achieving an airy, distant sound punctuated by triple-tongued interjections. The third movement, "Moto Perpetuo," contrasts Everson's smooth articulation on a single pitch with an angular melody and ascending rips. The piece was joyfully presented, with Everson's flexibility, musicality, and range on full display. (MM)
Jose Sibaja Recital - Latin Influences
Jose Sibaja presented a diverse program with enchanting, melodious works influenced or written by composers from South and Central America. With the help of pianist Rebecca Wilt, percussionist Robert Vilera, trombonist Domingo Pagliuca, and trumpeter Alexis Morales, there was a pleasantly shifting color palette for nearly every piece. The 2019 ITG commission, Pendulum provided a fascinating departure from more standard repertoire and will surely be in high demand. Clarice Assad's ability as a composer was equally matched by her ability on the piano and as a vocalist. After a touching dedication to Sam Pilafian, renowned tubist and pedagogue, Sibaja closed his program with three traditional Costa Rican songs, aided by five fellow Costa Rican trumpeters. It was a wonderful way to conclude the program and stands as a testament to the importance of the ITG Conference, giving light to music and musicians from outside the United States. (MV)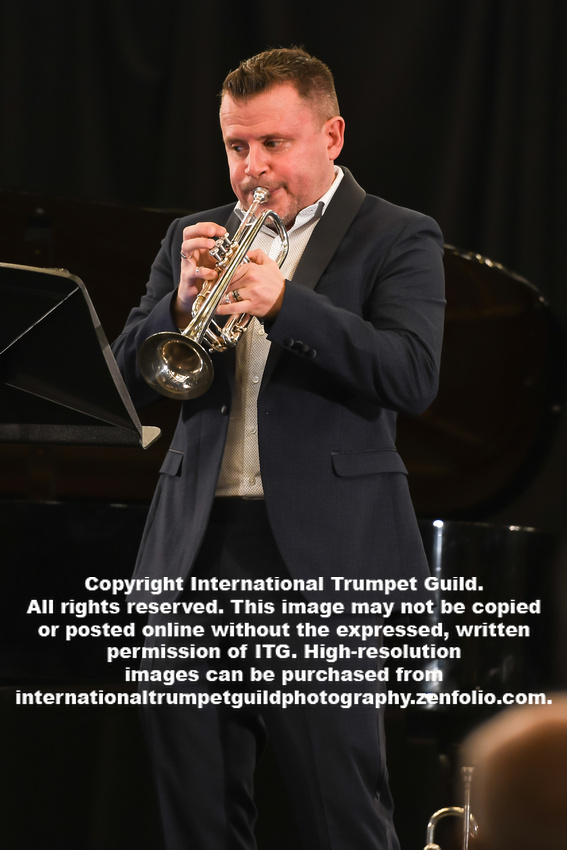 ---
Click here for more photos from the ITG Conference
---