The 43rd Annual International Trumpet Guild Conference - San Antonio, Texas (USA)
Special Daily Report • Compiled by Peter Wood
Photos by Michael Anderson, Norman Bergstrom, Josh Rzepka, Denny Schreffler, and Brian Shook
Thursday, May 31, 2018 - Evening events

---
Click here for more photos from the ITG Conference
---
Evening Concert—Spanish Brass
The Spanish Brass began the concert with a delightful French Baroque selection that was not listed on the program. Playing from memory while standing in a semicircle, the quintet performed with astonishing artistry and precision. Each member of the group—trumpeters Carlos Beneto and Juanjo Serna, hornist Manalo Perez, trombonist Indalecio Bonet, and tubist Sergio Finca—was featured in fleeting solo passages. Trumpeter Carlos Beneto served as an emcee and provided humorous and informative commentary throughout the concert.
An arrangement of Bach's Prelude and Fugue in C minor, BWV 549 showcased the amazing technique of tubist Sergio Finca, along with Carlos Beneto's beautiful flugelhorn playing in the high register. Each member of the quintet was given a chance to shine in Beneto's arrangement of Verdi's Overture to La forza del destino. A set of Spanish pieces followed, including Albéniz's Seguidillas, which featured a gorgeous solo from trombonist Indalecio Bonet and some exquisite soft playing. A particular highlight was the Intermedio from Las Boda de Luis Alonso, which showcased the quintet's effortless virtuosity, especially the facile flourishes of running triplets.
In a departure from the printed program, the Spanish Brass next performed a medley of songs made famous by the French vocalist Edith Piaf, including "La vie un rose." A set of three tangos from Argentina followed, including Lluvia de estrellas, which provided a veritable clinic in ensemble technique as members of the quintet traded sinewy streams of sixteenth notes with effortless élan. Beneto's sultry flugelhorn solos and Serna's quicksilver piccolo trumpet playing were notable highlights.
Jens Lindemann joined the Spanish Brass for two sextet pieces: an arrangement of Bernstein's A Quiet Place and the up-tempo Dixieland classic High Society. To introduce the pieces, Lindemann praised the impressive work ethic of the Spanish Brass, saying, "They get their business done," rehearse on a daily basis, and "become an organism." He also introduced a new iPad sheet music reading app, Blackbinder (http://www.blackbinder.net), which advances pages automatically without the need for a Bluetooth pedal. The sextet selections highlighted two contrasting styles. In the Bernstein, all of the trumpeters played flugelhorn, and the ensemble's burnished sound soothed the audience like a warm bath. Jens Lindemann's sparkling piccolo trumpet was an added attraction in High Society, as all the members of Spanish Brass took a turn in the spotlight.
Ramon Cardo's jazz-flavored work, Pentabrass, displayed the quintet's impeccable ensemble precision, while an arrangement of Lee Morgan's jazz classic, The Sidewinder, closed the official part of the program with some incredible tuba virtuosity from Sergio Finca. A sustained standing ovation followed, after which the Spanish Brass performed two encores. First was a Flamenco-flavored piece that began with Juanjo Serna drumming on the inside of the bell of Finca's tuba while with the other members clapped rhythmically. The second encore was a blues number that ended with the audience clapping in time as the members of Spanish Brass walked down the center aisle of the ballroom and waved goodbye at the end. (EK)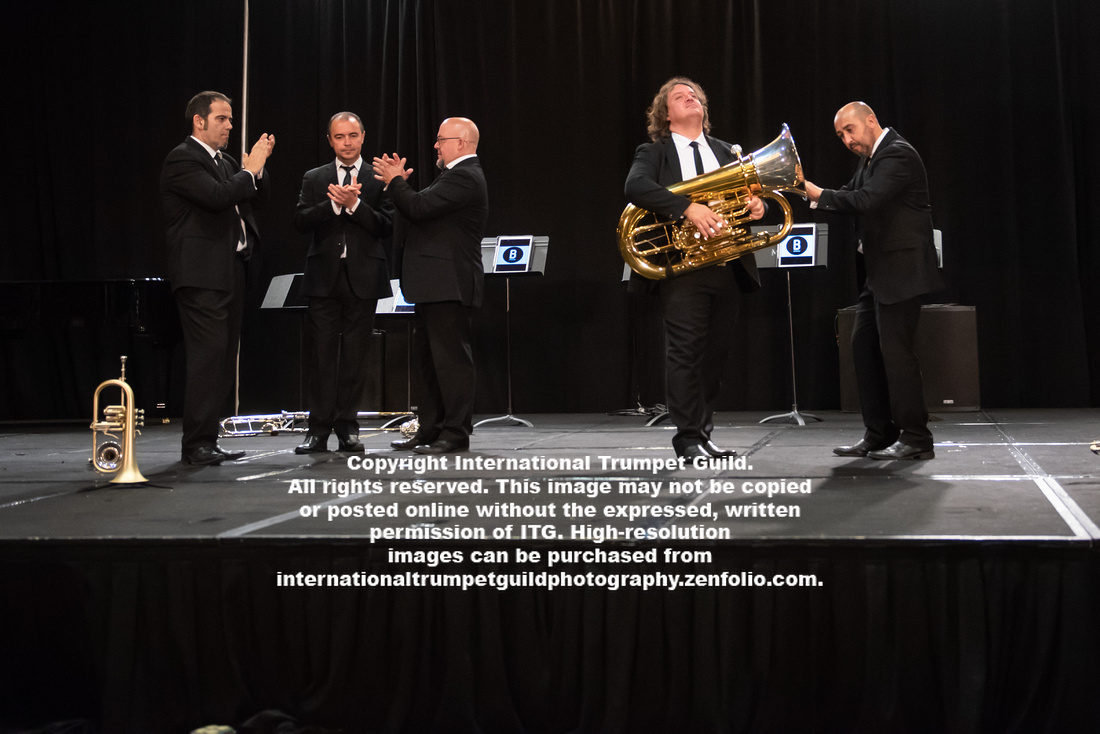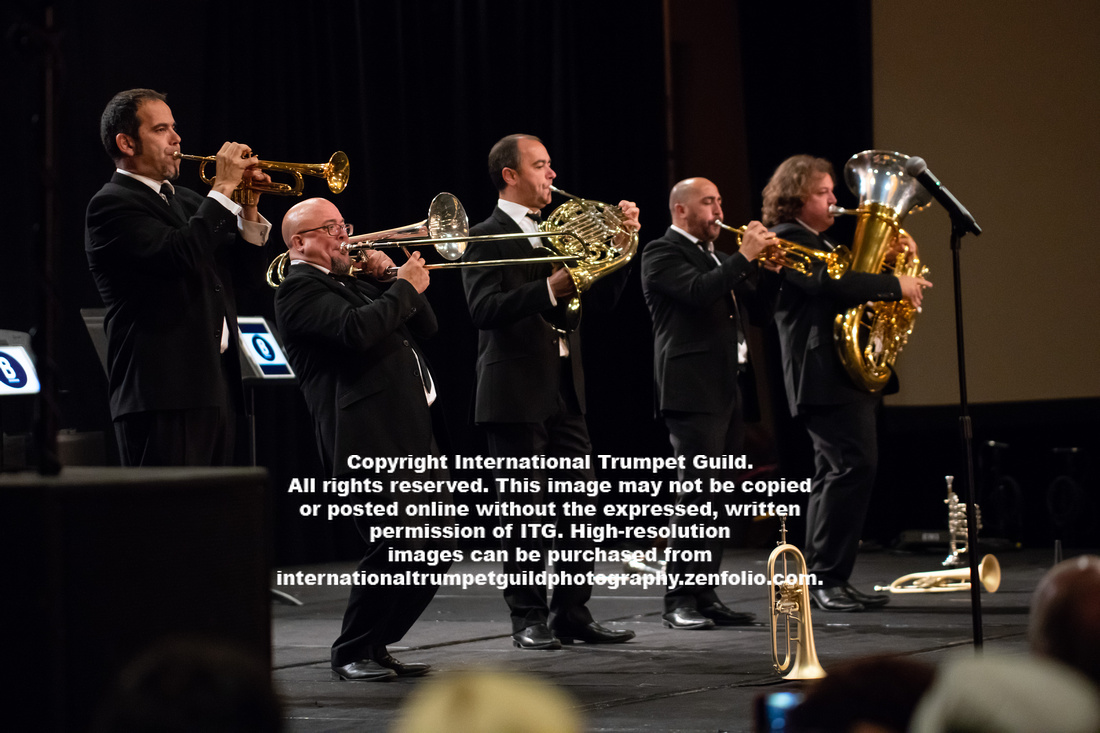 Trumpet Ensemble Reading Session I
Reading sessions are not a regularly occurring event at ITG Conferences; the last one that this author can remember was held during the 2007 ITG Conference at UMass-Amherst. As a result, it was a pleasant surprise when over sixty trumpet players, ranging in age from fourteen to senior citizens, showed up for the first of two scheduled trumpet ensemble reading sessions. Hosted by Buddy Deshler, those present read through and briefly rehearsed four works: Brandon Cave's Sonder, Jason Aylward's Voyage, Brandon Dicks's Clockwork, and Marcus Grant's arrangement of the Hummel Trumpet Concerto, featuring Garrett Klein of the Dallas Brass as soloist. The "mega ensemble" read at a high level, following each conductor's instructions. These were challenging works for a reading session! Afterward, players remained for several minutes, interacting and making new friends. A second reading session is planned for Friday night, and it is hoped that this event becomes a yearly event. (KE)

Gordon Au—Evening Jazz Concert: A Century of Jazz Trumpet
Trumpeter Gordon Au provided a fascinating performance as he and the swinging Conference Jazz Trio (pianist Aaron Prado, drummer Kyle Thompson, and bassist Andrew Bergmann) saluted the great jazz trumpet stylists of the last century. Songs associated with those trumpeters were included (i.e., Dippermouth Blues, Concerto for Cootie, and the lesser-known Duke Ellington piece Azalea). Au preceded the playing of each selection with a brief lecture about the trumpeter with a description of that performer's stylistic approach to jazz (articulation, phrasing, rhythmic approach). In addition to legends King Oliver and Louis Armstrong, Au performed selections in styles of other trumpeters, including "Cootie" Williams, Bobby Hackett, and Dick Cathcart. The ensemble performed the selections in the appropriate musical styles quite accurately. Au was brilliantly able to play each trumpeter's style and neatly incorporated his own improvisations in each selection. The overall performance highlighted Au's very fine trumpet playing, performing the styles of all the historical artists in a swinging, reverential, and informative way. (NM)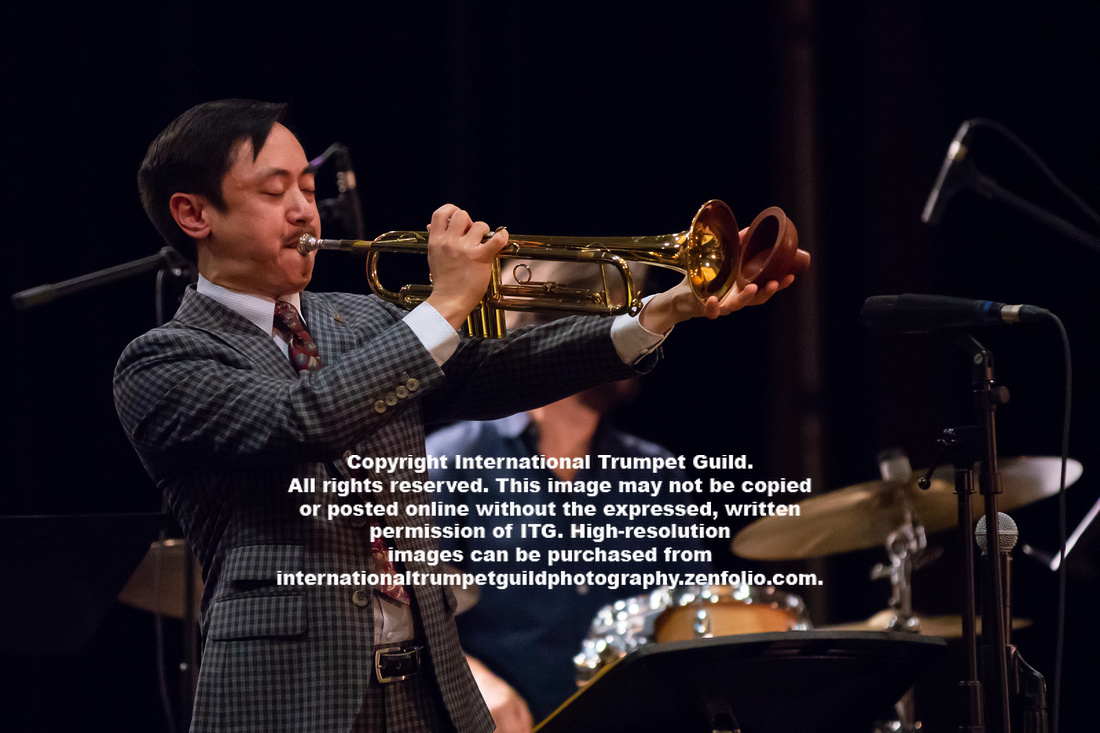 Gordon Au
---
Click here for more photos from the ITG Conference
---