The 46th Annual International Trumpet Guild Conference - San Antonio, Texas (USA)
Special Daily Report • Compiled by Peter Wood
Photos by Denny Schreffler, Josh Rzepka, Benjamin Lowe, Ryan Berndt, Jeff Grass, and Michael Anderson

Saturday, June 4, 2022

---
Click here for more photos from the ITG Conference
---
Doug Lindsey warm-up session - Fundamentals of an Effortless Sound: Breath, Shape, and Freedom
Dr. Douglas Lindsey's warm-up session began with the question, "What makes your sound special?" Lindsey focused his presentation on attention to free and easy sound production. After addressing some of the common breathing issues he has often seen in his teaching, he led the participants in a series of breathing exercises directed towards experimenting with shape and continuity. Moving to the horn, Lindsey had each person play G in the staff and G above the staff to reinforce this concept. Lip slurs were next, where he discussed the dangers of jaw and hand tension. Lindsey used the Cichowicz flow studies exercises as an example of a melodic line that one can use to focus on such fundamentals as breathing and sound. To work on articulation, he led the group through air patterns, asking for constant spinning and energetic air, and then followed that with similar patterns with the trumpet. To finish his session, Lindsey shared his ideas about the choices we can make to become more courageous performers. (Rich Tirk)
Juan Avendaño warm-up session - Keep it Simple: Keep Your Mind and Body Aligned with Your Playing
Juan Avendaño is the current principal trumpet of the National Symphony Orchestra of Colombia, professor at the Universidad Nacional de Colombia and an international trumpet soloist. His warm-up session emphasized the importance of playing with a focused mind and relaxed embouchure in congruence with proper air support. He led the participants through a natural exercise progression, beginning with breath work, mouthpiece buzzing, leadpipe buzzing, and then full-horn playing. He concluded the session with tongue placement exercises to manipulate timbre for finding the center of the pitch and aiding in relaxed upper-register playing. This was an exceptional final warm-up session at the Conference. (Maryna Pohlman)
Sycil Mathai warm-up session - Revisiting James Stamp's Warmups
Sycil Mathai's warm-up session was a refreshing take on the well-loved flow studies of James Stamp. Mathai prefaced the clinic by saying that he was going to present his personal version of James Stamp's materials, informed by years of study with notable Stamp pedagogues and the journey of his impressively multifaceted playing career. Using a call-and-response approach, Mathai encouraged those in attendance to set up in a circle in order to hear individual sounds more clearly. The emphasis throughout the session was on centered, resonant sounds without forced wind. Mathai also encouraged proper posture through his "overhead stretch with the trumpet," which was invigorating and helpful. After taking the group through the entire range of the instrument and a few slurs that incorporated light articulation, Mathai ended the session by listening to willing individuals perform Stamp's exercises and then offering insightful feedback. (Benjamin Hay)
Youth Competition: Senior Division
The Senior Division of this year's Youth Competition had many talented, inspiring young trumpet players. With Nairam Simoes as the competition chair, Kyle Millsap, Jen Oliverio, and Chloe Swindler served as judges. To start, Aiden Finnerud performed Charlier's second etude with beauty and musical character. Harrison Ellis followed, also performing Charlier no. 2 with a strong sound and warm vibrato from the outset. Abraham Smith's wonderful finger technique shined on Charlier's twentieth etude. Zane Keznik gave a mature performance of Charlier's fourth etude. Nathan Adams performed Charlier 2 with a lovely sound and phrasing. Bridgette Thompson's Charlier 2 had sensitive phrasing with crystal-clear sound throughout. Jack Bricklemyer performed with a lovely, fluid sound, handling the arpeggios of Böhme's 24th melodic etude with ease. Hsueh-Yang Yang phrased Charlier's thirtieth etude brilliantly with fantastic contrast in the articulations. To finish the competition, Ian Lee elegantly performed Charlier 4 with an incredibly leggiero double tongue. After their performances, each student participating in the competition received the opportunity to work with either Buddy Deshler, Chase Hawkins, or Robert Sears. This year's competition certainly included impressive performances from students with bright futures. (Spencer Brand)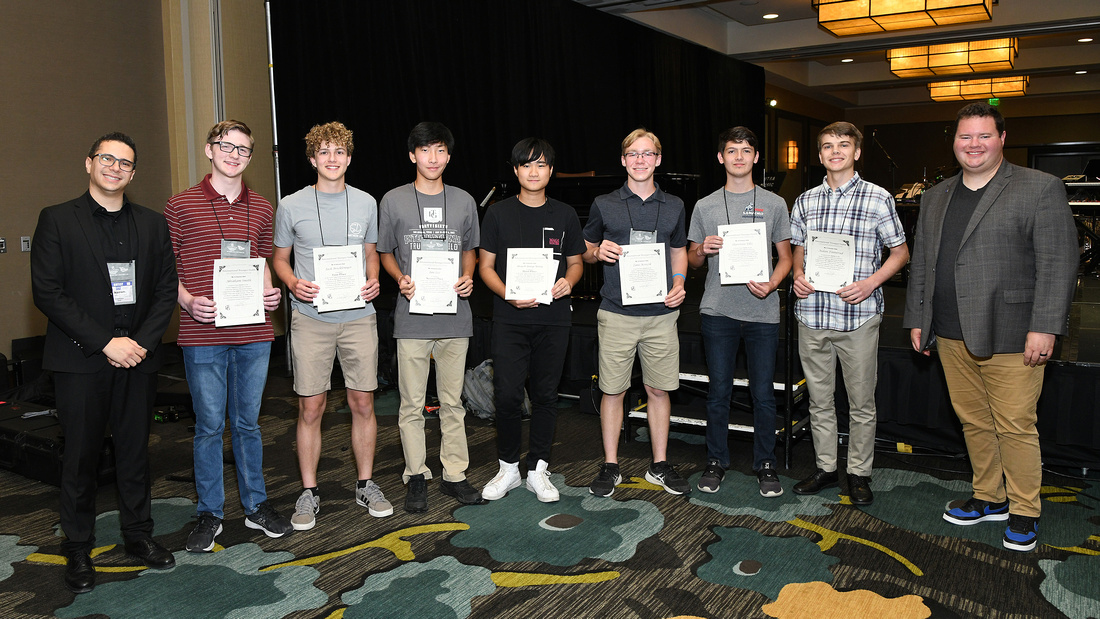 Youth Competition: Junior Division
The ITG Youth Day held the Junior Division competition the morning of June 4, 2022, a competition composed of a highly talented group of seven students from Australia, China, and the United States. The first competitor was Carson Frank, who performed Arban's Characteristic Study No. 12. This piece showcased Frank's flexibility with wide interval leaps and control over the full range of the instrument. The second competitor was Seo Jin (Michelle) Park, performing Etude No. 2 from Bousquet's 36 Celebrated Studies for the Cornet. This piece wonderfully showcased Park's technical ability with her strict precision in very quick passages. Juhan Lee performed Etude No. 2, "Du Style," from Charlier's Trente-Six Etudes Transcendantes pour Trompette. Lee displayed wonderful musicality and lyrical expression, along with a rich sound throughout his low register. Subsequently, Jade Park had an outstanding fully memorized performance of Charlier's No. 23, "L'Arpège." This selection wonderfully showcased her effortless and brilliant sound throughout each exhilarating passage. Ricardo Lazaro, a self-taught trumpet player, played Alexander Goedicke's Concert Etude. He chose a fantastic piece that allowed him to explore his powerful sound within both technical and lyrical styles. Alejandro Martinez performed Charlier's Etude No. 8, "Intervalles." Martinez's warm, inviting sound was highlighted by the luscious lyrical phrases and leaping intervals of this piece. Concluding the competition, Bousquet's Etude No. 7 was performed by Jason Zgonc. Zgonc's clear articulation and fine control through leaping intervals perfectly complements the integrity of this piece. (Maryna Pohlman)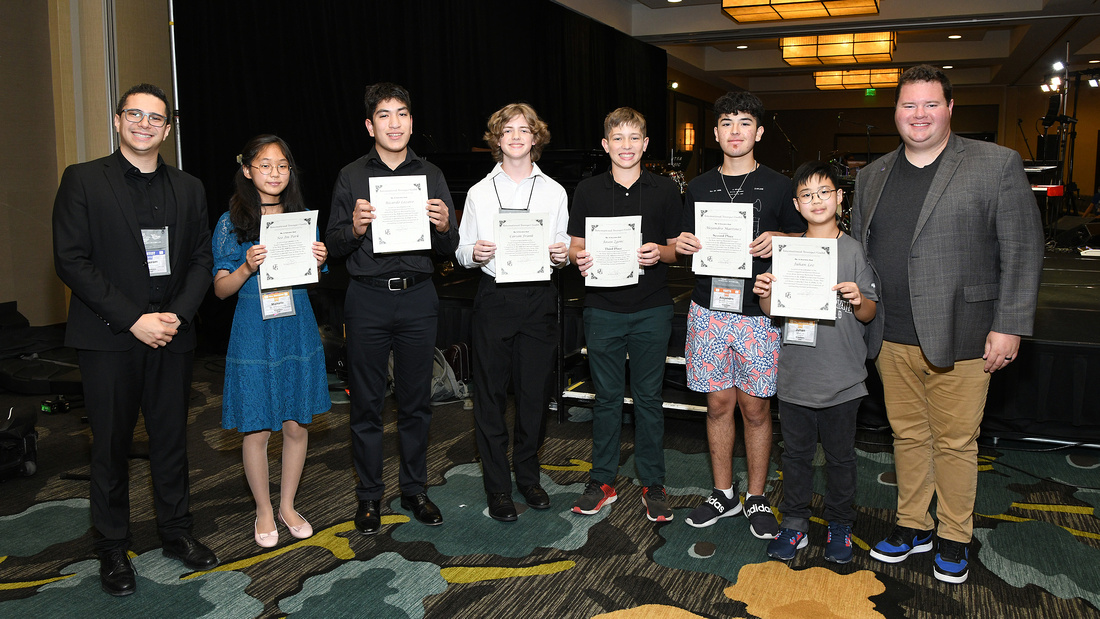 Jeremy Stanek clinic - How To Avoid Career-Ending Injury as a Trumpet Player… There's More than Focal Dystonia
Dr. Jeremy Stanek gave an informative presentation on the numerous ways that performing artists can have their careers cut short by injuries. Stanek is a clinical assistant professor in sports medicine and founder of Stanford University's Performing Arts Medicine Program. His research shows that 76% of orchestral musicians have had injuries that affected their ability to perform, and a more recent study among college students and faculty (ITG Journal, Jan19/37) show similar results. Stanek presented the data by instrument and type/frequency of pain before focusing his remarks on trumpet players, of which 36% reported career- or practice-limiting pain. Common causes include excessive practice/performing time, insufficient warmup, a sudden increase in playing time or difficulty, and other factors that align with those in sports medicine. Stanek's professional trumpet career itself was cut short by focal dystonia, prompting his second career as a medical doctor and his research interests. He hopes to return next year to present entirely on focal dystonia. More information can be found on Stanek's website (https://pmr.stanford.edu/patients/performing-arts-orthopaedic-health.html) or by emailing him ([email protected]). (Daniel Kelly)
Carolyn Sanders lecture - Female and Black in a Biased World: The Remarkable Career of Ernestine "Tiny" Davis
Carolyn Sanders' lecture provided a detailed overview of Tiny's life and career. A contemporary of Louis Armstrong and a remarkable player, she was a member of the International Sweethearts of Rhythm and later her own group, the Hell Divers. She faced many barriers throughout her career, but her virtuosic playing and vibrant personality were very apparent from the clips that Sanders shared of Davis's performing and speaking. Sanders' presentation brought Davis's story to life and enriched the trumpet players who can now carry on the memory of Ernestine "Tiny" Davis. (Julia Bell)

Navy Commodores Trumpet Section clinic - The Devil is in the Details: Considerations for a Lead Trumpet Player
On the last day of the conference, the US Navy Commodores trumpet section hosted a clinic aimed at explaining the nuanced job of lead trumpet playing. Chief Musician Jonathan Barnes, Musician 1st Class Alex Albrecht, and Musician 1st Class Andrew Bezik were joined by Professor Joey Tartell. This section of high-caliber commercial players performed a handful of big band excerpts as prompts for a discussion on stylistic decisions that a lead player must make. Bezik finds what he calls his "internal interpretation" when receiving a new chart. He sings through his part to discover where he naturally wants to place the emphasis and to determine how to execute such ornamentations as bends, shakes, and smears. The audience also learned about the delicate precision it takes for the rest of the section to follow the lead player. The phenomenal playing and sagacious wisdom made for an incredible learning experience for all in attendance. (Christopher Luebke-Brown)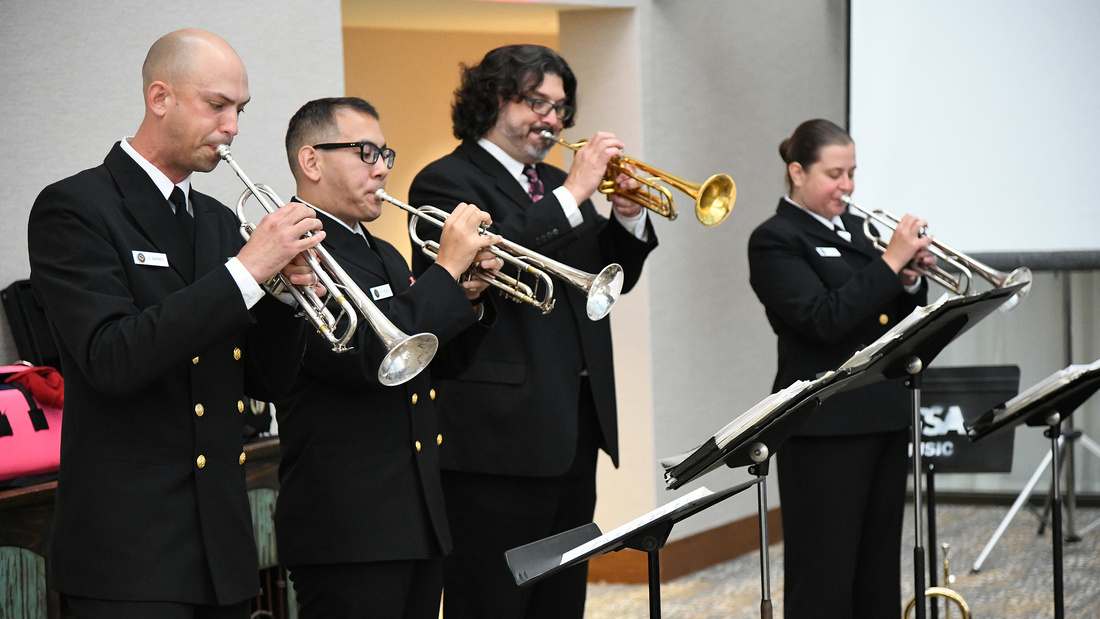 James Zingara clinic: From Zero to Performance: Creating New Chamber Repertoire for Non-Traditional Ensembles
James Zingara and the University of Alabama at Birmingham (UAB) Chamber Trio, including Denise Gainey on clarinet and Chris Steele on piano, performed and presented strategies to create new works for non-traditional chamber ensembles. Zingara discussed effective approaches to commissioning works, such as using "Call for Score" via composersite.com. To display the versatility of these compositions written for the UAB Chamber Trio, they performed excerpts from larger works written for them, including the second movement from Walter Hartley's Two Dances, William Price's I Don't Want to Dance, the third movement ("Zoom") from Valention Bogdan's City Scenes, and a world premier of Czech composer Katerina Horka's Trio con Brio. The UAB Chamber Trio performed beautifully throughout the presentation and very capably displayed the musical capabilities of such an ensemble. (Javian Brabham)

Dario Savino Doronzo flugelhorn recital - Reimagining Opera
Saturday morning's recital in the Regency Ballroom was presented by Italian trumpeter Dario Savino Doronzo and accompanist Pietro Gallo. The audience enjoyed the varied and exciting sounds of a number of opera arias reharmonized as jazz standards. Doronzo breathed new life into the familiar melodies, drawing from his background in jazz to create personal and authentic interpretations. He also demonstrated his superb command of timbre, angling his horn in different directions and stepping forward to center stage to color his sound in surprising ways. Gallo delighted listeners with a soulful rendition of Puccini's "Nessun dorma" before the last handful of arrangements. Overall, the pair successfully brought together two disparate styles, essentially creating a new and inspiring assemblage of jazz standards. (Eli Denecke)


Paul Merkelo recital - A Tribute to Timofei Dokshizer (100th Anniversary)
To commemorate the 100th anniversary of the birth of Timofei Dokshitzer, virtuosos Paul Merkelo and Rebecca Wilt (piano) performed four works that either were inspired by Dokshizer's and Merkelo's shared Ukrainian heritage or that inspired Merkelo through Dokshizer's iconic recordings of those works. The palette of musical colors and the subtleties with which Merkelo performed - crystalline, floating high notes and powerful, jazz-influenced runs - showcased a truly impressive range of not only technical prowess, but also musical sensitivity and artistry. Opening with Rebecca Wilt's powerful arrangement of Pictures at an Exhibition for solo trumpet and piano, Merkelo then showed off a delicate sweetness on Gliere's "Andante" from Concerto for Coloratura Soprano. He then performed Arutiunian's Concerto with nuance and imagination, yet also with great reverence and respect for Dokshizer's original interpretation. Merkelo closed his program with Gershwin's Rhapsody in Blue (arr. Dokshizer), taking the audience on an incredible musical journey. (Joe Nibley)


Mariachi Performance Masterclass
Agustín Sandoval, one of the world's leading mariachi trumpet players, gave a masterclass in which he worked with two ensembles. The first to perform for Sandoval was Mariachi de la Isla from Texas A&M University-Corpus Christi, under the direction of Dr. Rai Morales. They enlivened the audience with several exuberant selections: Popurri de Sones arranged by S. M. Carrillo, Hablando Claro, arranged by Jose Hernandez, and Mariachi sol de Mexico and Besame Mucho Consuelo Valazquez, arranged by Pepe Martinez. Sandoval then worked with the South Side Junior High School Mariachi Band as they performed La Reina Es El Rey and Hermoso Carino. Sandoval spent quality time encouraging such minor changes such as articulation, vibrato, and appearance that helped enhance both ensembles' performances. The masterclass concluded with a combined performance of La Enorme Distancia. (Maryna Pohlman)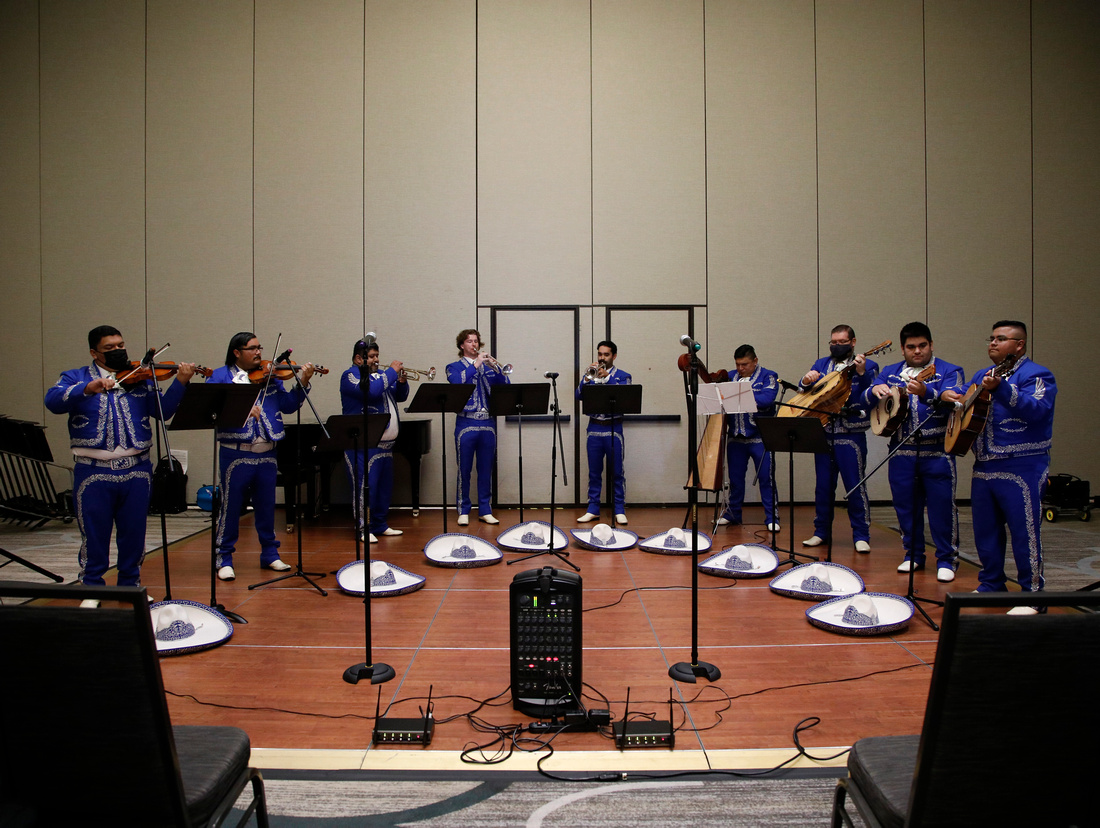 Trumpet in Trio Settings
The CPT Trio (Mary Thornton, trumpet; Carrie Pierce, cello; and Shao-Shan Chen, piano) performed Eric Ewazen's Trio for Trumpet, Violoncello, and Piano, which was written in 2007 for Croatian trumpet player Tomislav Spoljar. The piece is in three movements and has many familiar Ewazen-esque motives, harmonic progressions, and musical forms, and the group performed it with superb tone, balance, and musical phrasing. The Balaton Chamber Brass (Amy Cherry, trumpet; Don Cherry, trombone; and Rebecca Wilt, piano) performed four movements from Elizabeth Raum's Bushwakker Brewpub, originally written in 2002, but reworked for trumpet, trombone, and piano in 2012. Each movement depicts a different flavor of beer from the composer's favorite Canadian brewpub. The work includes several folk-song inspired melodies with quasi-Romantic-style harmonic progressions and quirky modern chromaticism. The trio performed with tremendous balance and blend, as well as a notable musical flair. (Scott Hagarty)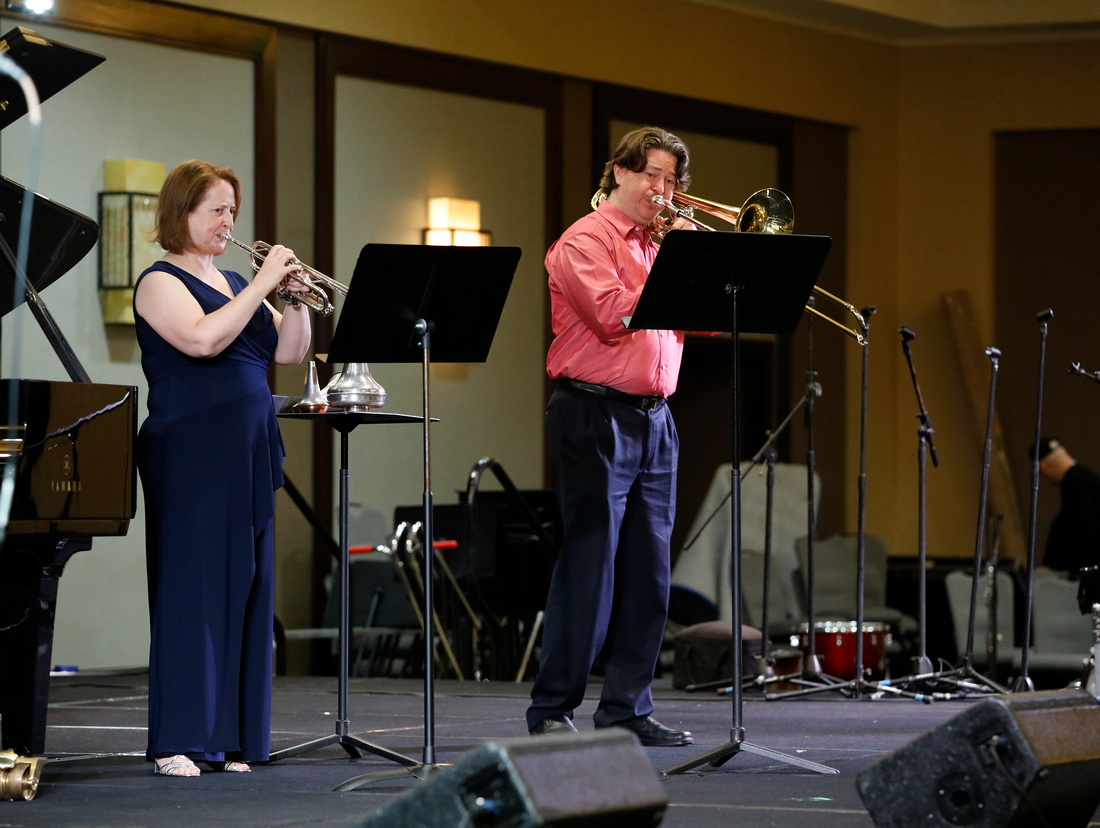 Mike Huff and Chip Crotts clinic - Overcoming Adversity Through Positivity: A Journey Through Bell's Palsy
Drs. Huff and Crotts have both experienced diagnoses of Bell's Palsy, a treatable neurological disorder that causes paralysis on one side of the face, which makes trumpet playing difficult. Through their presentation, the audience learned about potential causes of Bell's Palsy and what the road to recovery looks like. Many in attendance had been affected personally by Bell's Palsy, which led to an interesting discussion and conclusion that most people's journeys with this disorder are quite similar. While much is still unknown at this time about the root causes of Bell's Palsy, research shows that damage to the seventh cranial nerve (causing paralysis) is most likely caused by a virus. As such, treatment for Bell's Palsy often includes a regimen of steroids to reduce swelling, antivirals to fight the virus, and a slow, methodical approach to rebuilding the embouchure muscle groups. Both Huff and Crotts had similar roads to recovery after consulting with their primary care physicians and neurological specialists, taking the prescribed medications, and utilizing exercises to retrain the embouchure. This helped them not only "get back" to what they could once do, but also continue to improve. Huff reassured those in attendance that as daunting as it may seem to take that time off from playing, he was able to reestablish healthy playing habits, reduce external stress (often a precursor to viral infections like this), and rebuild the confidence he had as a player and teacher before his injury. (Joe Nibley)
John Schlabach clinic - Practical Applications and Benefits for Transference of Singing Quality into Trumpet Playing
John Schlabach and Katherine Rohrer's well attended presentation gave the audience an inside look into how singing can enhance our physical and musical abilities on the trumpet. Schlabach, professor of trumpet at Ohio University, took the audience through a series of singing patterns that he developed for his students to illustrate how to improve the connection between the ear and the trumpet. These patterns have proved to serve as a key pathway to developing efficiency and accuracy on the trumpet. Rohrer, associate professor of voice at The Ohio State University, shared insights on how the brain processes sound and what areas of the brain directly affect our music-making ability. She also discussed several ways in which singing can inform trumpet playing. Special attention was given to the quality of our singing when working on musical passages. Rohrer and Schlabach also challenged the audience to prioritize vulnerability by taking away the visual score. They both agreed that moving the stand out of the way can help to provide quicker access to music making. Lastly, Schlabach used J.L. Small's Etude No. 1 to show how he applies his singing patterns approach to help his students improve the connection between their ears and the trumpet. By the conclusion of the session, it was clear that everyone understood the benefits of how singing with intention can lead to healthy and musical trumpet playing. (George Carpten)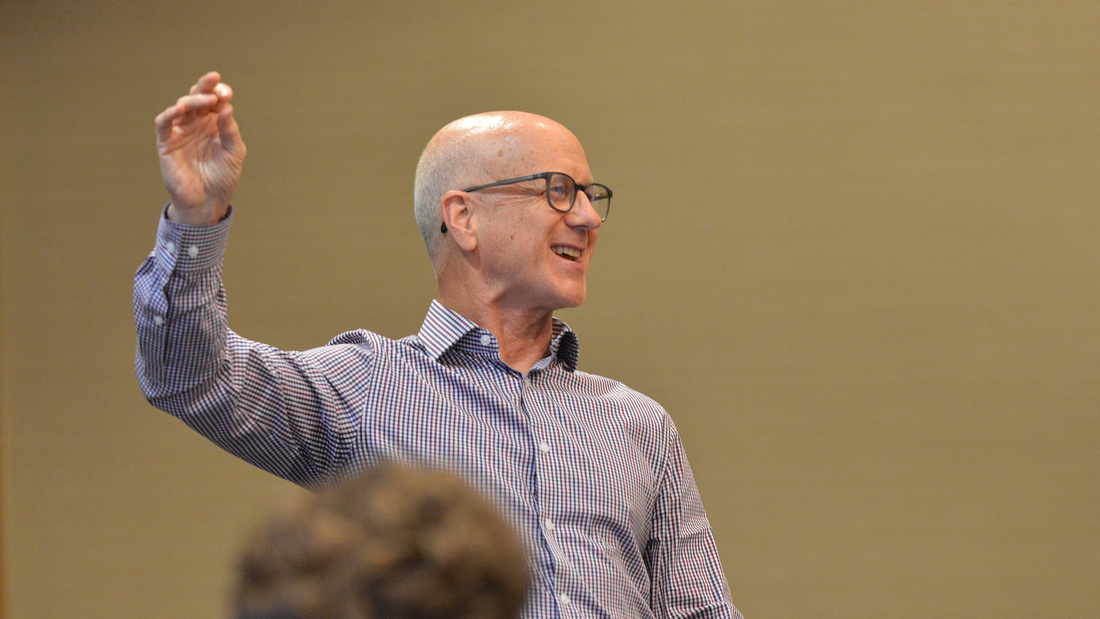 Dominique Bodart recital - Old/New, Romantic/Dramatic!
Belgian trumpeter Dominique Bodart and pianist Miriam Hickman delivered a formidable recital of standards, both old and new. Bodart employed tasteful embellishments and contrasting characters in earlier music by Handel and Mozart and was the definition of strength and poise in his performances of contemporary works. Bodart's ability to capture appropriate characters while maintaining his voice was inspiring. Equally impressive were his dynamic extremes; both his loudest and quietest moments were equally captivating and glorious. There is a sensitivity and thoughtfulness to his playing that is rare and a joy to behold. As an encore to this already heavy program, Bodart offered up Joy Webb's Share My Yoke on the cornet and brought the afternoon to a stunning close. (Matthew Vangjel)


Festival of Trumpets
The opening piece of the annual Festival of Trumpets concert, Stan Pethel's Antiphon for Trumpets was directed by Anthony Kirkland and featured energetic articulated passages. The group blended seamlessly and gave an animated performance. William Price's Pieces of Eight was conducted by Ben Rochford and showcased great stylistic contrast. The delicate, lyrical passages allowed the group to showcase beautiful phrasing and musicianship. The rich chords were played with great finesse, followed by a more technical section featuring the brilliant sounds of individual players and energized intensity in the performance. Conducted by Charles Conrad, movements III and IV of Fantasia Brasileira,, brought a lively performance of catchy, inspired, and light-hearted melodies. The next piece, Struttin' With Some Barbecue, featured fantastic jazz playing and wonderful solos from group members. The group gave an energized performance with the uniform style, sound, and articulation of an ensemble that performs together regularly. Jennifer Fletcher's Fanfare of the Bells, conducted by Charles Conrad, truly resembled the sound of bells as the group passed around bell tones to begin the piece. The group showcased a wide dynamic range and beautiful musicianship on this lively piece. (Julia Bell)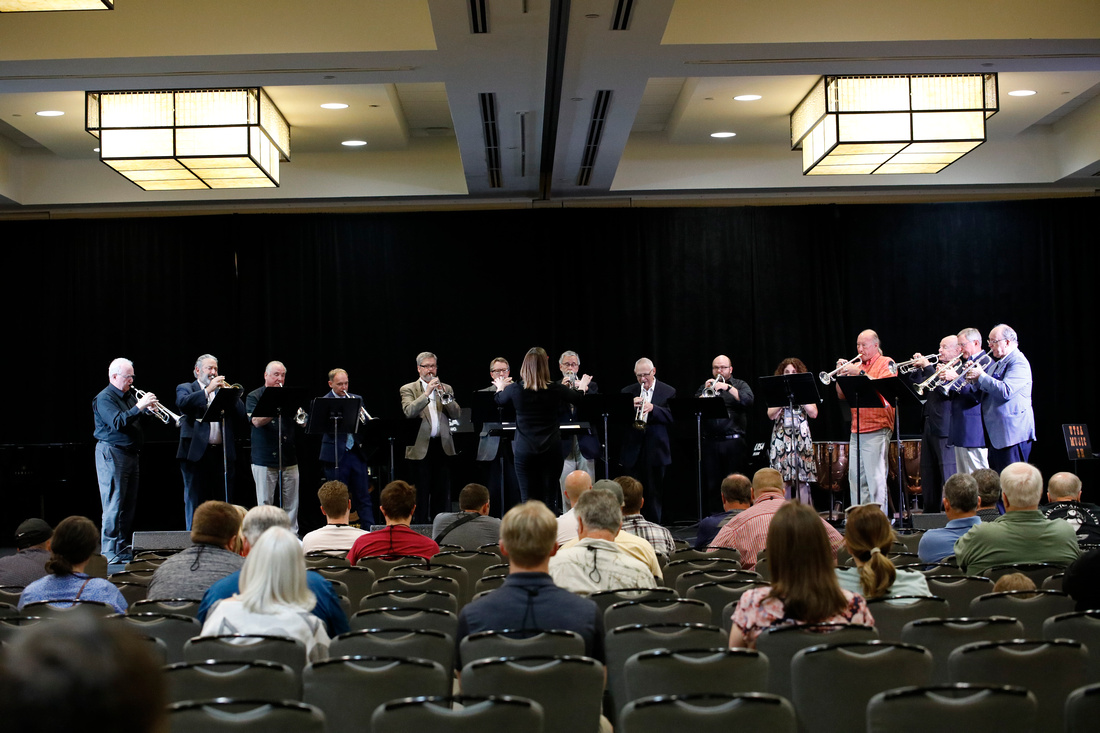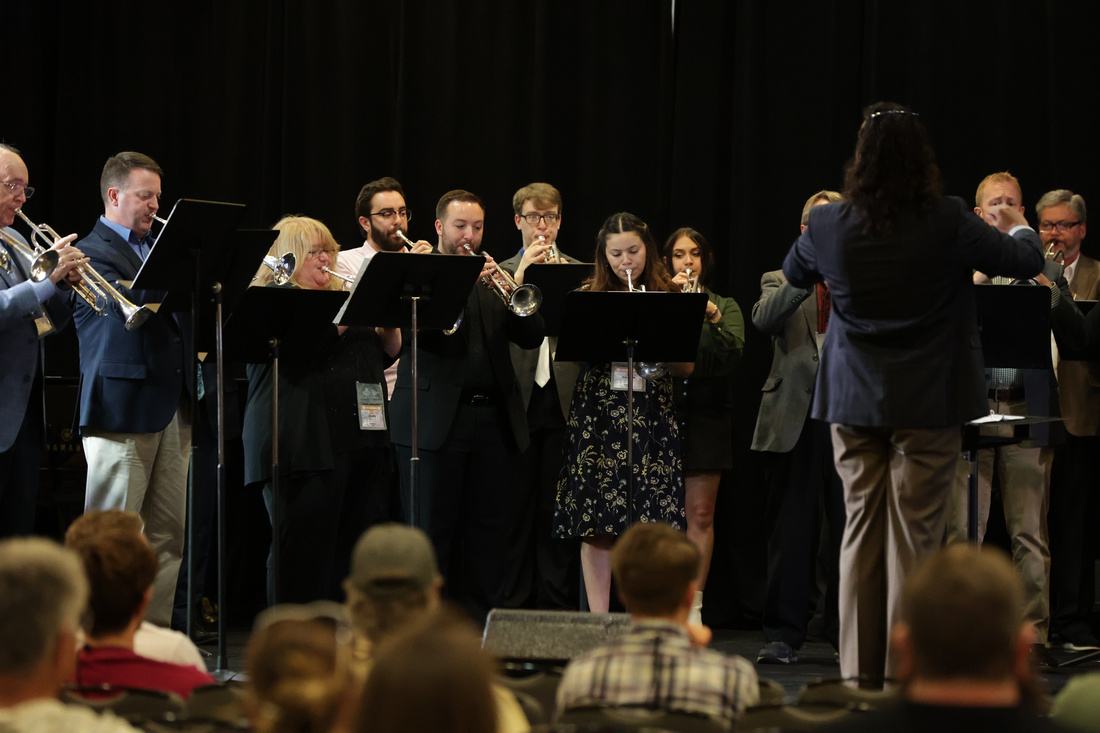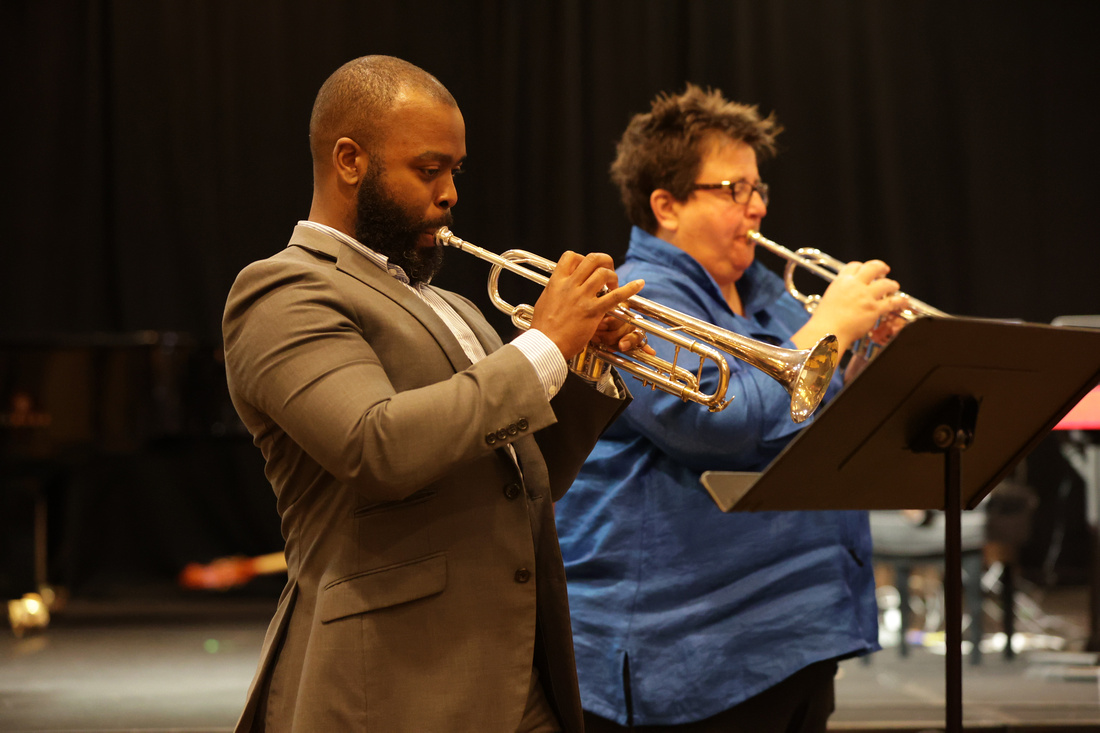 The youngest group to perform in the Festival of Trumpets concert deftly played their way through Stephen Lias's Ebulliance, a lighter trumpet ensemble work with mixed-meter sections throughout. The ensemble, conducted by Dr. Aaron Witek, the Festival of Trumpets coordinator, superbly represented the future of the Guild. Next, James Olcott conducted one of his own transcriptions of J.S. Bach's Sonata from Cantata 31. Accompanied by timpani, this piece was reminiscent of Altenburg's Concerto for Seven Trumpets or Handel's Water Music. The group that followed, made up of all CCM graduates, performed two world premieres by Martin Hebel. Led by Skye van Duuren, the ensemble filled the Ballroom with their brilliant sound in tribute to the legacy of their recently retired professor, Alan Siebert. The non-pro and comeback players ensemble who performed after them chose an intriguing piece entitled Undercurrents. This premiere, conducted by Seretta Hart, was played by a total of 17 players. The finale for the afternoon's concert, an exciting arrangement of Richard Wagner's Opening to Act III of Lohengrin, showcased the talents of the combined trumpet ensembles on stage simultaneously. This mass trumpet ensemble was a perfect conclusion to this traditional Festival of Trumpets concert, leaving all in attendance with a great sense of energy and excitement. (Eli Denecke)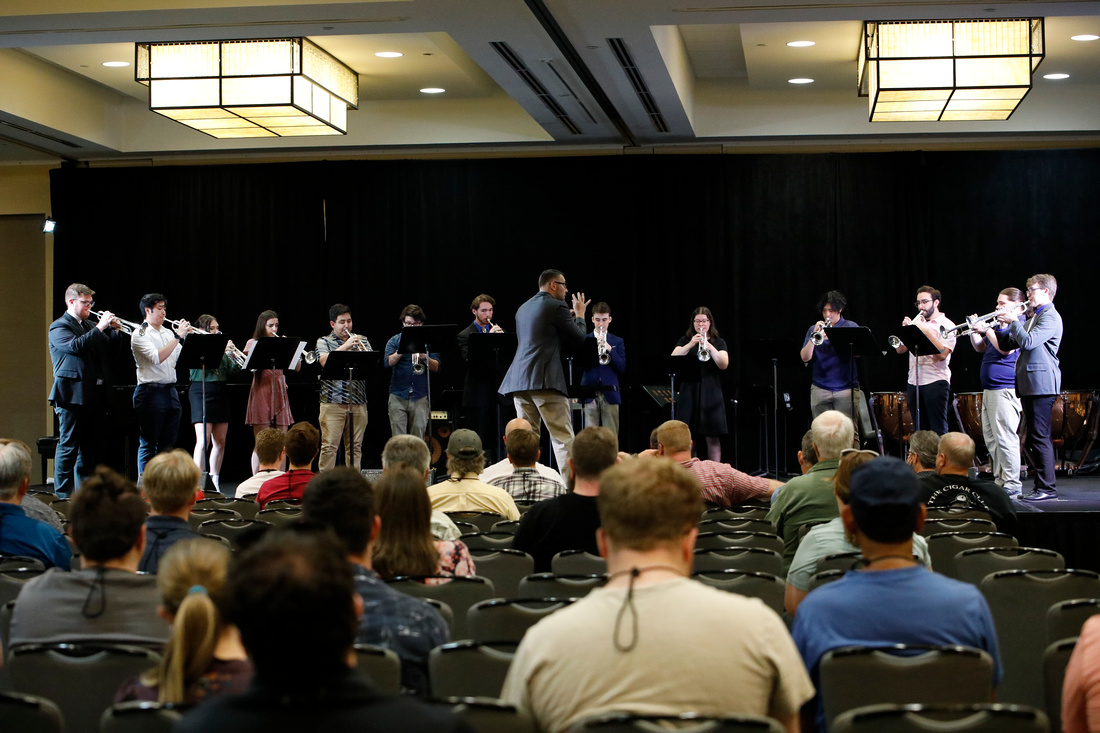 Student Meet and Greet reception
In one of the final events of the conference, students from all over the world enjoyed a reception sponsored by Grant Manhart and Monster Oil. There was an excellent turnout of students of all ages who enjoyed pizza and nachos as they met members of the ITG board, musical artists, and other students. Accomplished soloist Paul Merkelo shared advice with the group regarding the importance of reaching out for help and taking breaks when necessary. Sponsors including Gapper, S-Mute, Gilded Music, Brass for Beginners, Asper Trumpet Products, and more provided several exciting prizes that were awarded to the winners of the student raffle. This event encouraged future generations of trumpet players to build connections with one another and expand the ever-growing ITG family. (Sarah Cisney)


Closing concert: Ole Edvard Antonsen and Jens Lindemann
The closing concert began with the world premiere of ITG's recent commission for trumpet ensemble, Gwyneth Walker's three-movement When the Trumpets Sound, performed by Alexis Morales Barrientos, Jennifer Dearden, George Carpten, Christopher Moore, Oscar Passley, Sarah Stoneback, Mary Thornton, and Brian Walker, with Susan Slaughter conducting. The opening movement is in a rhythmic fanfare style. The middle movement uses undulating plunger mute techniques to support the melodic lines that featured Sarah Stoneback and Brian Walker on flugelhorn. In the unique and very catchy final movement, the ensemble was divided into two choirs with a fair amount of call-and-response in a swing style.
ITG Past President Grant Peters presented Treasurer Dixie Burress with a plaque, recognizing her many years of exemplary service to ITG. Dixie is retiring this summer, and she will certainly be missed by all!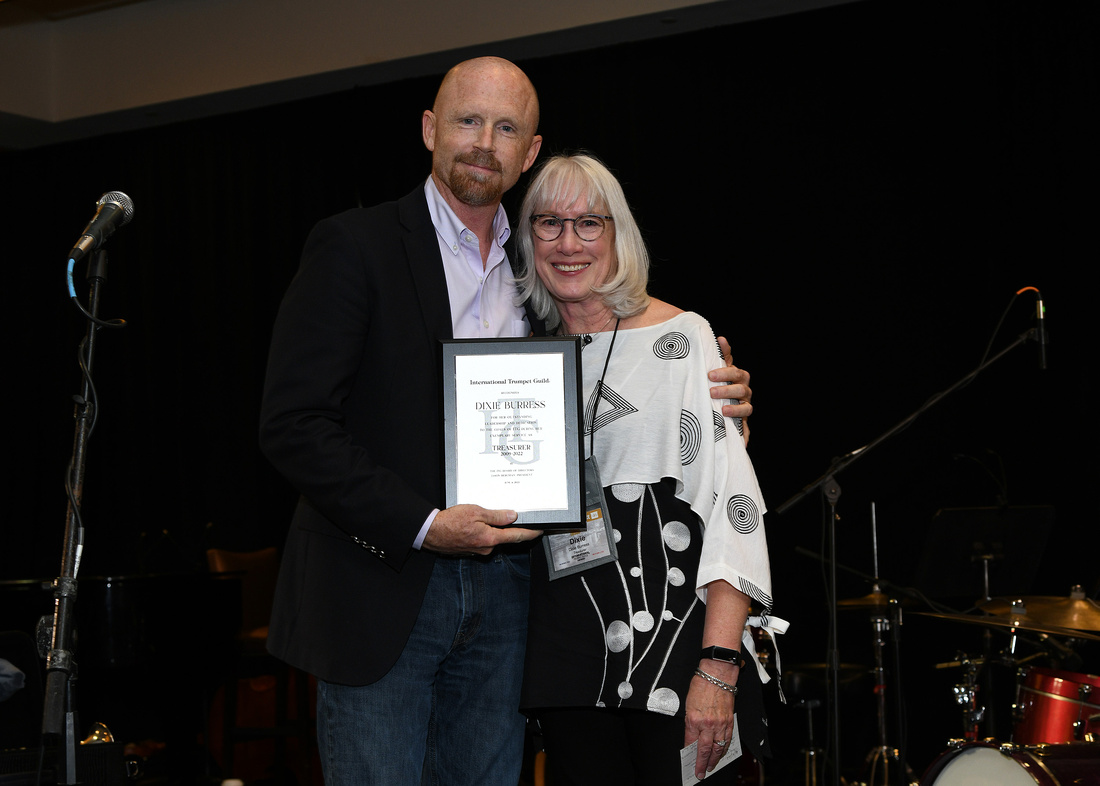 Those who expected Ole Edvard Antonsen to pull from his extensive catalog of classical repertoire were in for a surprise. Antonsen and his band of keyboardist, bassist, and drummer programmed pieces from his Landscapes album, along with works from a new project, Aurora, some of which had yet to be titled. The works ranged from what is commonly termed "ambient/mood" music, to rock and funk, pop ballad, and even a touch of Celtic jig and Caribbean funk. Antonsen and his keyboardist employed a variety of processing and effects to weave together fascinating textures. Antonsen's impeccable playing and charming stage deportment were enthusiastically received by the audience at every turn.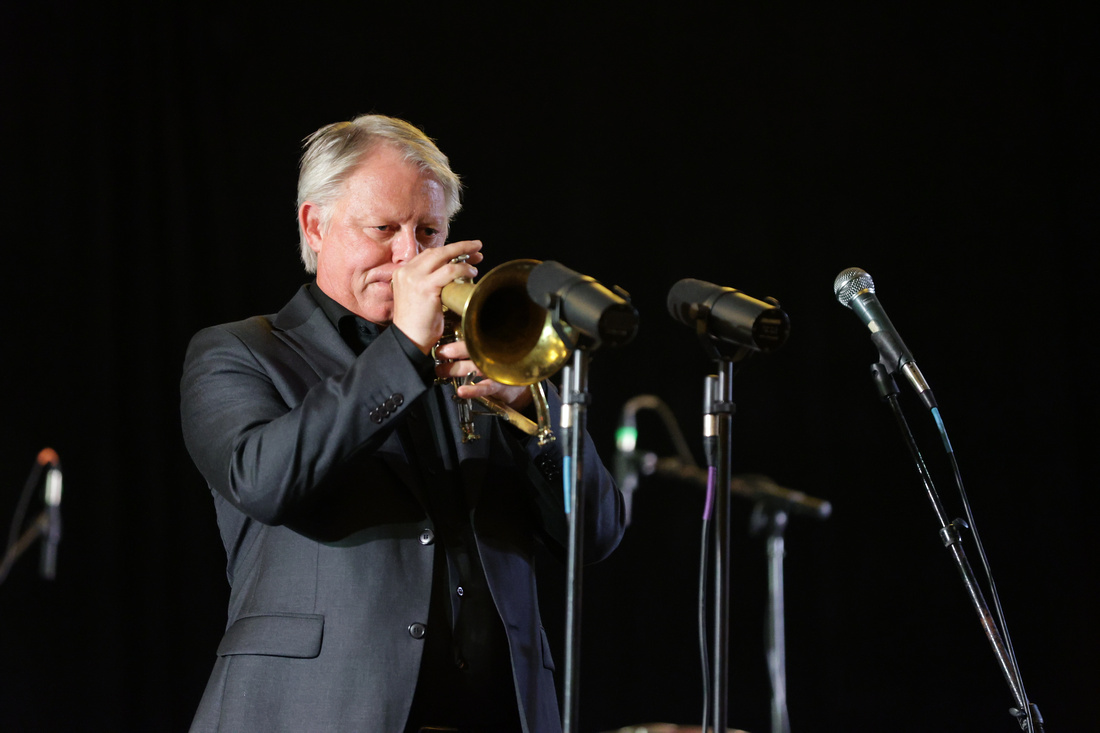 The second half of the concert featured Jens Lindemann and the ITG All-Star Big Band, opening with Well, Git It and a brief but exciting battle between Lindemann and Joey Tartell on lead. Mark Gould joined Lindemann in a duo rendition of The Nearness of You. Lindemann informed the audience that since Tanya Darby was unable to attend, they were left "with sixteen minutes to fill." He filled the slot in high style with a recently completed big band version of Rhapsody in Blue, featuring pianist Mark Alexander. This version is in the tradition of the Paul Whiteman arrangement, but "updated for modern sensibilities" and putting Lindemann and his trusty piccolo trumpet in the hot seat from the opening glissando to the final shout.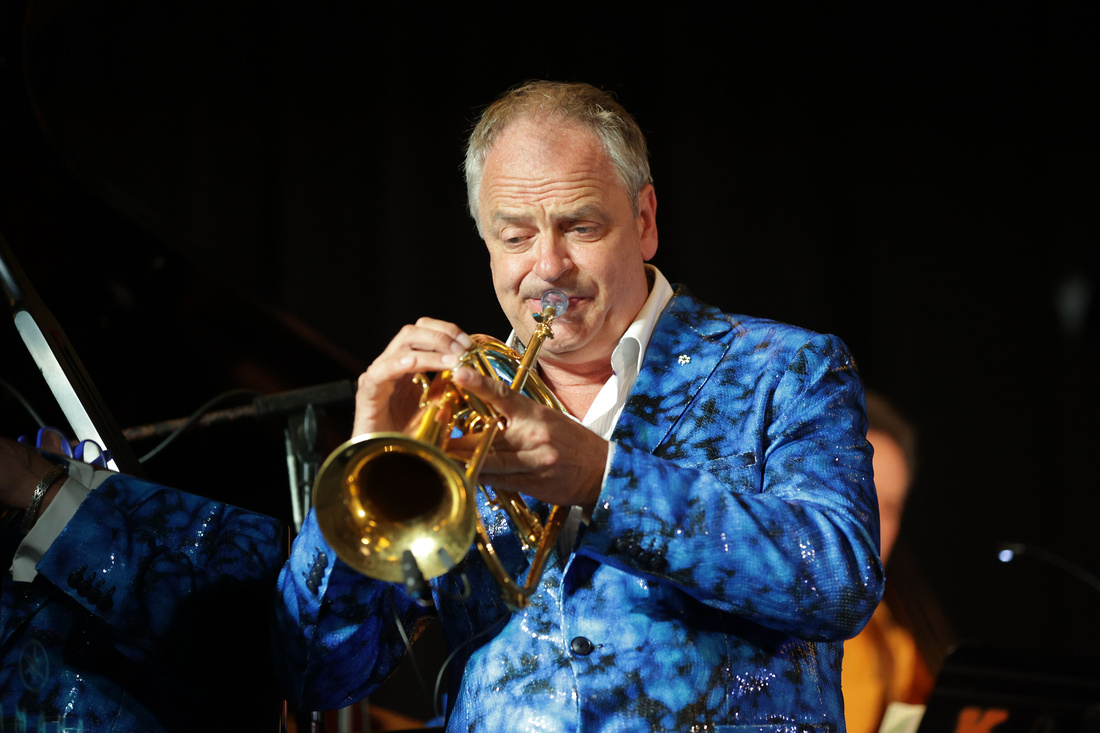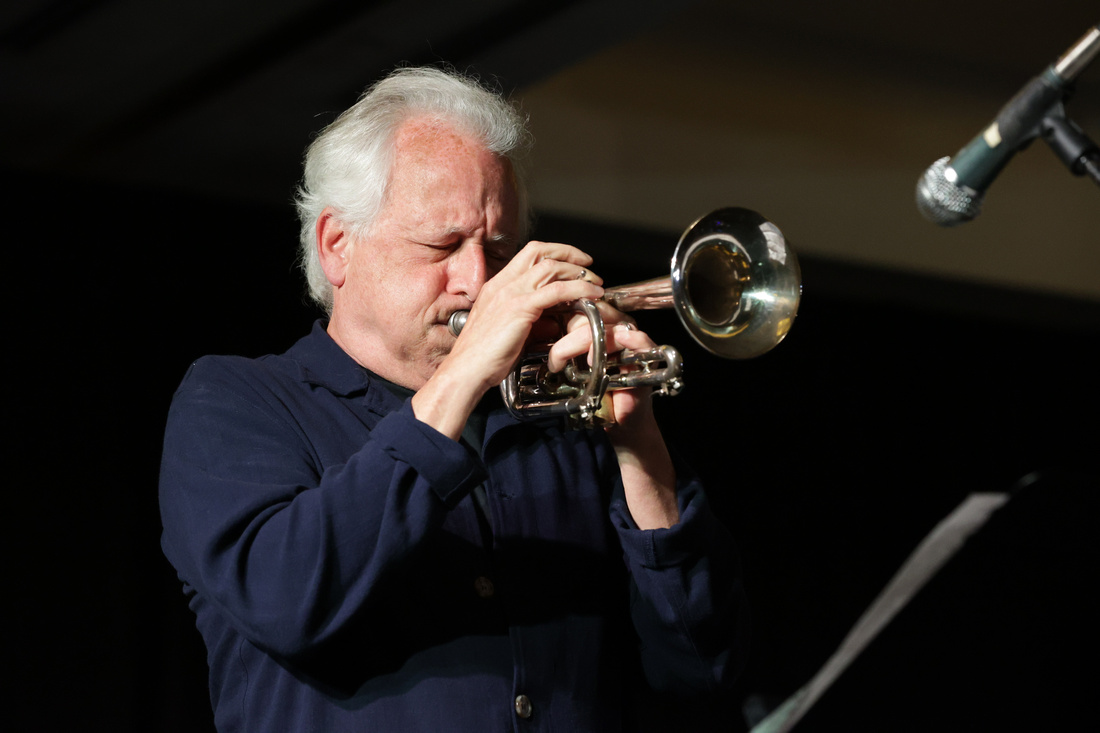 Mark Alexander and the ensemble may have put this piece together on "barely a rehearsal," but it was a true show-stopper. Lindemann joined the section of Tartell, Oscar Passley, and Greg Powell for a trumpet battle royale in A Night in Tunisia before closing with Oscar Peterson's Hymn to Freedom, dedicated to Ryan Anthony. The driving groove of this gospel shuffle arrangement and pyrotechnics from Lindemann and Tartell were the perfect conclusion to another great ITG Conference! (Daniel Kelly)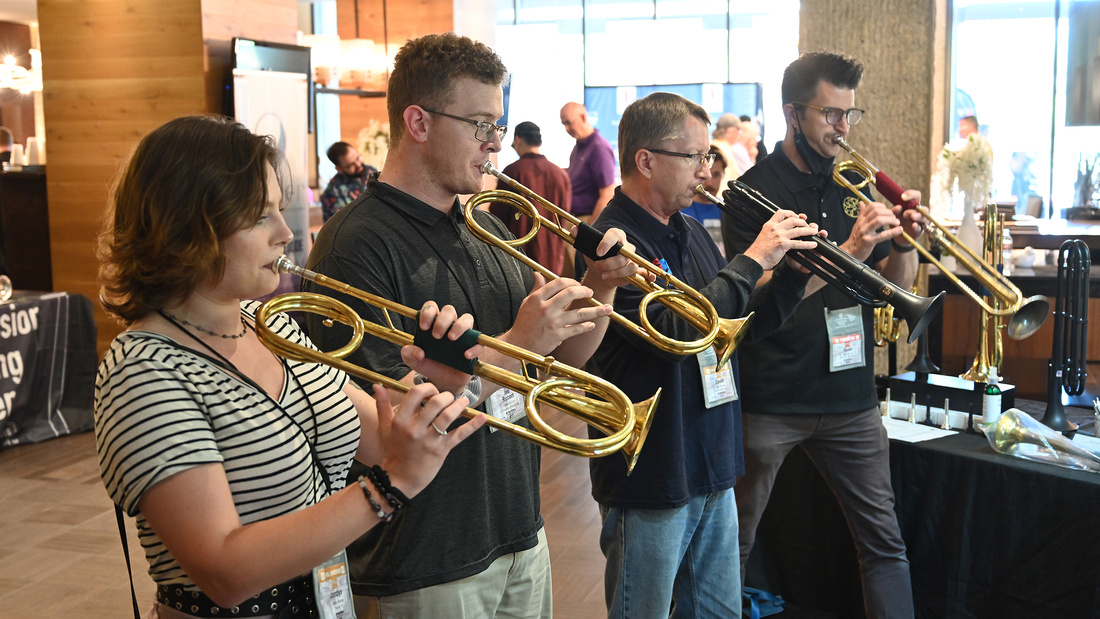 ---
Click here for more photos from the ITG Conference
---