The 46th Annual International Trumpet Guild Conference - San Antonio, Texas (USA)
Special Daily Report • Compiled by Peter Wood
Photos by Denny Schreffler, Josh Rzepka, Benjamin Lowe, Ryan Berndt, Jeff Grass, and Michael Anderson

Friday, June 3, 2022
---
Click here for more photos from the ITG Conference
---
Alexis Morales warm-up session - Body, Air, Mind, and Trumpet
Costa Rican soloist Alexis Morales opened his session by stressing the importance of a daily warmup. He has studied and tried many different types and has developed his own routine that addresses preparing the mind, air, and body for his trumpet needs. Morales got the participants on their feet and led them through a series of fun stretches before transitioning to some breath exercises. To calm the mind, he led the group through a meditation practice in which the participants were to breathe in fresh air throughout the body. Morales feels one of the best ways to start your day is by clearing your mind so you are better focused on music making. Next, he showed the participants a buzzing exercise he learned from Reinhold Friedrich. Soft arpeggios that transitioned into the Stamp pattern on the horn were next with the group singing along with Morales's demonstration. He explained that he then does some flexibility and articulation exercises, using examples from Arban. At the conclusion of the session, Morales stressed the importance of having fun while playing and that we need to realize how lucky we are to be musicians. (Rich Tirk)
Oswaldo Zapata student warm-up session - Creating Your Own Warm-up Routine
Dr. Oswaldo Zapata presented Friday morning's warm-up session with a friendly, inviting demeanor and shared great ideas and principles for creating one's own warm-up routine. He discussed how a warmup should be something you can do well and prepares you for playing. Together with the audience, he demonstrated his pre-warmup of simple movements and stretches to get the body moving and the blood flowing. As he talked about different aspects of a warmup, he suggested not focusing on too many things at one time and said that he tries to think about an open sound and air that flows freely. When talking about articulation exercises, he recommended including various styles, especially those one may be using in performance (like mariachi or different jazz articulations, for example). The audience was attentive and engaged, and he demonstrated good, healthy principles in approaching fundamentals and excellent teaching. (Spencer Wallin)
Houston Symphony Trumpet Section clinic
In their early-morning Regency Ballroom performance, the Houston Symphony Orchestra trumpet section gave those in attendance a lesson in maintaining a healthy relationship dynamic within a trumpet section. The mutual respect among colleagues was evident in the group interaction as they joked with each other throughout their presentation. Mark Hughes, principal; John Parker, associate principal; Robert Walp, assistant principal; and Rich Harris, second trumpet more closely resembled a chamber ensemble than a traditional orchestra section, demonstrating excellent intonation, style, and balance. Although the group performed a few orchestral passages, they primarily played trumpet ensemble chamber pieces, including Mark Hughes's four-trumpet arrangement of the first movement of the Altenburg Concerto. The program ranged from the sixteenth-century composer Costanzo Antegnati's Canzona to Besáme Mucho, featuring John Parker, who performed with virtuosic distinction and a soloistic flare. Hughes took the opportunity to showcase his new line of practice mutes on the soft muted passages from Debussy's Fêtes and Stravinsky's Rite of Spring. For four players who typically perform seated in the back of the orchestra, they were incredibly comfortable standing on the front of the stage. In fact, they even performed a mariachi feature, complete with foot stomps. Moreover, the players conveyed a sense of comradery, being supportive, and helping each other to be healthy and happy - like a family. (Nick Volz)


Stephen Wadsack clinic - College Audition Do's and Don'ts: Finding Your Dream School and Making Sure You Get In!
Stephen Wadsack's session provided helpful information about the college audition process, offering information for high school students, undergraduates, private teachers, and college professors. Wadsack discussed creating a short list of schools and listing the pros and cons of each, specific to the needs of each student. He also outlined the initial application process and how to contact potential trumpet professors. Wadsack emphasized the importance of staying organized throughout the preliminary steps to reduce stress later. He also discussed the nuts and bolts of selecting repertoire, preparing pieces, and performing a solid audition. Overall, the session was especially helpful for young students and parents and provided great reminders for current college students and professors. (Marisa Youngs)
Jennifer Oliverio clinic - British Brass Band Cornet Playing for the American Trumpeter
​​Jennifer Oliverio presented an informative session that explored the differences between playing cornet in the British brass band style and American trumpet playing. The presentation began with a brief introduction about the makeup and purposes of the brass band. Then, Oliverio showed both technical and lyrical brass band examples to compare and contrast qualities of cornet playing with American trumpet playing. The most notable differences identified between these two styles were the use and speed of vibrato, the variety in weight of articulations, and the color of the sound. Many resources, such as exercises to develop a characteristic sound and recommended brands for cornets were provided to participants. The session both educated and inspired trumpeters who wish to expand their skills into the world of cornet playing in the British brass band style. (Sarah Cisney)
Recital - New Romantic Recital Works for Trumpet
Stanley Friedman is well known for composing works using extended techniques. However, he has recently published outstanding works to fill the void of Romantic-style pieces in the trumpet repertoire. The first piece on the recital was Friedman's Sonata in F Minor with Kyle Millsap on trumpet and Shane Anderson on piano. The three-movement work showcased the composer's skill in writing lyrical and bold themes, and Millsap and Anderson navigated this tricky piece expertly. Next on the program were two of Friedman's arrangements of the Charlier etudes. Performing numbers 2 and 12 were Phil Snedecor on trumpet and Carolyn True on piano. Musically fulfilling and well scored, Friedman's arrangements bring something new and exciting to these favorites. Snedecor and True handily performed the etudes with excellent musicality and style. The final work on the program was Friedman's Sonata in B Minor for Trumpet, Cello, and Piano, which was performed by Matthew Swihart, trumpet; Carrie Pierce, cello; and Shane Anderson, piano. This work, also in three movements, provides moments for all instruments to shine. Friedman's dramatic music, full of glorious, lyrical melodies, was beautifully performed by Swihart and the ensemble. (Rich Tirk)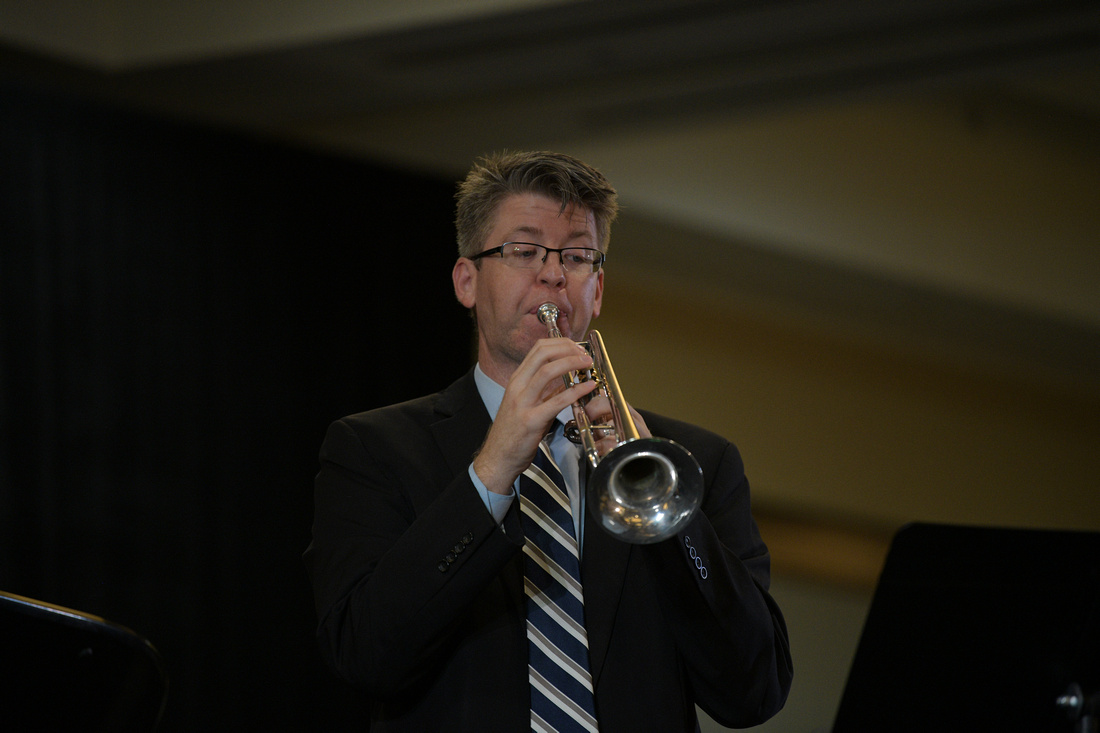 Ryan Nielsen and John McNeil clinic - Creative Jazz Improvisation: Returning Choice to the Practice Room
Dr. Ryan Nielsen and John McNeil presented a lecture on creative jazz improvisation. They shared a glimpse of a project they have been working on together for the last twelve years, with McNeil presenting virtually and Nielsen leading the lecture in person for a truly post-pandemic hybrid session. Nielsen opened the session by sharing the idea from McNeil that everyone learns in the same way - through repetition and exposure - and that you can keep students engaged by teaching them how to constantly make decisions while practicing. He had several different improvisational lines that the audience would sing with him and then play, and both Nielsen and McNeil shared great ideas on how to improvise. They will be publishing a book later this year. McNeil ended with the request that we all reconsider how we define a "lick" and that we strive to encourage musicians to find and share their own voice through creative improvisation. (Spencer Wallin)
Javian Brabham youth clinic - Building Confidence: Tools for Teachers and Students
Dr. Javian Brabham's youth day clinic was inspiring for all in attendance, as his professional performing and teaching experience allows him to think outside the box to help students overcome negative self-perceptions in their playing. Among the ideas that Brabham discussed for teachers to help students gain confidence were the following: build their trust; give positive feedback; build on concepts the student already does well; set challenging, yet attainable, goals and help the student feel invested and accountable in their own process; be a mentor; have fun; celebrate the wins. In a particularly interesting segment of the presentation, Brabham showed a chart comparing the concepts of confidence and insecurity. To oversimplify, those with insecurities tend to focus inward, or on what the perception of themselves is to others, and often make comparisons to their peers. On the other hand, confident people tend to focus on the process of making music, are able to celebrate others' successes, and can laugh at themselves or admit when they make mistakes. To close, Brabham encouraged teachers to maintain an active dialogue with their students to monitor their self-doubt and work on changing the narrative from negative to positive. He encouraged students to take control of their confidence by working to ignore negative self-talk, build on the things they do well, and believe that good things can happen. (Joe Nibley)


Navy Commodores Trumpet Section clinic - The Inside Workings of a Big Band Trumpet Section
The Navy Commodores Trumpet Section presented a thorough and informative session about playing in a big band trumpet section. After brief introductions, the section took the audience through various excerpts that represented a broad overview of the general styles they cover in their work. The excerpts they chose came from Duke Ellington's Jack the Bear, Count Basie's Kansas City Shout, Thad Jones's Three in One, Stan Kenton's Peanut Vendor, Hank Levy's Decoupage, and Maria Schneider's arrangement of The Days of Wine and Roses. Between the excerpts, they each took time to answer questions from the audience and also discussed common pitfalls to avoid when playing in a big band section. Special attention was given to mute choices, the importance of listening to recordings for style, balance regarding inner parts, and overall section decorum. By the end of the session, it was clear that all benefited from the expertise of this fantastic trumpet section. (George Carpten)
ITG Affiliate Chapters Recital
The Affiliate Chapters Showcase recital featured trumpet ensembles representing ITG affiliate chapters from all over the country. The Alabama Trumpet Guild performed Wilson's The City Under the Sea with impressive dynamic extremes, blending in the soft dynamics with ease. Their piece prominently featured each group member and allowed them to make a strong musical statement. The Lone Star State Trumpet Guild's performance of "Arabian Dance" from Peer Gynt Suite featured trumpet ensemble with percussion, including tambourine and triangle. The variety of trumpets used, from piccolo to flugelhorn, contributed to a rich texture and seamlessly blended group sound. The Louisiana State University Trumpet Guild's beautiful rendition of It is Well showcased their delicate and musical lyrical playing. The Oklahoma State University Trumpet Guild performed an arrangement from Berlioz's Symphonie Fantastique and truly gave an energetic and engaging performance with exciting dynamic contrasts. The Texas A&M International University Trumpet Guild's performance of Stephenson's Fanfare for an Angel featured just four performers, but the conviction and energy with which they performed made them sound like a much larger group. The Texas A&M University-Commerce Trumpet Guild performed Mike D'Ambrosio's Ice Town, featuring beautiful solo lines and great contrast in timbres, using mutes and stands to create a variety of tone colors throughout the engaging performance. The Texas A&M University-Kingsville Trumpet Guild's performance of Nutcracker Jazz Suite was full of energy and excitement, featuring jazz and lead playing. The program concluded with the Utah Trumpet Guild's performance of a well-known pop song, Symphony by Clean Bandit. Their beautiful group sound, strong arrangement, and tonal variations through mutes made for a captivating performance. (Julia Bell)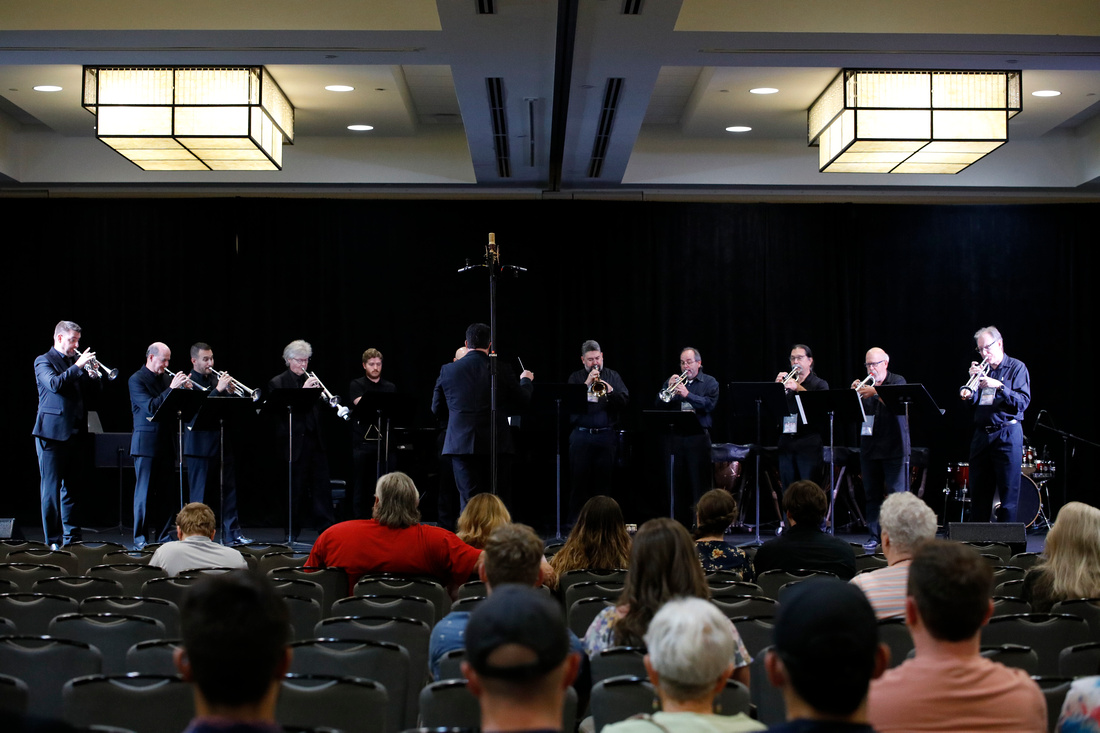 Adam Hayes youth clinic - Developing an Independent Professional Music Career
Adam Hayes presented a thoughtful session on developing an independent professional music career. He discussed potential scenarios that young freelancing musicians will likely encounter and shared many personal anecdotes from his own experience. Hayes warned against several common pitfalls, especially regarding professional behavior and career planning. He offered suggestions in a variety of areas, including reasons for contractors and teachers to form an LLC (limited liability company), as well as to partner with a church or school to find a regular practice space when living somewhere you are unable to practice. He gave long lists of things to do and don't do on a gig with the intention of helping young musicians become more sensitive to some of the situational subtleties of our unique workplace. Although the presentation was geared toward college students and performers seeking to launch their careers, it also shared practical advice that is relevant for every working musician. (Nick Volz)
Edward Carroll clinic - Demystifying International Competitions
Edward Carroll hosted a clinic that set out to deconstruct the nature of international competitions. Joining him was a panel of players involved in such competitions, including Jason Bergman, Dominique Bodart, Stephen Burns, David Collins, and Aleksander Kobus. Each of the panel members have either hosted, judged, or won international solo competitions. Together, they provided the audience with an understanding of these high-prestige competitions from the perspective of both competitor and jury. The overarching point presented by Carroll was that "Competitions are ridiculous." This argument was supported by the testimony of the panel, who emphasized that the lessons learned in preparation for and the connections made at the competition are just as important, if not more, than the results. Kobus walked the audience through his routine preparing for the most recent Ellsworth Smith International Trumpet Competition, in which he won the first prize, and Carroll and Bodart explained the scoring system. (Christopher Luebke-Brown)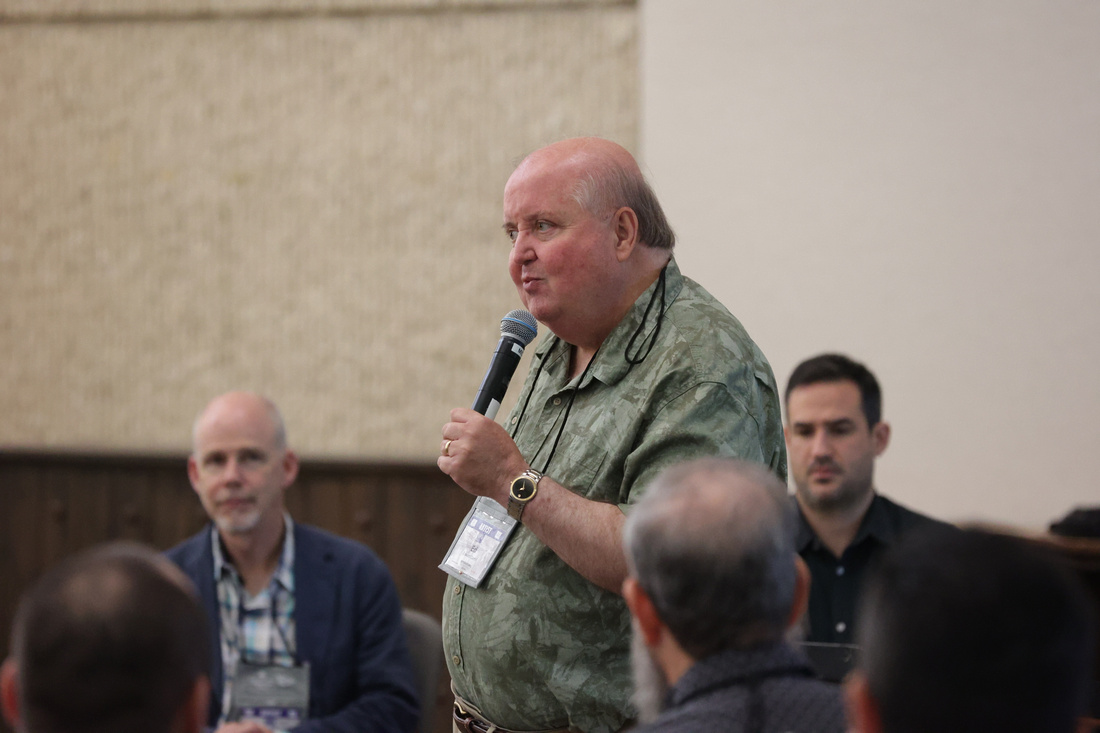 Matthew Vangjel recital - Still and Quiet Places
Matthew Vangjel opened his recital with an intriguing work for trumpet and electronics. The piece, Under Oceans, Outer Space, Across the Geothermal Pools, and Plains by Samara Rice, set the tone for the rest of the performance - somber, reflective, and introspective. Next, a moving arrangement of Gustav Mahler's Kindertotenlieder hit home when Dr. Vangjel reflected on the recent, tragic school shooting in nearby Uvalde, Texas. His ringing tone and sensitivity to blend with pianist Siying He proved to be a touching experience for all in attendance. The recital concluded with two pieces accompanied by Joshua Knight on marimba and vibraphone. Overall, this performance crackled with emotional charge from Vangjel's diverse and poignant program. (Eli Denecke)


Friedemann Immer and Kentucky Baroque Trumpets recital
Friedemann Immer and the Kentucky Baroque Trumpets presented a varied and virtuosic recital of music for Baroque trumpet at Travis Park Church. Joined by Bryan Anderson on the organ and Paul Millette on timpani, Immer and the Kentucky Baroque Trumpets performed with the full spectrum of colors for the instrument. The entire church sanctuary was used for this event, with performers strategically placed throughout the room and in the balcony for several works. The spirit of collaboration was strong throughout the performance, and the members of the Kentucky Baroque Trumpets rotated in their roles as soloist or supporting ensemble member. The majority of the program consisted of Baroque-era works, but the last two pieces were more contemporary. Benjamin Britten's Fanfare for St. Edmundsbury included Immer assuming the role of conductor for the final climactic portion, and the audience enjoyed the light-hearted and charming Rag Rog by Klaus Hanes Osterloh. (Benjamin Hay)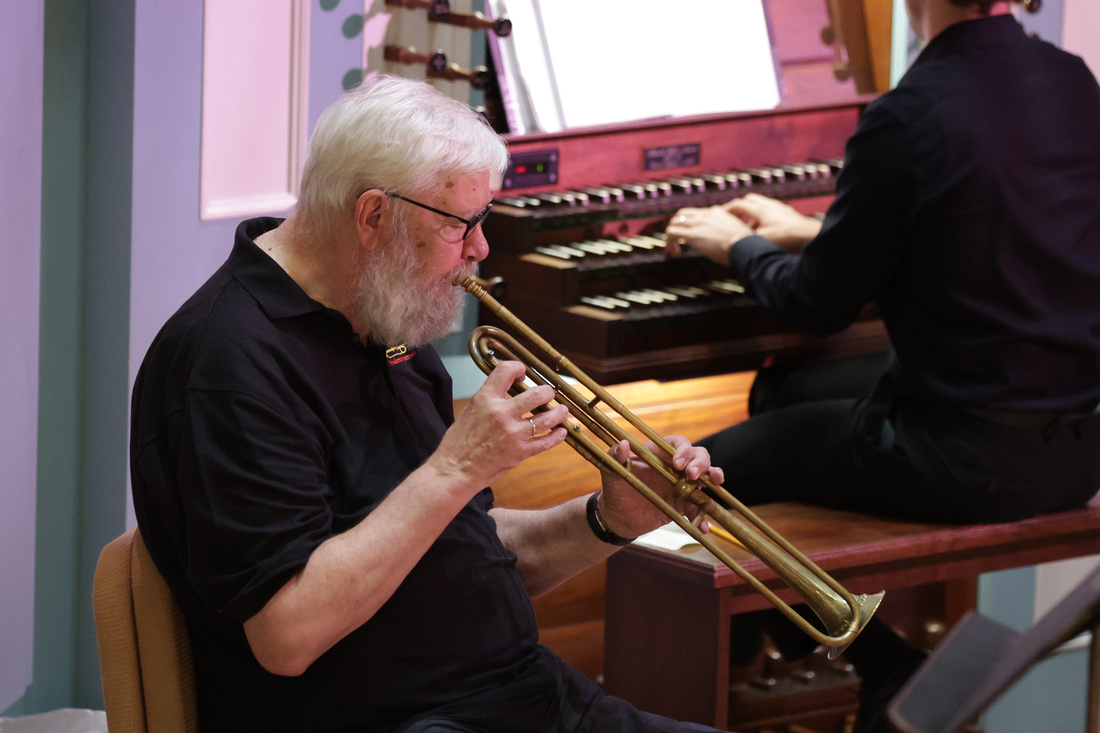 Carole Dawn Reinhart and Wendy Matthews clinic - "I met a girl"
This live interview began with a lovely showcase video consisting of videos and pictures of Carole Dawn Reinhart throughout her career. The interviewer, Wendy Matthews, proceeded to ask Reinhart about her education and many great accomplishments. The session included multiple ear-catching recordings of Reinhart's virtuosic performances. The audience left full of inspiration, thanks to Reinhart's pure talent and the strong influence she has made as an exceptional female trumpet player. (Maryna Pohlman)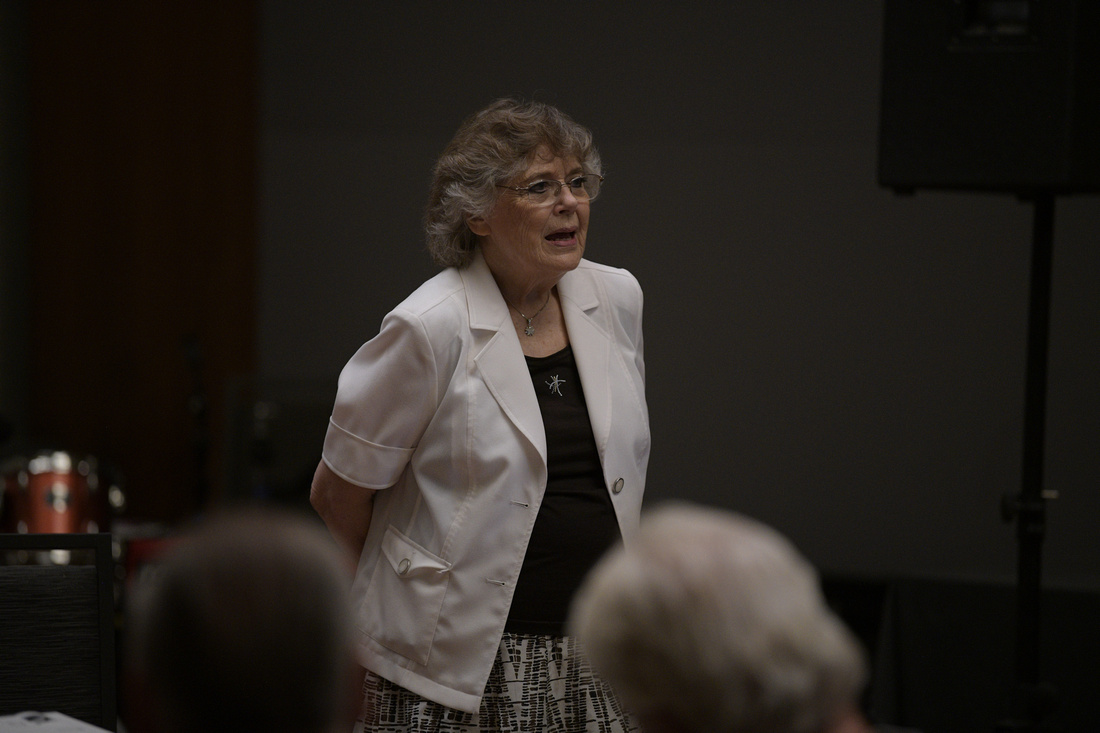 ITG Legacy Fund Reception
The Legacy Fund Reception was an event for ITG members to meet and mingle with ITG board members, past presidents, and other members. Free drinks and light appetizers were served, and members learned more about the importance of the ITG Legacy Fund, which is currently a $100,000 endowment that will continue to support the guild's initiatives, projects, and programs. Many of the ITG past presidents spoke about how important the ITG was to them personally and professionally, and they encouraged members to donate to the Legacy Fund to continue to grow the organization for the future. The following presidents all spoke - Alan Siebert, Bill Pfund, Marsha Whitaker (spouse of the late Don Whitaker), David Hickman, Kim Dunnick, Jeff Piper, Jim Olcott, Vince DiMartino, Brian Evans, Leonard Candelaria, Kevin Eisensmith, Grant Peters, and Jason Bergman. (Scott Hagarty)
Evening concert - US Navy Band Commodores featuring Philip Dizack and Rachel Therrien
The Friday evening concert began with ITG Vice President Ryan Gardner honoring Wiff Rudd, professor of trumpet at Baylor University, with the ITG Award of Merit for his relentless dedication to teaching and fostering trumpet education. After the presentation, the United States Navy Commodores took the stage with a pleasantly varied program. They opened with Kenny Garrett's For Openers, featuring burning solos by MUC Jonathan Barnes and MUC Andrew Francisco.


The next few tunes showed off the band's trumpet section. Frank Foster's Discommotion highlighted the trumpets in a swinging soli, while the rhythm section worked to capture the essence of the Basie groove. MU1 Benjamin Ford also wowed the crowd with his dexterous upper-register work on his trombone solo. Going a little more modern, the next tune was an arrangement of Wayne Shorter's Hammerhead, led by the rhythm section's hard swing feel. The performance featured many solos, including a battle between MU1 Allie Albrecht and Barnes. Albrecht showed off her incrdibly strong bebop chops while Barnes supplied the pyrotechnics.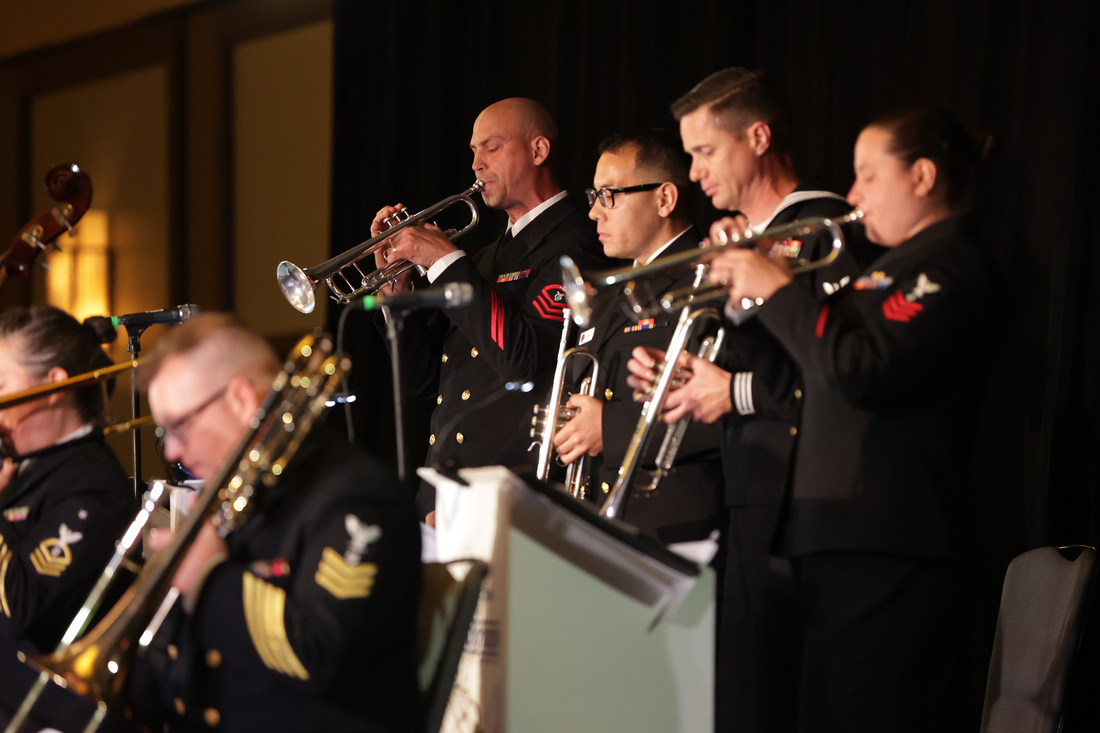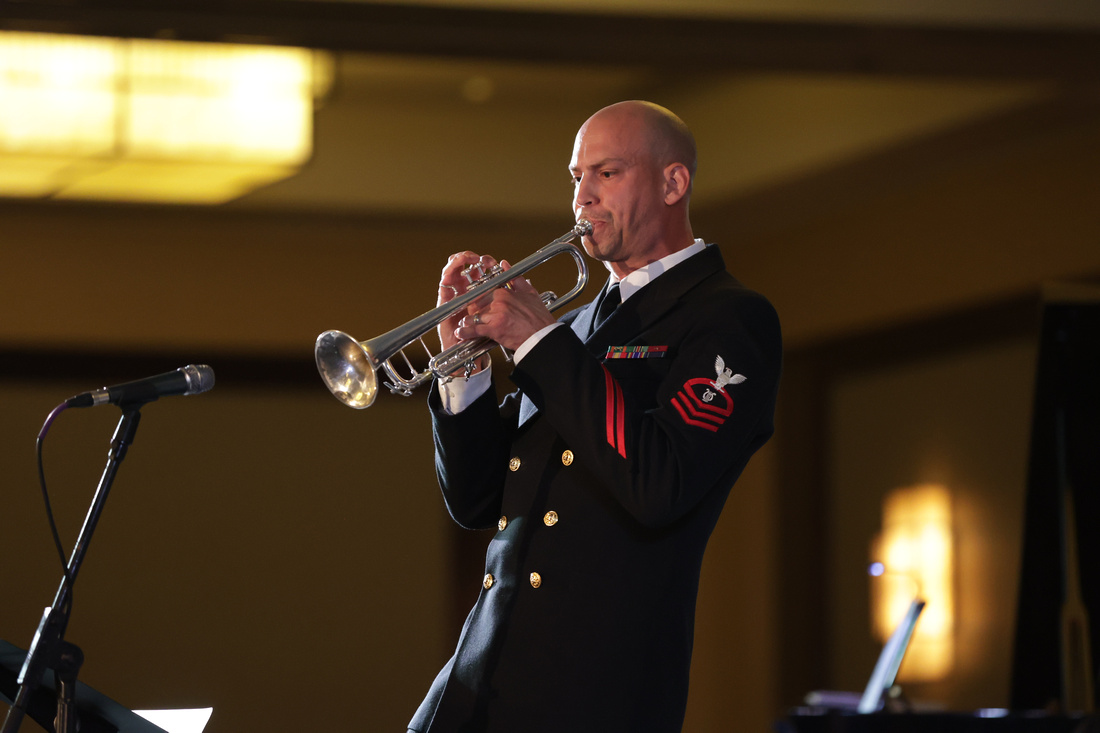 The Commodores' vocalist, MU1 Kristine Hsia, joined the band for the next two numbers, Everyday I Have the Blues and The Song is You. Hsia had a great sense of styling, and the whole band really found the groove, digging into the swing. The band closed their portion of the concert with the Oliver Nelson standard Miss Fine. They had a great feel for the tune and really showed off extreme dynamics.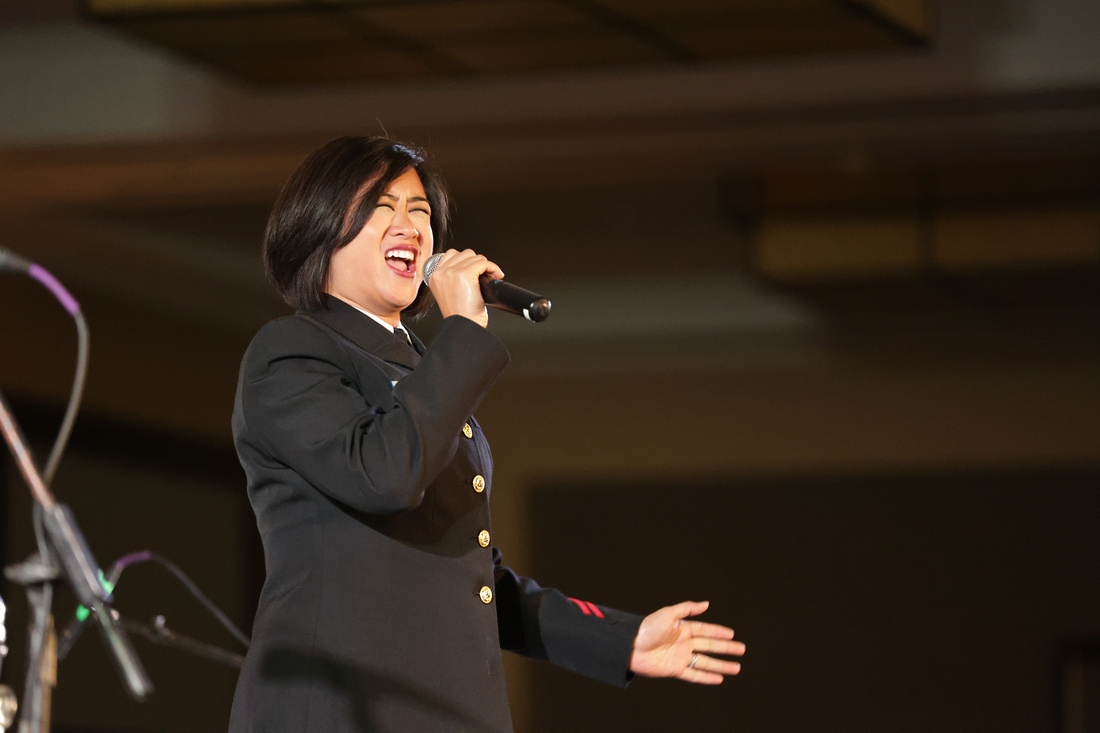 While the Commodores' set was largely traditional jazz tunes, that changed when guest artists Philip Dizack and Rachel Therrien came out. Along with his touring and recording schedule, Dizack is assistant professor of trumpet at the University of North Texas. He played one of his original compositions, Box Office, with the band. Dizack's soloing style was extremely melodic and fluid, with an ease that really drew in the audience. His use of quarter tones and dense harmonies brought a modernness to the night that stood in contrast to the first part of the concert.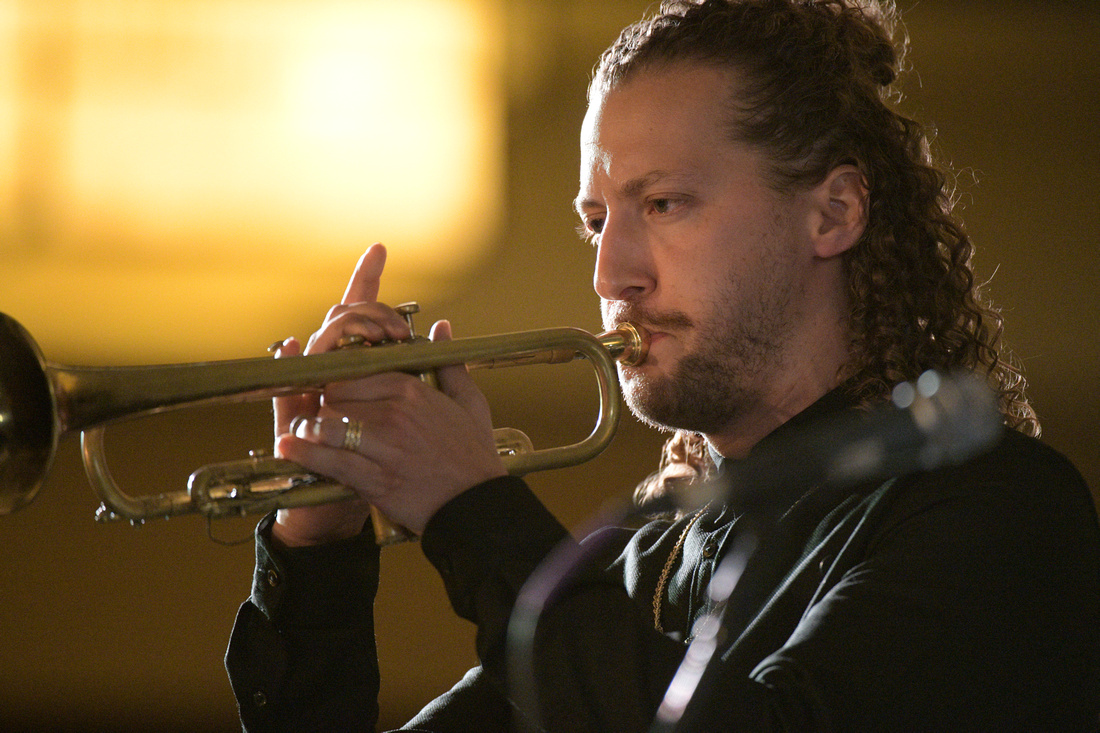 Therrien then brought the energy back up with her version of Chico O'Farrill's Trumpet Fantasy. Therrien, recognized as one of the top performers and bandleaders on the Canadian jazz scene, brought out a fire that showed her passion for Afro-Cuban jazz. Her solos had great leading that left the audience wanting more.

Therrien and Dizack paired up for the last two numbers. The first was a beautiful Tom Harrell ballad, Roman Nights, with the second, Herbie Hancock's One Finger Snap, closing the concert. With each having their own solo language, their performing together made for a wonderful contrast. On both tunes, they traded choruses until they were eventually both blowing and weaving their lines between the other's.
Throughout the night, the audience showed their enthusiastic appreciation to all the soloists and performers, which kept a great vibe in the room and made for a first-rate concert. (Kyle Millsap)
Concert: Wallace Stelzer Three featuring Carol Morgan
Carol Morgan's New York City-based acoustic jazz trio provided a welcome moment of repose during a week of extreme volumes. In collaboration with bassist Wallace Stelzer and tenor saxophonist Evan Burrus, trumpeter Carol Morgan played an eclectic mix of standards. By not using a chordal instrument, the two horns provided a lovely contrapuntal interplay throughout, giving the group a playful sound that was reminiscent of recordings by Chet Baker and Gerry Mulligan or Tom Harrell and Joe Lovano. The communication between group members allowed them to traverse a host of different tunes in an organic and musical way. Morgan's wispy and mellow trumpet tone more closely resembled a jazz singer from another era. Her charming sense of humor kept the late-night audience entertained, even interrupting herself mid-solo to celebrate a low F! This trio brought the atmosphere of an intimate New York jazz club to a spacious ballroom in San Antonio. (Nick Volz)

---
Click here for more photos from the ITG Conference
---